Honor Roll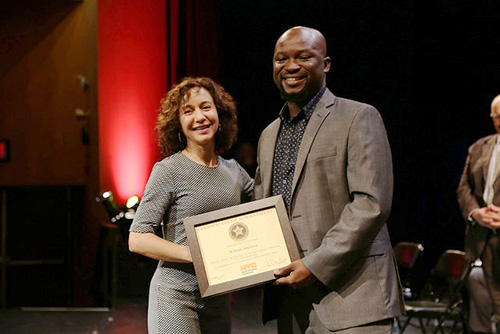 Commissioner Meera Joshi and honoree William Abebrese during our fourth annual Safety Honor Roll.

Last month, the TLC had the great privilege of honoring the City's safest drivers and businesses during our Fourth Annual Safety Honor Roll Ceremony. The event is one of our favorite days of the year at TLC, and our staff greatly enjoy celebrating the safety accomplishments of drivers, car services, and taxi fleets.

This year was no exception. The drivers honored include William Abebrese, a very hard-working driver who safely took passengers on almost 19,000 trips in three years. Mr. Abebrese is a Bronx resident who drives for Via, as well as in the taxi sector. During the ceremony, he shared some of the secrets for his success-- and they included showing extra caution, driving within the speed limit, taking time for rest, and loving what you do. "I do this not just for my safety, but for the safety of the customer and the public," he said in a speech at the October 11 ceremony.

Other honorees included Ali Abubakar, a wheelchair-accessible taxi driver who was celebrated for both an outstanding safety record and his significant contribution to the Accessible Dispatch Program. Between 2015 and 2017, he brought passengers safely to their destination on 11,042 trips.

The TLC was also pleased to recognize the safety record of Dominicana Radio Dispatch, a Corona-based car service with about eighty drivers. Its manager Felix Suero made many important points in his remarks about traffic safety. He spoke about how his base's safety record is a reflection of their drivers' desire to make their community a better and safer place.

"Our affiliated drivers love the community they work in, and many of our customers know the drivers by their first name," said Mr. Suero. "We are focused on providing safe and excellent service every day. Our drivers are true professionals, who both improve street safety and maintain deep ties to the community."

Wheelchair-accessible taxi driver Luis Alvarez also spoke about how doing Accessible Dispatch trips helped give him financial security, and how he enjoyed giving passengers who use wheelchairs greater mobility.

"Accessible Dispatch trips provide good income, and I find myself feeling more relaxed and less worried about my finances," said Mr. Alvarez. "Passengers love that I am a smooth driver, and that I am very conscious of safety. I feel good doing this work, and when you do good, it comes back to you."

For the first time, the TLC celebrated the customer service achievements of drivers during the ceremony. Green taxi driver Domingo Fernandez was honored for helping a passenger quickly recover property she left on a bus.

"When she found it, I felt happy helping her, like I had accomplished something," he said. "I could see the expression of happiness on her face. To me, customer service means that the passenger is confident and comfortable. They are able to trust that we will do a good job."

The 420 drivers honored in October completed almost 2 million trips in 2016 alone, the equivalent of about 25 trips to the moon. Almost 140 drivers had been honored on past TLC Safety Honor Rolls.

We are so appreciative of their contributions to safety, accessibility, and customer service. Congratulations to all honorees on your hard work and vigilance -- you have made the City's streets safer for all!2



Welcoming a New Commissioner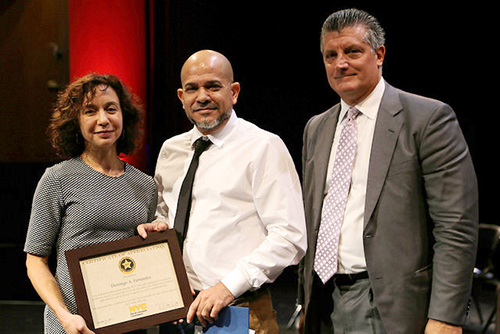 Commissioner Tom Sorrentino at the fourth annual Safety Honor Roll, with Commissioner Meera Joshi and customer service honoree Domingo Fernandez.
I am pleased to introduce to you a new TLC Commissioner, Tom Sorrentino. Commissioner Sorrentino is a certified public accountant and partner in the accounting firm of PFK O'Connor Davies LLP. He was born and raised in Brooklyn, and has served his community and faith through many different charitable, civic, community, and business-related activities and organizations. We greatly look forward to his next chapter in public service as a TLC Commissioner. Welcome, Commissioner Sorrentino!
FHV Accessibility Hearing
Our recent public hearing on the TLC's proposed For-Hire Vehicle accessibility rules was a great success. Dozens of people testified over the six-plus hours of the hearing. The day's true significance was shown in the fact that the 75 people and organizations who testified represented a wide spectrum of stakeholders, from drivers, disability advocates and FHV industry leaders, to members of the riding public. This cross-section yielded a wealth of perspectives that were as informative as they were compelling. I know I speak for my fellow commissioners when I say that we truly appreciate the frank and thoughtful testimony, and we anticipate voting on these important measures at our November public meeting.
Supporting Relief Efforts
So many of those licensed by the TLC, as well as staff members, have important ties to parts of the United States and the Caribbean devastated by recent hurricanes Irma, Jose, and Maria. It has been very difficult to view the devastation of places like Puerto Rico, which has historically had very strong ties with New York, from Hurricane Maria. The City of New York stands with hurricane-affected areas like Puerto Rico, Florida, Texas, and the U.S. Virgin Islands, and relief efforts in these areas are paramount to the City. Some ways the City has contributed to relief efforts including the volunteer work of City employees at agencies like the NYPD and FDNY, as well as assistance in gathering critically-needed items like diapers and first aid supplies at firehouses and EMS stations. New Yorkers experienced the devastation of Hurricane Sandy firsthand five years ago, and we care deeply about those affected by the hurricanes this fall. We will be with you in the days to come during the recovery efforts.
Tragedy in Queens
When we think of TLC licensees, more often than not we think of the role that TLC licensees play behind the wheel. But TLC licensees also walk, cycle, and take public transportation as well. Sadly, one of our licensees, Jose Gomez, 71, lost his life in a hit and run crash when he was struck by a car and killed in Jackson Heights, Queens. We mourn the passing of Mr. Gomez in these very tragic circumstances.
Sentencing in Drunk Driving Crash
A drunk driver who killed an Uber driver was sentenced to 2-6 years in prison. The victim, 43-year-old Roohul Ameen, was a father of four who originally immigrated to the U.S. from Pakistan and lived in Bay Shore, according to media reports. We hope the sentencing brings justice to this case, as well as a measure of relief to Mr. Ameen's grieving family.
Dusk and Darkness
Early Sunday, November 6, we will move our clocks back one hour. The end of daylight saving time gives us more light during the morning, but also an earlier sunset and darker evenings. During dusk and evening, it is extremely important to drive cautiously, since it becomes more difficult to see pedestrians. As light diminishes, our eyes find it harder to properly focus. Our depth perception, peripheral vision, and color vision suffer at a time when many New Yorkers are heading home from work and school.

Traffic crashes have historically risen from September through January, months when the days are shorter. You can greatly help make our City's streets safer by being particularly vigilant while driving during dusk and evenings. This will ensure that you can get safely home to your families, as well as the pedestrians, cyclists, drivers, and passengers that share the street. Please consider sharing this message with your colleagues as well-- working together, we can make a significant difference in preventing traffic crashes.
As always, drive like your family lives here!