Prescription Drug Trends: 

Prescription Drug Epidemic
Prescription drug abuse and diversion pose unique problems for law enforcement because, unlike the previous drug epidemics we have faced in New York City, prescription drugs originate from a legal source – the pharmaceutical industry, physicians' offices and pharmacies. While SNP has been focused on the prescription drug problem for over two years, our efforts intensified in 2011.
New Prescription Drug Investigation Unit
In the summer of 2011, SNP formed a new Prescription Drug Investigation Unit with support from the Mayor's Office. The goal of this unit is to cut off the illegal supply of prescription drugs to the black and gray markets at the highest level possible. These investigations are highly complex and, in some cases, lead us to corrupt doctors, pharmacists and other medical professionals. Since the formation of the unit, the office has received a flood of referrals. Elected officials have reported questionable pharmacies and suspected pill mills in their districts. Physicians and physicians' office managers have called with concerns about suspected drug traffickers. Medical professionals have relayed concerns about colleagues. Pharmacists have called about forged prescriptions. Hospital security units have reported thefts of prescription pads. Patients' relatives have detailed concerns about doctors who seem to be overprescribing to their loved ones.
Inadequate Laws
Gaps in the laws and regulations governing the prescribing and dispensing of prescription medication – both controlled and noncontrolled substances – must also be addressed. SNP staff is participating in several new task forces designed to address the problem of prescription drug abuse. We participate in the Mayor's Task Force on Prescription Painkiller Abuse and the New York State Interagency Workgroup on Preventing Prescription Drug Misuse, Diversion and Overdose, among other groups. SNP staff has assisted in drafting proposed legislation that would enhance New York State's ability to identify, investigate and prosecute those who are fuelling this deadly epidemic.
 Oxycodone Presciption Increases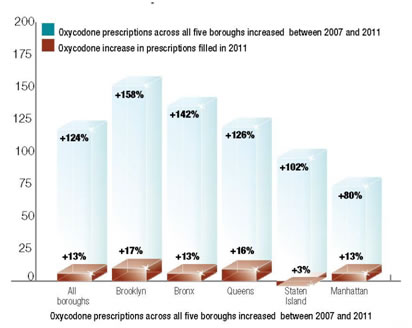 Skyrocketing Prescription Rates
As the attached map shows, the prescription drug epidemic has not only failed to level off – it has worsened significantly. In 2011, nearly two million prescriptions were filled for oxycodone and hydrocodone, two of the most highly abused families of opioid painkillers. That is the equivalent of nearly one prescription for every fourth New York City resident. The number of oxycodone prescriptions filled by residents increased 124% between 2007 and 2011.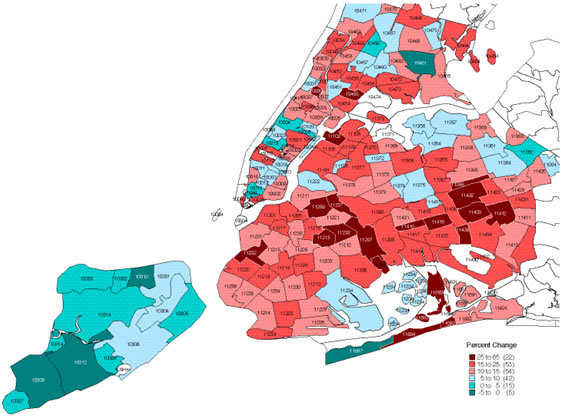 Narcotics Trends
Upsurge in Methamphetamine: Shipments from Mexico
The DEA's New York Field Division reports that seizures of methamphetamine – or "crystal meth" – have more than tripled over the past four years. An expensive drug, methamphetamine has long been popular in the New York City club scene, but use of the drug is beginning to become more widespread.
 
Much of the methamphetamine found in New York City is produced by the "super labs" in Mexico. The Mexican cartels use the same trafficking routes developed for transporting cocaine, heroin and marijuana, with narcotics smuggled across the border into states like California, Arizona and Texas, and then transported across the country. Smaller loads are often sent through the mail.
 In August, SNP and the New York Drug Enforcement Task Force announced the indictment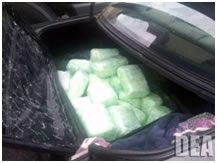 A record-breaking 51pounds of "crystal meth"was seized at a NJ truck stop. The massive load,which also contained five kilos of heroin, originated in Mexico.

of a New York City-based drug kingpin and three fellow drug traffickers following the record-breaking seizure of 51 pounds of "crystal meth" and 11 pounds of heroin worth approximately $6.5 million. This is the region's largest seizure of methamphetamine in memory. Purity levels of both drugs tested at over 90 percent.

DEA agents seized the massive load at the Vince Lombardi Service Area off Interstate 95 (I-95) following a wiretap investigation. The load of drugs had crossed the border from Mexico into Texas and travelled across the country in a tractor trailer.

DEA agents seized the massive load at the Vince Lombardi Service Area off Interstate 95 (I-95) following a wiretap investigation. The load of drugs had crossed the border from Mexico into Texas and travelled across the country in a tractor trailer.

Drugs and Gang Violence
Firearms are increasingly falling into the hands of young gang members, who make money through drug dealing, burglaries and robberies. Bloody turf battles have erupted in Upper Manhattan and Brooklyn over the past year, and innocent bystanders are often caught in the crossfire. Violence escalates when gang members post messages on social media about disputes and plans for revenge.

One significant investigation by SNP's Narcotics Gang Unit, the NYPD and the Kings County District Attorney's Office dismantled two warring gangs – the Hoodstarz and the Wave Gang – that terrorized residents of Brownsville, Brooklyn. Gang members were responsible for at least six murders and 32 shootings during an 18-month period. The long-term investigation culminated in the indictment of 43 gang members by the Kings County District Attorney's Office. Assistant District Attorneys from SNP developed significant evidence that was used in securing the indictment.


The gang members, many in their late teens and early 20s, used coded language to communicate with one another through Facebook, Twitter and YouTube. For example, "going to the beach" meant entering enemy turf.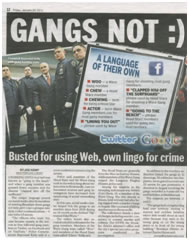 Gang member in Brownsville,Brooklyn were behind six murdersand 32 shootings
Members of the Hoodstarz stored communal firearms and ammunition at several locations, including the family home of one of the Hoodstarz's top lieutenants. Known as the "Trap," the home became the main place where the Hoodstarz met to discuss business and to use marijuana and narcotics.
Investigative techniques developed during this investigation are used to tackle the gang problem across the city.