INVESTIGATION DIVISION
City's First Drug Kingpin Charged: Crew Arrested in the Bronx
Brooklyn Couple Deal Rx Drugs, Launder Cash through Foreign Real Estate
Mexican Drug Smugglers Supply Dealers in New York
$4.25 Million Rx Drugs Stockpiled in Yonkers
Manhattan Heroin Mill: Search Closes Cross Bronx Expressway
Heroin Mill Dismantled in The Bronx
Seven Kilos of Heroin and $750,000 in Cash in Village
$1 Million from Marijuana Money-Launderers in Little Italy
Bronx Bust: 870 Pounds of Marijuana, Gun Recovered
TRIAL DIVISION
Seventy Pounds of Cocaine and Nine Firearms Seized
Trafficking Ring Dismantled: Five Columbia Students and Three Off-Campus Suppliers Arrested
Operation Domino Effect Topples Drug Ring
Car Served As Illegal Mobile Pharmacy: Over 3,100 Pills Seized
Woman Ran Rx Drug Operation from Chelsea Apartment
$1 Million in Heroin Seized From Bronx Mill
Police Put the Brakes on High-End Cocaine Delivery Service
Former Beauty Queen Arrested for Fake Prescriptions
Williamsburg Heroin Ring: Seven Charged in "Operation King Me"
Two Heroin Rings Beached in Southern Brooklyn
Seventeen Drug Dealers Arrested in Upper Manhattan
SoHo Couple Peddled Crack
HOUSING CASES
Drug Ring Dismantled inside Brooklyn's Albany Houses 
Twenty-Eight Narcotics Dealers Nabbed In Operation Opera House 
Twelve Drug Dealers Arrested at Brooklyn's Tompkins Houses
INVESTIGATORS UNIT
Operation Bad Medicine
Curtains for Theater District Heroin Mill 
INVESTIGATION DIVISION
City's First Drug Kingpin Charged: Crew Arrested in the Bronx
The head of a violent drug organization and 14 underlings were arrested in May for selling large quantities of cocaine and heroin in The Bronx. Jose Delorbe controlled an apartment building on Undercliff Avenue, where his brazen ring sold an average of two pounds of cocaine and heroin each day. During the seven-month wiretap investigation, Delorbe and his crew were implicated in a Nov. 24, 2009 shoot-out with a team of suspected robbers. Members of Delorbe's ring believed the rival group was attempting to break into one of the apartments where they stored drugs and money. Private surveillance cameras captured Delorbe holding a gun, while another member of his organization could be seen firing a hail of bullets down the street. Delorbe is the first New York City defendant charged under the kingpin statute, which went into effect in October 2009 and is the only felony narcotics charge in the state that carries a potential life sentence. A search of 11 apartments at the Underhill building yielded 13 pounds of cocaine, more than a pound of heroin, approximately $175,000 in cash and two guns. The building's superintendent was also among those charged.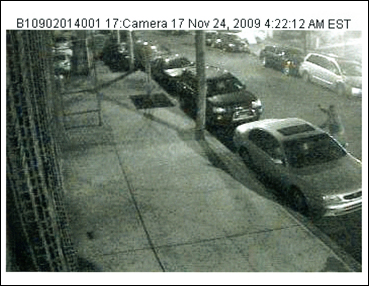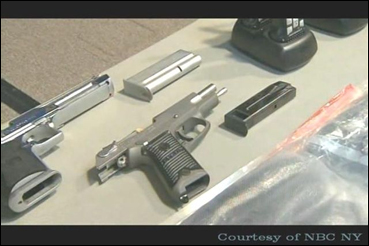 A violent drug trafficking ring was caught on videotape arming
themselves and opening fire in a bid to protect their turf.
Brooklyn Couple Deal Rx Drugs, Launder Cash through Foreign Real Estate 
A Brooklyn couple sold large quantities of illegal prescription drugs and funneled hundreds of thousands of dollars in profits into real estate purchases in the Dominican Republic. The couple obtained the medication, including drugs used to treat HIV, from a bodega in Brownsville. The bodega owner, who stockpiled drugs he'd bought from patients with legitimate prescriptions, was also arrested along with three additional participants in the scheme. Police stopped the couple's car in May and seized bags of pills in their original bottles. A court authorized search of their home yielded extensive drug sale records.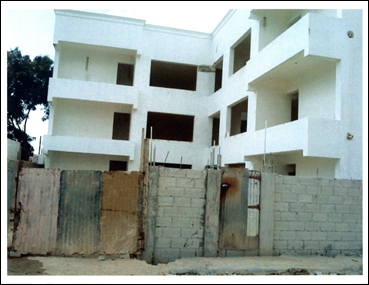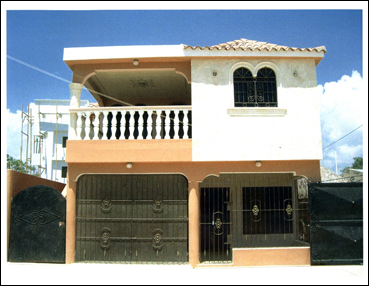 A Brooklyn couple sold illegal prescription medication and laundered
hundreds of thousands of dollars in drug proceeds through real estate
they purchased and developed in the Dominican Republic.
Mexican Drug Smugglers Supply Dealers in New York 
A long-term investigation focused on a Mexican drug trafficking organization that smuggled heroin and cocaine across the U.S. for sale in New York. DEA agents seized a total of 22 kilos of heroin (48 lbs.), as well as 9 kilos of cocaine (20 lbs.) and $250,000 in Manhattan, The Bronx and Nassau County. The international drug organization used a variety of methods to transport the narcotics. In some cases, cars packed with drugs were loaded onto car carriers (large trucks used for long-distance automobile shipping) and driven from the West Coast to New York. In May, New York-based drug dealer Angelo Rodriguez was the recipient of one such delivery. In this case, cars were offloaded in The Bronx and towed to a secure location, where they were stripped of drugs and repacked with cash in preparation for shipment back to the West Coast. DEA agents arrested Rodriguez and a second drug trafficker, Francisco Pena, and seized 10 kilos of heroin, 9 kilos of cocaine and $250,000 in cash.
$4.25 Million Rx Drugs Stockpiled in Yonkers 
Nearly 6,500 bottles of illegal prescription drugs carrying a street value of $4.25 million were seized during a court authorized search of a house in Yonkers in June. DEA agents arrested two men, Hector Silvestre and Manuel Delesantos, who are suspected of stockpiling the medications at the house on Hudson Terrace for sale. Stacks of large shipping boxes were filled with dozens of different types of medications, including many used to treat HIV patients. Drugs prescribed for asthma, depression, schizophrenia and acid reflux were also among those seized. The pills were packaged for bulk sale to pharmacies based overseas or purchasing drugs on the black market.

Another smuggling method involved packing heroin into shoes for transport from Mexico to Los Angeles and then driving the heroin across the country in tractor-trailers. During the investigation, agents watched as two drug traffickers, Alma Clymer and Elodia Flores, met a truck in New Jersey, transferred the shipment to a car and headed into Manhattan. Agents stopped the car at the entrance to the 59th Street Bridge and recovered twelve kilos of heroin in the shape of the soles of shoes. Three drug traffickers were arrested.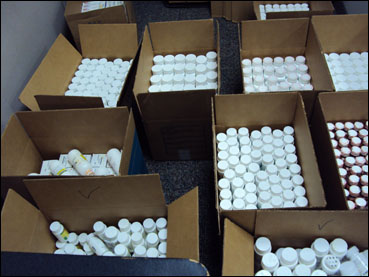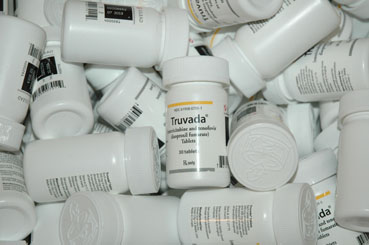 More than $4 million in illegal prescription drugs, including HIV
medications, were seized from a house in Yonkers.
Manhattan Heroin Mill: Search Closes Cross Bronx Expressway 
Authorities seized more than $1 million in heroin from a packaging mill in Washington Heights and arrested six drug traffickers, who attempted to dispose of evidence by throwing drugs and guns out the windows. As law enforcement agents with the New York Drug Enforcement Task Force worked to open the heavily fortified door to the heroin mill, located in an 18th floor apartment on Audubon Avenue, members of the drug ring hurled two handguns and thousands of glassines envelopes used to package heroin onto the Cross Bronx Expressway, which passes directly underneath the building. A full kilogram of uncut heroin (over 2 lbs.) wrapped in plastic was also tossed from a balcony and landed on a second floor terrace. One defendant, Pedro Capellan, tried to escape by dangling from the balcony, but law enforcement agents were already positioned on another balcony below and forced him to turn back. The NYPD's Emergency Services Unit closed the Cross Bronx Expressway and nearby George Washington Bridge for a short time in order to ensure the public's safety and recover the contraband. Three kilograms (6 ½ lbs.) of Mexican and Colombian heroin were recovered inside the apartment.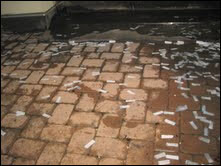 Members of a Manhattan drug trafficking crew threw kilos of heroin
and firearms from the 18th floor of a building to the Cross Bronx Expressway.
Heroin Mill Dismantled in The Bronx 
In June, DEA agents arrested two drug traffickers and seized approximately 4 kilos (9 lbs.) of heroin in The Bronx. The arrests came after a drug courier, Amauris Perez, was observed delivering a box containing 20,000 glassine envelopes of heroin to a second defendant, Rafeal Roman. At the time of his arrest, Perez was carrying keys to a heroin mill located at 4005 Secor Avenue. Agents searched the Secor Avenue mill and seized three kilos of heroin and $20,000 in cash. Drug packaging equipment was also recovered, including a kilo press, gas masks, thousands of empty glassine envelopes and four kilos of a substance used for diluting heroin.
Seven Kilos of Heroin and $750,000 in Cash in Village 
Police seized seven kilos of heroin (15 ½ lbs.) and $750,000 cash from two drug traffickers immediately following a sale in the West Village in March. NYPD detectives with the Manhattan South Narcotics Division were conducting surveillance in the vicinity of Morton Street and West Street and saw Fabricio Diaz remove a brown box from his Lexus and place it in the back of a Mercedes driven by Esteban Garcia. Garcia then handed a red bag to Diaz, who placed it in the trunk of the Lexus. The detectives stopped Diaz and Garcia and an NYPD K-9 Unit detected the presence of drugs in the vehicles. Inside the red bag were seven kilos of heroin wrapped in banana leaves, while the brown box contained $450,000 in cash. Police found another $300,000 and a scale inside another bag in the Mercedes. Diaz and Garcia were arrested on drug charges and have since pleaded guilty.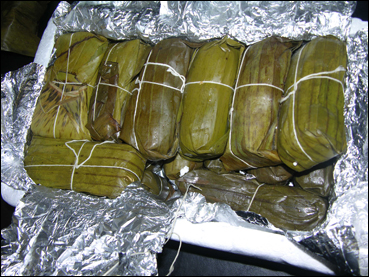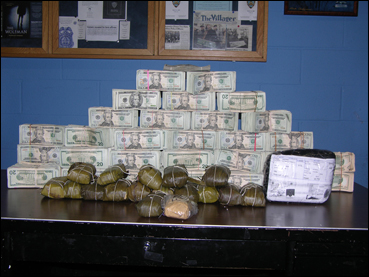 Bricks of heroin wrapped in banana leaves were packed inside a cooler.
Police seized 7 kilos and $750,000 in cash.
$1 Million from Marijuana Money-Launderers in Little Italy 
In SNP's largest cash seizure from a marijuana trafficking ring, investigators recovered $1.1 million from an organization operating out of Little Italy. Daniel McGehean, the tenant of an apartment at 153 Mulberry St., and Richard Doyon, a Canadian national, were arrested for their roles in a large-scale hydroponic pot operation as a result of an investigation with U.S. Immigration and Customs Enforcement. The drug organization is suspected of moving at least 200 pounds of marijuana from Canada to the United States. Cash seized from the two men had been shrink-wrap and heat-sealed with packaging equipment, which was found in the apartment along with sales records.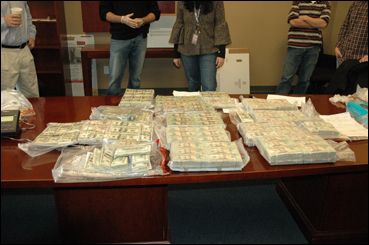 More than $1 million in drug proceeds seized in Little Italy.
Bronx Bust: 870 Pounds of Marijuana, Gun Recovered
Police seized 870 pounds of marijuana and arrested twin brothers and a third drug trafficker in The Bronx in March. During the investigation, police learned that one of the brothers was in contact with a suspected money launderer who operated in the vicinity of El Paso, Tex. and Juarez, Mexico. SNP obtained a search warrant for an apartment controlled by the twins, Edwin and Edwalder Mercedes, at 655 Pelham Parkway and seized approximately 830 pounds of marijuana, including 30 pounds of potent hydroponic marijuana. A search of another apartment at 2131 Wallace Avenue, where the third defendant lived, yielded approximately 40 pounds of marijuana, $10,000 in cash and a .22 caliber handgun. As there were no narcotics present, the three defendants were prosecuted by the Bronx District Attorney's Office.
TRIAL DIVISION
Seventy Pounds of Cocaine and Nine Firearms Seized
An investigation into cocaine trafficking in Manhattan led police to stash houses in Brooklyn and Queens, where officers seized 70 pounds of cocaine with a street value of up to $10 million and 9 firearms. Following the issuance of court authorized search warrants, three members of the drug ring and one customer were apprehended by officers with the NYPD's Manhattan North Narcotics Bureau in April. Earlier in the day, police observed a drug sale in plain view on the sidewalk in front of a stash house on Greene Avenue in Ridgewood, Queens. Officers recovered nearly 40 pounds of cocaine from a suitcase and a washing machine in that apartment, as well as a loaded handgun. The second stash house in Bushwick, Brooklyn, contained more than 30 pounds of cocaine hidden in a plant stand that was fitted with an electronically operated trap. Eight guns, including two assault weapons, were found inside a speaker, while another assault weapon was under a mattress. Ring leader Carlos Rivera was carrying keys to both stash houses at the time of his arrest.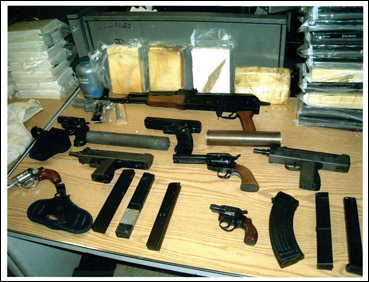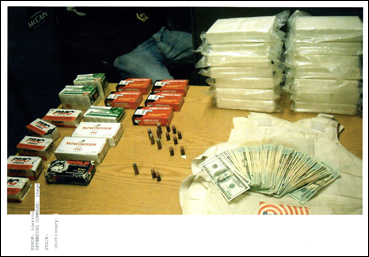 A drug ring went to great lengths to hide 70 lbs. of cocaine and a small
arsenal of guns. Police found the drugs and 9 weapons inside covert
hiding places at stash houses in Brooklyn and Queens.
Trafficking Ring Dismantled: Five Columbia Students and Three Off-Campus Suppliers Arrested
Five Columbia University students were arrested for selling drugs at three fraternity houses and other on-campus residences in December. "Operation Ivy League" also led to the arrests and indictment of three of the students' off-campus drug suppliers. One of these suppliers is also charged with plotting to kidnap a pair of rival cocaine traffickers, whom he believed had stolen money from him. During a five-month investigation that began in July, undercover officers with the NYPD's Narcotics Borough Manhattan North made 31 purchases from the five students, who sold a variety of drugs, including cocaine, marijuana, powdered MDMA (ecstasy), Adderall and LSD. In some cases, LSD, a liquid hallucinogen, was applied to candies. Searches of the students' rooms yielded quantities of drugs, scales, thousands of dollars in cash and sales records. Charges against the students are still pending. The three suppliers have since pleaded guilty.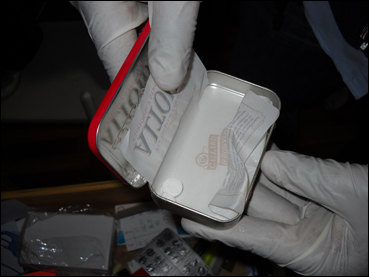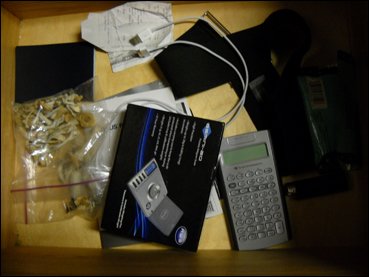 In a search of five Columbia University students' rooms, police recovered
various drugs including LSD, MDMA, marijuana and Adderall, as well as
scales, records and thousands of dollars in cash.
Operation Domino Effect Topples Drug Ring
Police arrested eight members of a sophisticated cocaine and heroin trafficking ring that sold bulk quantities of drugs to distributors in New York City and along the eastern seaboard from their base in Washington Heights. On a typical day, ring members could be seen playing dominos on the sidewalk as they kept watch over their territory, where they managed to evade law enforcement for many years. During a 10-month wiretap investigation, police made 14 undercover purchases of cocaine. Search warrants executed in November yielded pounds of cocaine and heroin, two loaded handguns and drug packaging equipment. The ring's leader, Pedro Guzman Damiani, would also accept payment from other drug organizations to repackage their drugs, using presses he stored at his home on Fort Washington Avenue.
Car Served As Illegal Mobile Pharmacy: Over 3,100 Pills Seized
In January, NYPD officers stopped a car at 21st Street and 10th Avenue in Manhattan and discovered a trove of more than 3,100 pills that were bound for the black market. Prior to the stop, the driver had committed a series of traffic violations and officers detected a strong odor of marijuana emanating from the vehicle. During a search of the car, police seized a dozen different types of prescription drugs, including more than 780 tablets of oxycodone (commonly sold as OxyContin) and 700 tablets of hyrdrocodone (commonly sold as Vicodin). The stash also contained over 200 ecstasy pills in the shape of President Obama's head.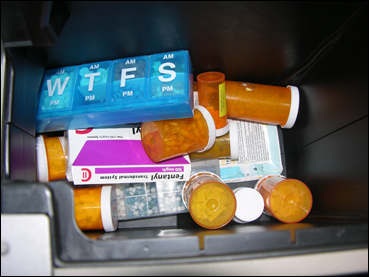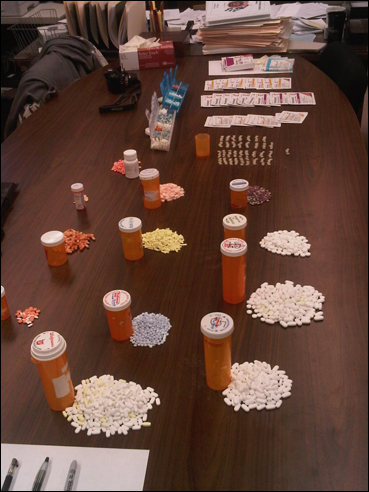 More than 3,100 pills were seized from a compartment in the console
of a car, including a dozen different types of prescription drugs.
Woman Ran Rx Drug Operation from Chelsea Apartment
A Chelsea woman was arrested for selling over $3,500 in prescription medication to an undercover officer in the span of one month. The officer purchased oxycodone and Vicodin from Olga Miranda during four meetings inside the mailroom in the lobby of her apartment building on West 19th Street in Manhattan between December 2010 and January 2011. Following Miranda's arrest on Jan. 7, police searched her apartment and found over 2,000 pills, including Vicodin, Percocet, methadone and steroids. An examination of the prescriptions used to obtain the drugs revealed they were all written out to Miranda and they all came from the same pharmacy. Approximately 20 different doctors' names appeared on the prescriptions.

A woman stockpiled prescription medication in her Chelsea apartment
and sold $3,500 in pills to an undercover officer in the course of one month.
$1 Million in Heroin Seized From Bronx Mill
Police seized 7 kilograms (15 lbs.) of heroin worth $1 million in a court-authorized search of a Bronx heroin mill in April. Four members of the drug ring were arrested as the result of an extensive investigation. A search of the Starling Avenue apartment where the mill was located yielded 50,000 user-ready "glassine" envelopes packaged with heroin, as well as 50 different stamps bearing different brand names, such as "Almighty," "Heat Wave" and "Body Bag." Police also recovered boxes of empty glassines, scales, and coffee grinders used for cutting the heroin. In the week leading up to the arrests, defendant Luis Lara was observed travelling to both JFK Airport and Newark Liberty International Airport in a single day. Another defendant was arrested leaving the heroin mill with a backpack containing 3,000 glassines of heroin.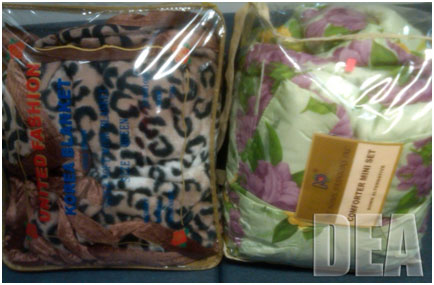 A Bronx heroin mill churned out thousands of user-ready "glassine"
envelopes stamped with a variety of brand names.
Police Put the Brakes on High-End Cocaine Delivery Service  
Two high-end drug dealers were arrested for running a door-to-door cocaine delivery service that catered to the city's elite. The dealers, Manuel Castillo and Juan Torres, marked-up the price of their highly pure cocaine by 300 percent and made deliveries to Manhattan nightclubs, upscale apartments and homes in the Hamptons. An undercover of.cer with NYPD's Manhattan South Narcotics team made 10 drug purchases during the course of the investigation, which led to A-1 felony charges. Over the course of five years, the delivery business brought in an estimated $2.5 million. A third defendant was also arrested for assisting in the drug operation.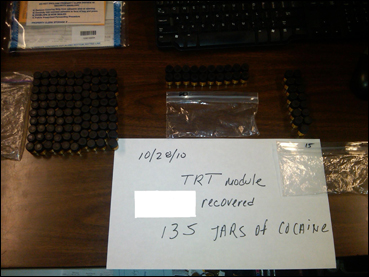 High-end drug delivery service sold cocaine in small gold jars and
catered to celebrity clients.
Former Beauty Queen Arrested for Fake Prescriptions 
Former Miss Russia Anna Malova was arrested in May for forging prescriptions in order to obtain Vicodin. Prior to Malova's arrest, investigators with the Bureau of Narcotics Enforcement learned she had stolen prescription sheets from her doctor. New York City pharmacies were alerted. Subsequently, employees at a drug store on Sixth Avenue in the West Village reported to authorities that Malova had come in to request a refill on a prescription. When she returned to the pharmacy to pick up the refill, investigators were waiting and arrested her as she left with a bottle of 85 Vicodin pills. At the time of this arrest, Malova had an open case based on similar charges. That case stemmed from the theft of a prescription pad from a different doctor, which she had used to obtain Vicodin and Klonopin pills from a pharmacy on Fourth Avenue in the East Village in November 2009. An investigation revealed that Malova had filled or attempted to fill numerous forged prescriptions after her arrests.
Williamsburg Heroin Ring: Seven Charged in "Operation King Me"
Seven members of a brazen drug trafficking ring that cornered the heroin market in a section of North Williamsburg, Brooklyn were arrested in November. The defendants peddled heroin and crack in bodegas, apartments, lobbies and on street corners in the vicinity of the Cooper Park Houses, a New York City Housing Authority Development, and catered to customers from surrounding neighborhoods. The charges stem from more than 20 sales to undercover officers with the NYPD's Brooklyn North Narcotics Bureau. Notorious for selling narcotics in open view, members of the ring appeared in Google Maps Street View photographs that depict one of their regular drug spots in front of a bodega at the intersection of Jackson Street and Kingsland Avenue. All of the undercover drug transactions took place within 1,000 feet of a preschool. The group was the subject of numerous community complaints.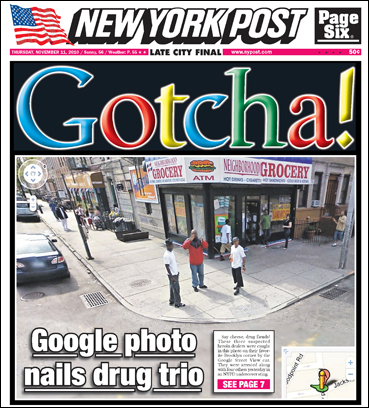 A Google Maps Street View image captured a group of heroin dealers
at a favorite drug spot in Williamsburg, Brooklyn.
Two Heroin Rings Beached in Southern Brooklyn
Two heroin rings that sold heroin in Coney Island and Brighton Beach were dismantled in July. One organization, headed by Vincent Baker, specialized in "Coca-Cola" brand heroin and supplied several low-level dealers in southern Brooklyn. One of Baker's customers, Oleg Kolysyuk, owned a variety store on Brighton First St. and stashed the drugs in the pockets of men's suits and other merchandise he sold. During the investigation, Baker grew wary of law enforcement scrutiny and relocated his business to a parking lot outside an Olive Garden restaurant at the Gateway shopping center in East New York. He was arrested when he went to see his parole of.cer on a prior conviction. Baker has since pleaded guilty and is serving a nine-year prison term.
The leader of the second drug ring, Joseph Folks, supplied other dealers from a drug spot outside a pizza parlor in Coney Island. At the time of Folks' arrest police searched his apartment and recovered a loaded handgun, thousands of dollars in cash and a quantity of drugs hidden in a baby wipe container. A one-year-old baby was present in the apartment.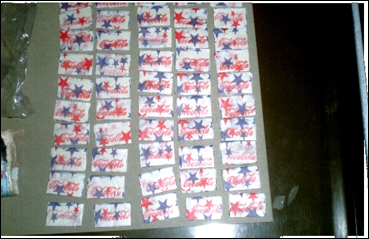 Drug traffickers sold glassines of heroin stamped with the "Coca-Cola"
brand in Coney Island and Brighton Beach.
Seventeen Drug Dealers Arrested in Upper Manhattan 
Two sophisticated drug crews that sold cocaine, ecstasy and marijuana in the Inwood section of Manhattan were dismantled in April. Police arrested 17 drug dealers and seized one .rearm following a nine-month investigation. The two crews controlled opposite sides of Vermilyea Avenue between West 207th Street and Academy Street and intimidated neighborhood residents for approximately three years. In order to avoid law enforcement detection, the groups shared look-outs and avoided making sales outdoors. Surveillance video showed one defendant tampering with a security camera in a lobby. Another drug dealer boasted of knocking out street lights. During the investigation, undercover officers purchased 1,550 pills of ecstasy and 7 ounces of cocaine in more than 24 sales. Police launched the investigation after receiving community complaints.
SoHo Couple Peddled Crack
A couple that sold crack out of their basement apartment on a bustling block in SoHo was arrested in May following a long-term investigation. Antonio and Mary Henriques were the subject of community complaints at the time of their arrests. Undercover officers made numerous drug purchases from the couple, who lived in a building owned by a relative. Police observed buyers arrive early in the morning to line up at the drug spot located close to designer shops and upscale apartment residences. The couple's conduct was so blatant, they could be seen selling crack in plain view to three customers on the very morning that detectives arrived to arrest them.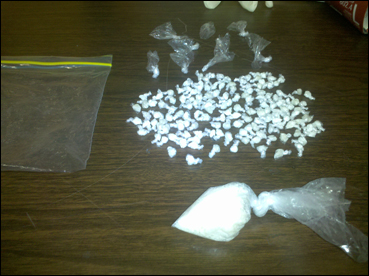 A SoHo couple did brisk business selling crack from their basement
apartment on Sullivan Street.
HOUSING CASES
Drug Ring Dismantled inside Brooklyn's Albany Houses
Six drug dealers who sold heroin and crack-cocaine at the Albany Houses in Crown Heights, Brooklyn were arrested in July. The defendants sold narcotics in apartments, public hallways and stairwells inside two buildings at the NYCHA Housing Development. Following a series of shootings at the complex earlier in the year, undercover officers with the NYPD's Brooklyn North Narcotics Division made dozens of buys from six loosely affiliated dealers during a yearlong probe. In one meeting with an undercover of.cer, a subject of the investigation was videotaped conducting a drug sale with his preschool-aged child in tow. Police searched 11 apartments at the time of the arrests and seized drugs and one firearm.
Twenty-Eight Narcotics Dealers Nabbed In Operation Opera House 
Twenty-eight individuals were arrested for selling cocaine, crack, marijuana and heroin at the Amsterdam Houses, a New York City Housing Authority complex located behind Lincoln Center. The complex served as a major hub for drug trafficking in the area. The neighborhood is home to five schools, including Fiorello H. LaGuardia High School of Music and Performing Arts, Beacon High School and P.S. 191. Undercover NYPD officers made 50 purchases during the nine-month probe, which wrapped up in March. Residents had complained about heavy traffic in the hallways and discarded drug paraphernalia littering the floors in public areas, where many of the sales took place. During the investigation, undercover officers observed drug traffickers using students, who live in the complex and attend city high schools, as look-outs and dealers-in-training.
Twelve Drug Dealers Arrested at Brooklyn's Tompkins Houses
Four loosely-tied drug trafficking rings made over 100 sales of crack-cocaine and heroin to undercover officers and were dismantled in July. Police arrested 12 drug dealers who operated in and around the Tompkins Houses, a NYCHA Housing Development in Bedford-Stuyvesant, Brooklyn. Drug sales were carried out in the lobbies, stairwells, elevators and hallways of the buildings. Members of the four groups would refer customers to one another. In a court authorized search of one apartment that served as a stash house a few blocks from the Tompkins Houses, police found a loaded firearm and 33 zip lock bags of crack.
INVESTIGATORS UNIT
Operation Bad Medicine
A case that exemplifies the key role SNP investigators play in their multi-agency collaborations involved a prescription drug ring that diverted 43,000 oxycodone pills worth $1 million through a sophisticated scheme. This labor-intensive investigation, which began as a referral from the Staten Island District Attorney's Office and the New York State Health Department's Bureau of Narcotic Enforcement (BNE), led to the indictment and arrest of 31 defendants, including one ring leader who sold pills from an ice cream truck. Working closely with BNE, the investigators learned that a high volume of oxycodone pills were entering the black market on Staten Island through a single source. A Manhattan doctor's generated more than 300 forged prescriptions.
Investigators devoted hundreds of man-hours to tracking down the fraudulent prescriptions and interviewing witnesses and pharmacists. Ultimately, the trail led to the doctor's office manager, who stole prescription sheets from her employer and then sold them to two leaders of the Staten Island drug ring. These ring leaders recruited more than two-dozen runners to fill prescriptions and paid them in pills and/or cash. Several members of the ring were also implicated in armed robberies at pharmacies. Many had drug dependency problems.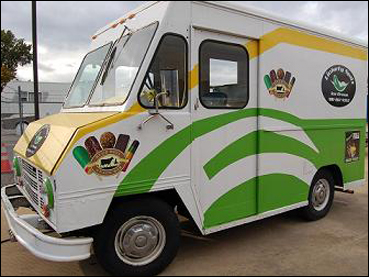 Defendant sold pills from this Lickety Split ice cream truck.
Curtains for Theater District Heroin Mill
A booming heroin mill located in Manhattan's Theater District was dismantled in November following a long-term investigation. More than a kilogram of heroin was seized from a West 43rd Street apartment that housed the drug ring's packaging operation, just blocks from Times Square. Four drug traffickers were arrested by members of the New York Drug Enforcement Task Force and SNP investigators. At the time of the arrests, mill workers had been busily packaging heroin into user-ready "glassine" envelopes. Investigators found piles of loose heroin on tables alongside drug packaging paraphernalia. Tens of thousands of glassines had already been filled and wrapped into bundles for delivery. A variety of stamps were used to market the heroin under different brand names, including "Jersey Boys," "Cats & Dogs," "King Kong" and "95 South." The investigation revealed that mill was in operation at the apartment building for approximately two weeks prior to the arrests.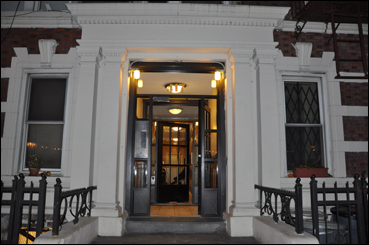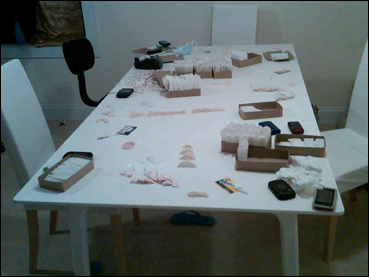 Investigators and DEA Agents interrupted heroin mill workers packaging
heroin at this table in an upscale apartment on West 43rd Street near Times Square.