INVESTIGATION DIVISION
Drug Organization Accused of Ordering Murders
$16 Million Load Found After Ten-Hour Search
Traffickers Run Identity Theft Ring
Operation Titan: 300 Pounds of Cocaine and $1.7 Million Seized
Nightclub Supplier
Cocaine Disguised in Kiddie Toys
Two Dozen Guns to Undercover Officers
Cocaine Indictment: 13 Arrested, $450,000 Recovered
Tractor Trailer Hauls 440 Pounds of Cocaine
Millions in Storage Locker
Heroin and $80,000 Seized At Airport
Five Plot to Steal Cocaine
Armed Robber Gets 11 Years
Father and Son Smuggle Fake Viagra
INVESTIGATORS UNIT
110 Pounds of Cocaine Seized
14 Pounds of Heroin Hidden in Shoes
Ivy Leaguer Nabbed on Craigslist
Queens Sale of Cocaine
Cocaine for Cash on 28th Street
TRIAL DIVISION
Heroin Mill on East 75th Street Shut Down
Bronx Duplex: Daycare Center and Drug Ring
$50,000 in Heroin Recovered in The Bronx
Cocaine inside Statue
Bold Dealing near 77th Precinct Stationhouse
Wall of Airborne Heroin
Four Arrested with Eight Pounds of Cocaine
Cross Borough Cocaine Delivery Service
Day Care Center/Marijuana Packaging Plant
HOUSING CASES
Diego Beekman/Millbrook Houses: Heroin and Guns
Kingsborough Houses: 235 Crack Sales
Murphy Houses: Drugs and Prostitution
Johnson Houses: Three Drug Crews Out of Business
INVESTIGATION DIVISION
Drug Organization Accused of Ordering Murders
Operation Jigsaw, a joint investigation with the New York County District Attorney and the New York Organized Crime Drug Enforcement Strike Force targeted a group headed by Rafael Alvarez that imported kilograms of cocaine from the Dominican Republic.  The investigation revealed that Alvarez orchestrated the killings of other narcotics traffickers in the Dominican Republic in late 2007 and early 2008.  The actions of Alvarez and his associates resulted in the shooting deaths of four individuals.  On February 21, 2008, Alvarez and three of his associates were arrested in Manhattan.  A Grand Jury subsequently voted an indictment charging the four defendants, including Alvarez, with crimes including murder, conspiracy to commit murder, narcotics conspiracy and narcotics possession.  The investigation also resulted in the seizure of nine kilograms of cocaine in New York City by members of the Organized Crime Drug Enforcement Strike Force.
$16 Million Load Found After Ten-Hour Search
A June search of a trailer-truck with California license plates parked on Bruckner Boulevard and Leland Avenue in the Bronx yielded 400 pounds of cocaine. The U.S. Department of Homeland Security lent agents a special X-ray device to conduct the search. After 10 hours, the drugs were found inside a steel band covered with a metal sheath at the perimeter of the floor of the semi-trailer. The cocaine was heavily wrapped in duct tape and grease to avoid canine detection. The investigation, conducted with the New York Drug Enforcement Task Force, linked the drug organization behind the transport to similar narcotics deliveries across the country. By December, Carlos Loveras, Armando Magallon, Miguel Mejias, Antonio Rodriguez, Victor Luna-Martinez and Junior Lantigua had been indicted on the top narcotics possession charge and conspiracy. With the exception of Magallon and Luna-Martinez, the defendants are city residents.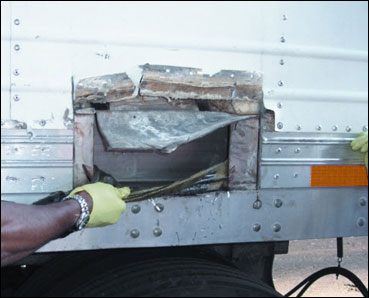 X-rays reveal cocaine hidden in trailer.
Traffickers Run Identity Theft Ring
In July, a 22-count Special Narcotics indictment charged Victor Marte, brother Rolando Alcantara, and Luis Corporan with Conspiracy and top narcotics crimes. Investigators soon learned that the group was simultaneously involved in a broad-based identity theft ring. A 15-month wiretap traced the defendants as they used two apartments in Manhattan's Park Terrace West complex and one apartment at 2545 Sedgwick Avenue in the Bronx to distribute powdered and crack cocaine to customers in Manhattan and the Bronx. Search operations recovered over four ounces of cocaine, a .44 Magnum revolver, a .32 Smith and Wesson, cases of bullets, approximately $28,000, cell phones and drug paraphernalia.
The U.S. Secret Service began looking into the Marte/Alcantara identity theft enterprise. The defendants bought stolen credit card information over the Internet and created fake credit cards used to purchase electronics. They were responsible for at least $10 million worth of credit card fraud. This case was referred to the New York County District Attorney's Office for prosecution.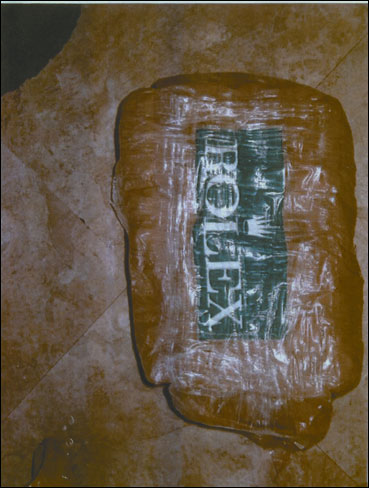 Cocaine and fraudulent credit cards recovered.
Operation Titan: 300 Pounds of Cocaine and $1.7 Million Seized
An international investigation into cocaine and heroin traffickers and money launderers in New York, Rhode Island, Connecticut, Texas, Florida, Hong Kong, Panama, Guatemala and the Dominican Republic ended in 2008. The New York investigation resulted in the prosecution of 21 defendants, the final three of whom were convicted in 2008. Narcotics and money seizures across the city included: Queens, 231 pounds of cocaine and $140,000; Manhattan, 3½ pounds of cocaine and $873,000; the Bronx $515,000; Brooklyn, 68 pounds of cocaine and $202,000; and, Staten Island, two automatic weapons and a .38 caliber revolver.
Nightclub Supplier
From his apartment at 51 Elder Street in Bushwick, Brooklyn Juan Gonzalez ran an operation that delivered a variety of narcotics and pharmaceuticals to customers throughout the city. Gonzalez distributed business cards in nightclubs listing his e-mail address and phone number. In December, a search of his apartment yielded five weapons, including three that were loaded; over 200 zip lock bags filled with crack/cocaine; numerous glassines of heroin; close to two ounces of crystal meth; over 500 Oxycodone pills; over 5,000 ecstasy pills; 80 zip lock bags and a large plastic bag full of Psilocybin/psilocin commonly known as "magic mushrooms"; 20 $50 bags of hydroponic marihuana; cutting agents; counter-surveillance equipment; a stun gun; and over $6,000 in cash. The defendant was indicted on felony narcotics and weapons charges.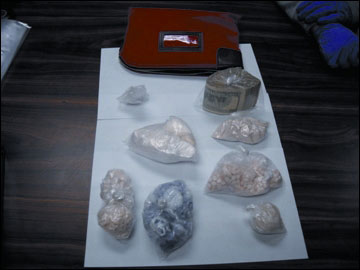 Drugs from heroin to "magic mushrooms" and handguns recovered
from nightclub supplier's apartment.
Cocaine Disguised in Kiddie Toys
Nine members of a narcotics cell that used the U. S. Postal Service to smuggle kilograms of cocaine hidden inside children's toys were indicted in July. The toys were boxed and express-mailed from Puerto Rico to locations in Manhattan, the Bronx, New Jersey and other states. Jose David Diaz-Ortega, the leader of the organization, used his business, Prima Check Cashing on First Avenue in Manhattan, to launder narcotics proceeds. At least twice a week, Diaz-Ortega wire-transferred $40,000 to $50,000 to associates in Puerto Rico. In total, $86,400, 8½ pounds of cocaine, an ounce of marihuana and four handguns were recovered.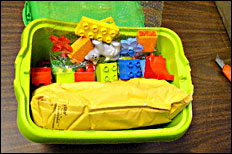 Kilograms of cocaine were concealed inside
of children's toys and smuggled via U.S. Mail
from Puerto Rico to New York.
Two Dozen Guns to Undercover Officers
In eight transactions, Davis Daniels sold 26 weapons to undercover officers in a July investigation. The guns were purchased legally in Virginia at $300 to $400 a weapon and supplied to illegal gun dealers in New York City. Daniels purchased the weapons from a local source and resold them for up to $1,100 per weapon. Most of the weapon transactions occurred around 141st Street and Edgecomb Avenue in Upper Manhattan. Daniels pleaded guilty prior to indictment to Criminal Sale of a Controlled Firearm in the First Degree and faces six years in state prison followed by five years probation.
Cocaine Indictment: 13 Arrested, $450,000 Recovered
In July, 13 people were indicted after an investigation dismantled a cocaine-smuggling network based in New York City. The cocaine shipments were sent by U.S. Mail from Puerto Rico to drop-off addresses in Manhattan and Queens. Angel Colon, the main target of the investigation, and 12 others, including professional boxer Edgar Santana were apprehended by the New York Organized Crime Drug Enforcement Strike Force. A kilogram of cocaine and $450,000 were recovered.
Tractor Trailer Hauls 440 Pounds of Cocaine
A joint investigation ended in August with the seizure of 440 pounds of cocaine hidden in a highly-sophisticated trap on the inside roof of an otherwise empty tractor-trailer with California plates. The truck was parked on the corner of Halleck and Randall Avenues in the Hunts Point section of the Bronx. Driver William G. Paulet, from Ontario, California was indicted on Criminal Possession of a Controlled Substance in the First Degree. With the assistance of NYPD's Canine Unit members of the New York Drug Enforcement Task Force located the trap.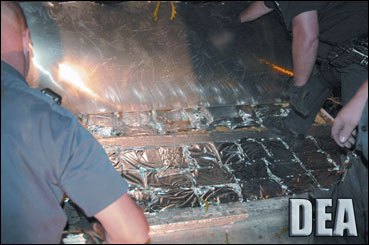 190 kilograms of cocaine stacked in a compartment on the roof of the
trailer truck were located after a three-hour search.
Millions in Storage Locker
63-year old Jesus Gineste and 42-year old Carlos Betancourt were indicted in March on top narcotics charges after members of the New York Drug Enforcement Task Force seized more than $2.6 million and 55 pounds of cocaine. Close to $2.3 million was recovered from a locker registered to Gineste at Extra Space Storage Facility, 2875 Edson Avenue in the Bronx. From three apartments in a multi-dwelling house at 80-46 59th Street in Queens the Task Force recovered $300,000, 55 pounds of cocaine, two kilo presses, a heat sealer, cutting agents and a money counting machine. Both defendants were sentenced to state prison.
Heroin and $80,000 Seized at Airport
A joint investigation led to the seizure of nine kilograms of heroin and approximately $80,000 which arrived at John F. Kennedy International Airport from the Dominican Republic on June 7, 2008. On June 10, 2008, members of the New York Drug Enforcement Task Force and investigators from the Special Narcotics Prosecutor's Office arrested Juan Nabor Hernandez-Disla and Roger Jose Almanzar in connection with the airport heroin seizure. Both defendants pleaded guilty and were sentenced to state prison.
Five Plot to Steal Cocaine
A narcotics investigation uncovered a plot by five men to rob an individual they believed would be transporting 15 kilograms of cocaine. The defendants planned to be heavily armed and use vehicles resembling police cars. On October 2, 2008, the defendants met at a pre-arranged location near 150th Street and Conduit Avenue in Queens. All five were arrested by authorities who also seized a loaded .45, a replica .45, and a loaded shotgun in addition to two vehicles with official NYPD stickers in the windshield. All five were indicted for Attempted Criminal Possession of a Controlled Substance in the First Degree, weapons possession and conspiracy.
Armed Robber Gets 11 Years
Tony Clanton, who impersonated a DEA agent and carried out at least four armed home-invasion robberies and burglaries, entered a guilty plea and was sentenced to 11 years in state prison and five years post-release supervision. Clanton had prior violent convictions and was on federal probation for shooting a Bureau of Alcohol, Tobacco and Firearms agent during a robbery when he was arrested in this case. A February search at his home on Staten Island led to the seizure of narcotics, three loaded guns, 300 rounds of ammunition, DEA and other law enforcement credentials, bullet proof vests, scanners, handcuffs and identification papers from robbery victims.
Father and Son Smuggle Fake Viagra
From January to September, 2008, father-and-son team Angel Grullon, Sr. and Angel Grullon, Jr., traveled twice a month to the Dominican Republic where, on each trip, they would buy 5,000 to 20,000 counterfeit Viagra pills. The duo then smuggled the phony prescription pills into the city through John F. Kennedy International Airport hidden inside bottles of fish oil and vitamins concealed in luggage. The pills, colored in the same blue hue as the real Pfizer Viagra, were then distributed to bodegas and storefronts and resold for upwards of $1.60 a pill in upper Manhattan. The Grullons and associate Andy Salgado were indicted on Trademark Counterfeiting and Criminal Diversion of Prescription charges.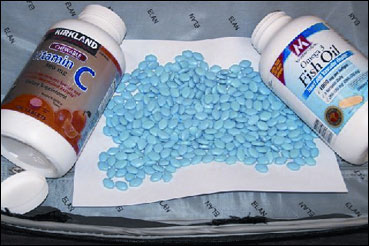 Counterfeit Viagra pills were hidden in fish oil and vitamin bottles.
INVESTIGATORS UNIT
110 Pounds of Cocaine Seized
In September, a joint investigation with the New York Drug Enforcement Task Force led to the arrest of five individuals in the East New York section of Brooklyn and recovery of 110 pounds of cocaine. The narcotics were smuggled into the city in an 18-wheel truck that transported the drugs from Texas. The defendants included the two truck drivers from Texas and three other individuals who met them in desolate factory area where the truck had parked. All five were arrested as they began to remove the narcotics from inside the empty trailer of the truck.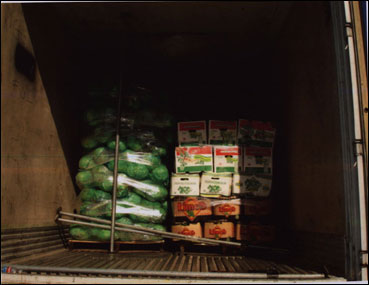 50 kilograms of cocaine were smuggled in a hidden compartment
behind a shipment of fruit and vegetables.
14 Pounds of Heroin Hidden in Shoes
Five Mexican heroin couriers were arrested in September in the Americana Inn — a hotel in midtown Manhattan — after they delivered three kilograms of heroin hidden inside the heels of shoes to a local drug dealer. A surveillance team recorded the transaction and the recipient was followed to a location in the Bronx where he was stopped and the heroin seized. Subsequently, search warrant operations were conducted in two of the rooms where the couriers were staying and investigators found three additional kilograms of heroin and $24,000 in U.S. currency. By year end, all defendants had pleaded guilty to felony narcotics possession crimes and were sentenced.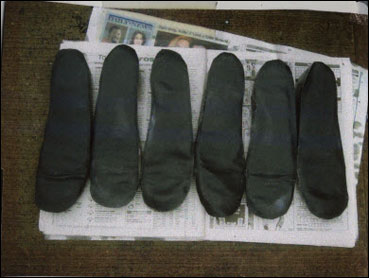 14 pounds of heroin hidden inside the heels of shoes.
Ivy Leaguer Nabbed on Craigslist
On October 27, 2008, Ray Wang, a Princeton University graduate, was sentenced to one year in prison after he was convicted by jury of selling cocaine over the Internet. Wang, who advertised through Craigslist, negotiated with and sold cocaine to an undercover officer. In addition to the New York case, the defendant was also facing charges in Northhampton County, Pennsylvania, related to his use of "My Space" to initiate contact with an underage girl, leading to a sex crimes prosecution in that jurisdiction.
Queens Sale of Cocaine
The Special Narcotics Investigators Unit launched a probe into Internet ads posted on Craigslist by John Gutierrez. After initial communications, an undercover investigator negotiated the purchase of six grams of cocaine in exchange for $300. Gutierrez was arrested after the drug transaction was completed at a pre-arranged location in Queens. The defendant was subsequently indicted on Criminal Sale of a Controlled Substance in the Third Degree.
Cocaine for Cash on 28th Street 
A short-term Internet investigation ended with the arrest of Fabian Davis. Davis, who had posted cocaine ads on Craigslist, arranged to meet with an undercover officer on the corner of 28th Street and Third Avenue in Manhattan. During the June 6, 2008 meeting, the defendant sold four grams of cocaine to the undercover officer for $400. Davis was arrested and subsequently indicted for narcotics sales.
TRIAL DIVISION
Heroin Mill on East 75th Street Shut Down
A heroin mill in a studio apartment on East 75th Street in Manhattan was shut down in March and seven people were arrested. Juan Pablo Ramos, the leader of the heroin ring, and Armando Leal used the studio to grind down and package kilograms of heroin into hundreds of $10 glassine envelopes. Bundles of 10 to 100 heroin envelopes were distributed to dealers whose sale routes included the Upper East Side, West Village, Gramercy Park and East Harlem. Approximately 1½ kilograms of heroin valued at over $100,000, stacks of glassine bags, drug paraphernalia, bank records and computers were recovered during the takedown. The organization distributed over four kilograms of heroin per month, grossing approximately $4 million per year.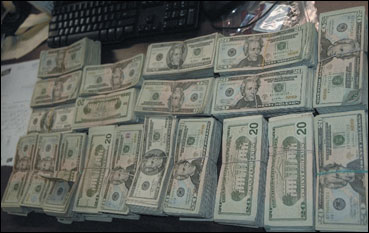 Heroin, packaging and money recovered.
Bronx Duplex: Daycare Center and Drug Ring
Ramfis Aquino ran a heroin-manufacturing operation from the rear apartment of a two-story private house at 555 Taylor Avenue in The Bronx. The house is also home to a daycare center. Police recovered over eight ounces of loose heroin, 7,000 glassine bags filled with heroin, over two kilograms of an opiate-base mixture of morphine, codeine and a drug called 6-monoacetylmorphine. Both codeine and morphine are used to make heroin. Also seized were a bullet-proof vest and jacket, ammunition and two digital scales. Aquino pleaded guilty and was sentenced to state prison. Officials said the daycare management was unaware of the narcotics ring.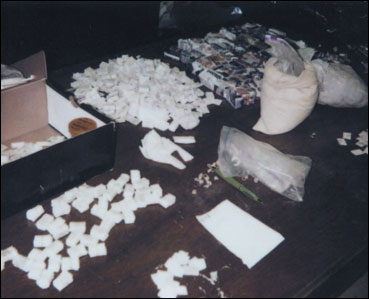 5,000 glassine bags of heroin with a street value of $50,000.
$50,000 in Heroin Recovered in The Bronx                                         
A search operation at 3021 Heath Avenue in The Bronx led to the discovery of more than 5,000 glassines of heroin, each with a street value of at least $10. In one area, police recovered two "sleeves" each containing approximately 2,000 glassines of heroin. Six bundles of glassines of heroin were found in a closet, a bag of loose heroin and a bag containing more than 1,500 heroin-filled glassines were recovered from other areas of the apartment. A bottle of quinine hydrochloride and a bag of cutting agent used in the preparation of heroin for distribution were also seized. Alfonso Rodriguez and Jose Genao were indicted in October for Criminal Possession of a Controlled Substance in the Second and Third Degrees.
Cocaine inside Statue
Centro Espiritual Carmen, a "botanica" located at 941 St. Nicholas Avenue in Manhattan, was both a cocaine distribution center and a religious storefront. An investigation recorded five undercover cocaine sales by Sokelin Heredia and Parfirio Lopez inside the store. Antonio Luna and Tomas Rojas delivered cocaine to an undercover officer. Search warrants executed at the storefront in October yielded over a half-ounce of cocaine hidden inside a hollow religious statue. Both Heredia and Parfirio were indicted for Criminal Sale of a Controlled Substance in the First Degree. Rojas and Luna were indicted for lesser narcotics crimes.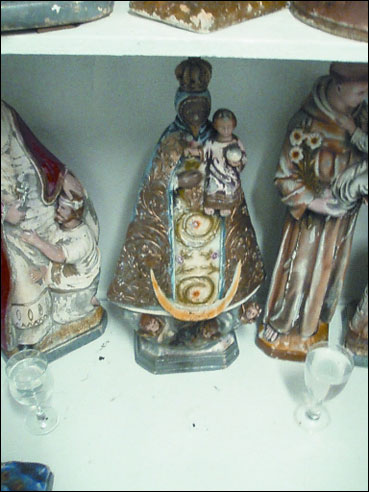 Cocaine found inside a hollow religious statue.
Bold Dealing near 77th Precinct Stationhouse
Robert St. Hilaire, Kirschel Butler and Ronald Hudson sold ounce-quantities of cocaine and heroin from the lobby of a building across the street from the 77th Precinct stationhouse. Bernard Washington and Ronald Hudson supplied cocaine to the operation. A search of Hudson's Mercedes Benz yielded $6,150 from a hidden compartment. One ounce of cocaine, an ounce of heroin, $2,000 and a loaded .38 pistol were recovered from inside the door panel of St Hilaire's Dodge Charger. The defendants were charged with Criminal Sale of a Controlled Substance in the First, Second and Third Degrees and weapons possession.
Wall of Airborne Heroin
Bernie Almonte, Manuel Dilone and Carlos Santana ran a heroin mill out of 1405 College Avenue in the Bronx. Almonte supervised associates who packaged thousands of glassines of heroin three to four times a week. The group used brand names that included "*****," "Masterpiece" and "Games." When police arrived, two of the defendants were emptying large bags of heroin into the air and throwing water where the powder landed to get rid of the evidence. The first officers to enter were met by a wall of airborne heroin. A loaded weapon was recovered at 536 Isham Avenue in Manhattan and $30,000 was seized at 4530 Broadway in Manhattan. The defendants were charged with Criminal Possession of a Controlled Substance in the First Degree.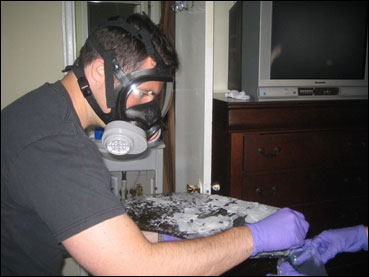 Investigators encountered wall of airborne heroin and clumps of
heroin on the floor.
Four Arrested with Eight Pounds of Cocaine
Edward Monsanto, Angel Perez-Baez, Juan Castro and Diogenis Gonzalez were indicted for Criminal Possession of a Controlled Substance in the First Degree. Perez-Baez and Monsanto were apprehended in February after police recovered two kilograms of cocaine from a concealed compartment inside the console of a vehicle parked on Amsterdam Avenue. A search at 609 West 191st Street in Manhattan led to the seizure of an additional 1.5 kilograms of cocaine and over $5,000. Castro and Gonzalez were arrested as they attempted to flee to an apartment below.
Cross Borough Cocaine Delivery Service
Claudio Quan and Luis Polanco worked together in a cocaine delivery service that operated in Queens and Manhattan. Customers contacted the service's cell number, placed an order and arranged to meet with the defendants at different locations to buy cocaine. Quan and Polanco sold cocaine to undercover officers on ten different occasions during an investigation that lasted from June to October; one of the transactions involved more than ½ ounce of cocaine.
Day Care Center/Marijuana Packaging Plant
In March, Akwasiba Radellant and Donald Crespo were arrested after a search warrant execution at apartment 2B of the Drew Hamilton Houses on 1220 Eighth Avenue in Manhattan. Radellant ran a city-licensed child-care facility out of her apartment. Windows had been covered with black plastic bags and fire alarms had been deactivated. More than three pounds of marijuana, a digital scale, plastic bags used for packaging marijuana and $1,245 were recovered. Crespo pleaded guilty to Criminal Possession of Marijuana and Endangering the Welfare of a Child and was sentenced to five years probation and time served. Radellant was convicted at trial in 2010.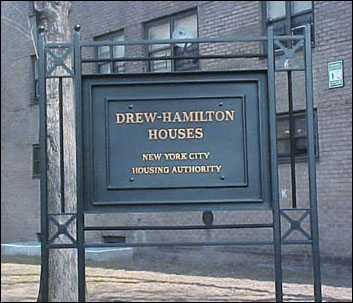 Licensed daycare provider ran a marijuana operation and a child
care center at the Drew Hamilton Houses.
HOUSING CASES
Diego Beekman/Millbrook Houses: Heroin and Guns
In December, an indictment charging 17 sellers of heroin and crack-cocaine was filed stemming from an investigation that started at the Bronx's Diego Beekman housing complex and spread to nearby NYCHA Millbrook Houses. Undercover officers purchased $25,000 worth of heroin from Millbrook residents and other dealers, including 69-year-old Carlos Camacho, a fraud investigator with the Human Resources Administration for 40 years, and his grandson Cesar Quinones. Authorities recovered 300 heroin glassines and $23,000 in cash from inside the apartment. Undercover officers purchased heroin or crack on 48 different occasions. They also purchased a .22 caliber revolver from 50-year-old Arthur North. 
Kingsborough Houses: 235 Crack Sales
A year-long investigation ended in October, when 28 individuals were indicted on charges involving more than 235 sales of crack-cocaine to undercover officers at the Kingsborough Houses, a New York City Housing Authority complex in the Bedford-Stuyvesant section of Brooklyn. Sales occurred inside the common areas of 13 of the 16 buildings that comprise the complex; at least 11 defendants are complex residents. Four shootings were recorded during the investigation, including one where a bullet grazed a three-year old girl in the head. Search operations led to the recovery of two handguns and 200 bags of crack. Nine defendants pleaded guilty.
Murphy Houses: Drugs and Prostitution
In December, seven drug dealers were arrested and a house of prostitution was shuttered at the end of Operation Cross Bronx Crackdown at the Murphy Houses in The Bronx. Triggered by community complaints, the narcotics investigation recorded 60 undercover purchases of crack-cocaine. Many of the sellers were residents of the Murphy Houses, including Prince Fahie, Jr., a member of the volunteer tenant patrol. Police found 30 zip lock bags of crack in his bedroom. Searches yielded a loaded .9 mm semi-automatic weapon and a loaded .22 Derringer firearm. A private residential building less than a half block away was boarded up by judicial order when police learned that for a fee substance abusers could go there to smoke crack-cocaine while prostitutes loitered inside the building.
Johnson Houses: Three Drug Crews Out of Business
Eleven members of three crews selling powdered cocaine, crack and heroin in the Johnson Houses in Manhattan were indicted in December. Nine of the defendants were charged with B felony narcotics sales. Defendants Timothy Smart and his uncle, Shadell Smart, were charged with Criminal Sale of a Controlled Substance in the Second Degree for selling nearly two ounces of cocaine on the day of the takedown. Undercover officers purchased $3,200 worth of powdered cocaine during the course of the investigation.  Police estimated the crews were netting about $40,000 per month.