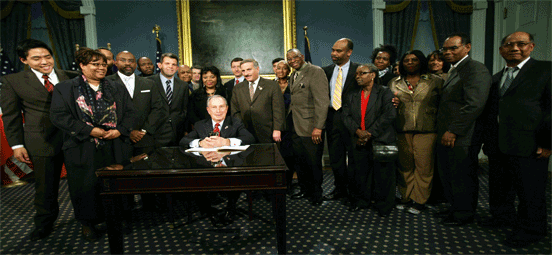 On Monday, Mayor Michael R. Bloomberg Signed the Bed-Stuy Gateway Bill in the Blue Room at City Hall.
On March 30, Mayor Michael R. Bloomberg signed legislation establishing the Bed-Stuy Gateway Business Improvement District. It was the 20th BID signed under the Mayor's administration and marks the highest number of BIDs created under a single administration. The Bed-Sty BID is also the 64th BID formed in New York City.
"This new Business Improvement District - located in the Bedford-Stuyvesant section of north-central Brooklyn - is one of the busiest hubs of commercial activity in the borough. It includes a diverse mix of about 307 regional and national chain stores along with independently owned businesses," Mayor Bloomberg said at Monday's bill signing. "The Bed-Stuy Gateway BID will provide maintenance and sanitation services, security services, marketing and promotion of local businesses, holiday lighting, economic development, beautification and landscaping. The services provided to the community are essential to ensuring that small businesses, and the neighborhoods in which they operate, are given every opportunity to succeed. The BID has an operating budget of $675,000."
The Bed-Stuy Gateway BID includes properties lining the north and south sides of Fulton Street, from the east side of Classon Avenue to the west side of Albany Avenue; Plus, properties lining the north side of Fulton Street from the east side of Albany Avenue to the west side of Marcus Garvey Boulevard; properties lining the south side of Fulton Street from the east side of Albany Avenue to the west side of Troy/Lewis Avenue; and properties lining the east and west sides of Nostrand Avenue, from the south side of Halsey Street to the north side of Atlantic Avenue.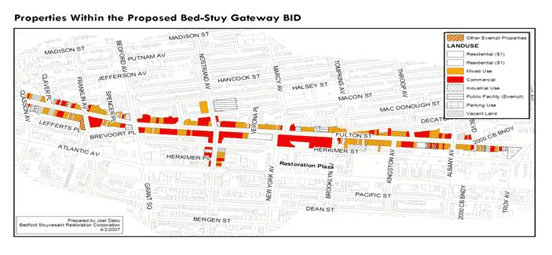 The BIDs established under Mayor Bloomberg have collectively invested over $17.5 million dollars towards the improvement of their districts since their inception. They provide supplementary services to over 700 block faces in New York City and serve over 5,000 businesses. In addition, in FY 2008 these BIDs have employed close to 70 sanitation workers and removed over 170,000 tons of garbage and 10,500 graffiti incidents; distributed close to 100,000 district guides; held over 70 events with an estimated 130,000 attendees; and beautified their districts by adding over 150 plantings and 700 pieces of street furniture.
Under Mayor Bloomberg, the number of BIDs in Queens and Brooklyn grew over 50% and the number of BIDs in the Bronx doubled. In addition, the first BID in Staten Island, the Forest Avenue BID, was signed into law in 2004.
"I would like to thank the Department of Small Business Services Commissioner Rob Walsh and his staff for their role in establishing this BID. I also want to acknowledge the important contributions of the members of the Bed-Stuy Gateway BID Steering Committee and the City Council," the Mayor concluded at Monday's bill signing ceremony.