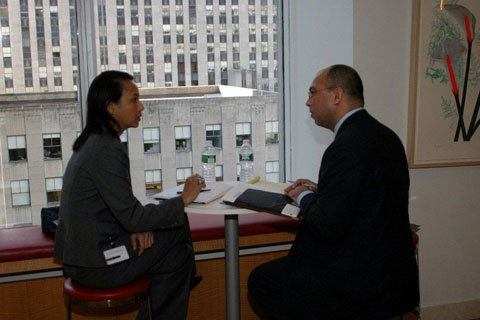 A corporate executive mentor meets with her small business owner client for the first time. (Courtesy of AXA Equitable) 
NEW YORK – The NYC Department of Small Business Services (SBS) along with its corporate partners has announced the launch of the Corporate Alliance Program's (CAP) Corporate Coaching Program. The Corporate Coaching Program is a nine-month program that helps small businesses by matching senior executives from CAP member firms to certified minority and women (M/WBE) small business owners. The senior executives serve as one-on-one executive coaches for the small business owners in an effort to offer first-hand business advice and strategies for growth. Specific business challenges addressed include core areas such as financial management, strategic planning, marketing, human resources, legal, and more. M/WBE firms were selected to participate in the program through a competitive application process.
"A mentor can be an invaluable asset to a small business owner looking to operate and grow in New York City," said Department of Small Business Services Commissioner Rob Walsh. "I thank our partners in the private sector for their dedication, time, and energy in making this and other Corporate Alliance Program initiatives available to help build the capacity of certified and small businesses throughout the City."
Corporations participating in the Corporate Coaching Program include Accenture, American Express, AXA Equitable, BNY Mellon, Citi, Colgate-Palmolive, and Columbia University. The Coaching Program framework was developed by Accenture. Participating small businesses include Acosta Design Inc., Analog Digital International Inc., Diversant LLC, Frank & Marcotullio Design Associates Inc., Intellectual Capital Services Inc., Lally Acoustical Consulting LLC, Musho Architecture and Design LLC, Pia Car Limo, QED National Inc., Rebel Visions Corporation, Scrub Clean Maintenance Corp., and Mary Nittolo Inc. dba The Studio. 
Coaches were matched with their small businesses during the first session which took place on January 4, 2012 at AXA Equitable. One-on-one coaching sessions will continue until July, 2012 as coaches help their small business clients achieve desired growth by strengthening their existing capabilities, resources, and qualities. Coaches are expected to work with their clients to help develop goals, quantifiable measures, and desired results, and provide an operational framework for achieving goals.
The Corporate Coaching Program is one of four Corporate Alliance Program initiatives organized by the Mayor, the City of New York, and twelve private corporations to help increase opportunities for minority- and women-owned small businesses. CAP initiatives offer an opportunity for firms to connect with major participating corporations and win contracts. Becoming a supplier to a large corporation adds credibility and stability to a small business while increasing revenue. It also helps strengthen supplier-diversity programs at leading institutions in the City.
About the NYC Department of Small Business Services
The NYC Department of Small Business Services (SBS) makes it easier for businesses in New York City to start, operate, and expand by providing direct assistance to business owners, fostering neighborhood development in commercial districts, and linking employers to a skilled and qualified workforce. For more information on all of SBS' services go to nyc.gov/sbs.
About Accenture
Accenture is a global management consulting, technology services and outsourcing company, with more than 244,000 people serving clients in more than 120 countries.  Combining unparalleled experience, comprehensive capabilities across all industries and business functions, and extensive research on the world's most successful companies, Accenture collaborates with clients to help them become high-performance businesses and governments.  The company generated net revenues of US$25.5 billion for the fiscal year ended Aug. 31, 2011.  Its home page is www.accenture.com.
About American Express Company 
American Express Company is a leading global payments, network and travel company founded in
1850.
About AXA Equitable
In business since 1859, AXA Equitable Life Insurance Company (NY, NY) is a leading financial protection company and one of the nation's premier providers of life insurance, annuity, and financial products and services.
About BNY Mellon 
BNY Mellon is a global financial services company focused on helping clients manage and service their financial assets, operating in 36 countries and serving more than 100 markets.
About Citi
Citi is a global financial services company that has approximately 200 million customer accounts and
does business in more than 160 countries and jurisdictions.
About Colgate-Palmolive
Colgate-Palmolive is a global consumer products company, focused on oral care, personal care, home
care and pet nutrition.
About Columbia University
Columbia University is a top research university that seeks to advance the frontiers of knowledge and
foster a community deeply engaged in understanding and addressing complex global issues.