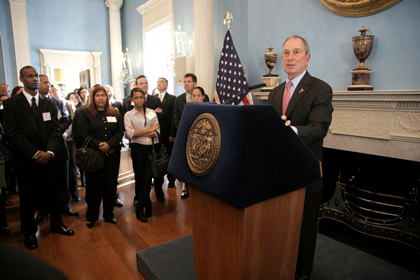 Manhattan – Mayor Michael R. Bloomberg and Department of Small Business Services (SBS) Commissioner Robert Walsh today hosted an Employer Appreciation breakfast at Gracie Mansion. The event recognized close to 100 businesses for investing in the city's economy and local workforce by hiring and training thousands of New Yorkers with help from NYC Business Solutions, a set of free services offered by SBS to help businesses start, operate and expand.
Last year, NYC Business Solutions worked with more than 700 businesses across the five boroughs to recruit thousands of candidates for job openings in fields such as professional services, healthcare, transportation, and information technology, among others. NYC Business Solutions identifies job openings, develops a customized recruitment strategy and then partners with the City's Workforce1 Career Centers to review resumes, identify and screen candidates and match the right employee to the right employer. Last year more than 31,000 New Yorkers were placed in jobs through NYC Business Solutions' recruitment services and Workforce1 Career Centers' jobseeker services.
Today, local businesses were recognized for their commitment to growing the local economy and putting New Yorkers to work. Examples of businesses include Eataly, a gourmet Italian market and eatery that opened in August 2010 with over 200 positions filled by NYC Business Solutions. Five Guys Burgers and Fries, a nation-wide food franchise, has worked extensively with NYC Business Solutions to staff five new location openings in New York City, and to help train their staff. Additionally, NYC Business Solutions helped Aloft Harlem Hotel, a boutique hotel, and Liberty Tax, a tax firm franchise, with their hiring needs.
"Thank you to all the businesses that are committed to helping our City grow and creating jobs." said Commissioner Walsh. "We are doing all we can to match businesses looking for qualified employees with New Yorkers looking for jobs and we will continue working hard to strengthen our relationships with businesses across the City."
The NYC Business Solutions team works to support businesses in various ways. In 2010, NYC Business Solutions provided customized services to help over 6,000 entrepreneurs and business owners reach their goals. NYC Business Solutions helped business customers with 4,524 open positions to recruit qualified employees. Last year, through NYC Business Solutions, more than 600 customers were able to secure close to $22 million in financing; over 3,800 business owners attended free business courses; and more than 430 businesses were connected to pro bono legal assistance.
NYC Business Solutions is at the forefront of the City's effort to provide direct assistance to business owners throughout the five boroughs. Mayor Bloomberg launched NYC Business Solutions in 2004, to ensure that the City's businesses have access to a range of free business services. To learn more go to www.nyc.gov/nycbusiness or call 311 and ask for NYC Business Solutions.

About the Department of Small Business Services
The Department of Small Business Services (SBS) makes it easier for businesses in New York City to start, operate, and expand by providing direct assistance to business owners, fostering neighborhood development in commercial districts, and linking employers to a skilled and qualified workforce. For more information on all of SBS' services go to nyc.gov.