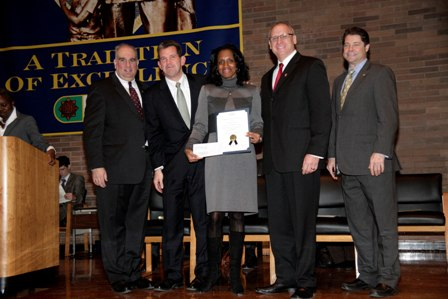 New York– New York City Department of Small Business Services (SBS) Commissioner Robert W. Walsh today joined Department of Citywide Administrative Services (DCAS) Commissioner Edna Wells Handy and others in congratulating the winners of the Hundred Year Association Isaac Liberman Public Service Awards and E. Virgil Conway College Scholar Awards.
For the ninth consecutive year, an SBS employee is being recognized for outstanding public service. This year's recipient, Kim Muldrow-Maxwell, a Contract Reviewer with SBS' Division of Labor Services (DLS), was honored today during a ceremony held at One Police Plaza that recognized 10 outstanding civil servants and 15 children of career civil service employees for academic achievement. The recipients were presented $22,000 in cash and over $30,000 in college scholarships. Ms. Muldrow-Maxwell received a $1,000 award from the Roman Stone Construction Company.
"Kim consistently demonstrates a dedication that goes well beyond her job description," said SBS Commissioner Walsh. "No one serves as a better example than Kim when it comes to looking out for and supporting her colleagues. She is a true leader who embraces change and never wavers in her commitment to excellence. I am thrilled that Kim received this award for all her hard work and contributions to this Agency and the City."
As a Contract Reviewer for the Division of Labor Services, Kim Muldrow-Maxwell, a 27-year veteran of New York City public service, works directly with businesses to help them understand their obligations under the law. She applies analytical skills to review businesses' employment policies and procedures and determine whether it is necessary for them to make amendments in order to comply with the law. This requires an in-depth understanding of the law, as well as excellent communication skills.
Demonstrating her commitment to effective management and the professional success of her work team, Ms. Muldrow-Maxwell has devoted her own time to learning sign language so that she can communicate more effectively with co-workers who are hearing impaired.
"I am very pleased and humbled to receive this award," said Ms. Muldrow-Maxwell. "I am especially honored to know that many of my colleagues believe that I have, in some way, made a meaningful contribution to the development of the City of New York."
Previous SBS recipients of the Isaac Liberman Public Service Award include Evette Robinson (2009), Narda Amarilla-Fernandez (2008), Brenda Snider (2007), Eddy Eng (2006), Haleena Nalevanko (2005), Charles Houston (2004), Lynn Roberts (2003) and Bernadette Nation (2002).
The Hundred Year Association – founded in 1927 and composed of businesses, professional, educational and charitable organizations that have been in continuous operation in New York City for over a century – has honored career civil service employees since 1958. In addition, since 1971, the Association has awarded college scholarships to the children of city employees for outstanding academic achievement and community service.
Each year, the Hundred Year Association reviews the achievements of City employees to identify those who, through dedication beyond their job descriptions, have provided outstanding service to the people of New York City.
About the Department of Small Business Services
The Department of Small Business Services (SBS) makes it easier for businesses in New York City to start, operate, and expand by providing direct assistance to business owners, fostering neighborhood development in commercial districts, and linking employers to a skilled and qualified workforce. For more information on all of SBS' services go to nyc.gov/sbs.