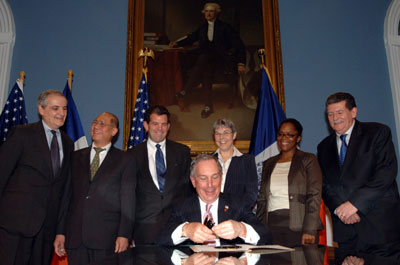 "The next bill before me today is Introductory Number 465, sponsored at the request of the Administration by Council Members Weprin, Comrie and Gentile. This bill authorizes an increase in the annual expenditures for the HUB Third Avenue and North Flatbush Avenue Business Improvement Districts (BIDs).
"This legislation will authorize an increase in the amount to be expended for the HUB Third Avenue BID in the Bronx from $309,927 to $400,927, and increase the amount to be expended for the North Flatbush Avenue BID in Brooklyn from $93,000 to $115,000. This increase in funds will allow for the continuation of the vital services that these BIDs provide to their respective communities.
"Business Improvement Districts are community organizations that are voluntarily formed to promote business development and improve the quality of life in neighborhoods across the City. Established by local law, BIDs are self-funded by local property owners and are overseen by the City's Department of Small Business Services.
"I would like to thank Rob Walsh, the Commissioner of the Department of Small Business Services, and his staff, for their role in increasing the expenditures for both of these BIDs. I also want to acknowledge the important contributions of the members of the HUB Third Avenue and North Flatbush Avenue BID Boards of Directors and the City Council."