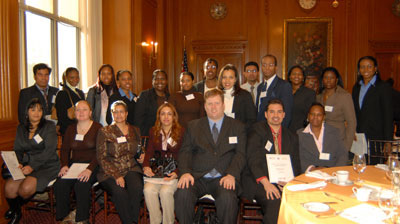 New York City Department of Small Business Services (SBS) Commissioner Robert W. Walsh and HSBC Bank USA Chief Executive Officer Martin Glynn announced earlier this week the graduation of 111 students from the Bank Teller Training Program. The Bank Teller Training Program is a partnership between several large banks, including HSBC, Citibank, N.A., and Chase, and NYC Business Solutions, an initiative of SBS. The graduation ceremony also marked the transfer of program leadership from HSBC to SBS, which came out of a joint decision between the City and the partner banks in order to allow the program to reach more New Yorkers and have a continued presence in all five boroughs. The other banks have committed to remain actively engaged in the program. Glynn presented Commissioner Walsh with a $10,000 donation for ongoing support and development of the program. The graduation was held at the headquarters of HSBC Bank USA, N.A. in Midtown Manhattan.
"It is a true vote of confidence for our workforce development program that HSBC and our partner banks have turned over program leadership to the Department of Small Business Services," said Commissioner Walsh. "We look forward to continuing to work with our partners to grow this program and create more opportunities for New Yorkers."
"HSBC is proud of its long affiliation with the Bank Teller Training Program and to make a $10,000 grant to support the program's continued success," Glynn said. "Tellers play a critical role on the bank's front line, interacting with our customers on a daily basis. Tellers are presented with great opportunities for growth and the work of the training program plays an important role in affording those opportunities."
The Bank Teller Training Program trains individuals who otherwise would not have the opportunity to access jobs in financial services. The program, an intensive three-week, tuition-free training course offered at New York City's Workforce1 Career Centers, seeks to identify candidates from the Career Centers who have basic skills and an interest in finance but need additional interviewing, customer service, sales, and bank telling-specific skills. The partner banks design the curriculum and deliver classroom training to ensure graduates have the skills needed to be hired in financial services.
Since SBS began partnering with the Bank Teller Training Program in 2004, the number of graduates of the program has nearly doubled. 72 of this year's 111 graduates have already received job offers, and 13 other recent graduates are in the interview process. If all 13 are hired, the program will have a placement rate of 77%, an increase from 2004's rate of 63%.
The Bank Teller Training Program exemplifies SBS' demand driven approach to workforce development. Through NYC Business Solutions, SBS serves businesses in all industries by focusing on the unique hiring needs of each business customer. This ensures high-quality referrals, more efficient recruitment processes and less time and money spent by businesses on recruiting. NYC Business Solutions works with banks throughout the City to help recruit candidates for a wide range of positions.
SBS' approach to workforce development is a result of Mayor Michael R. Bloomberg's efforts to link the City's economic and workforce development initiatives. In an unprecedented step in July 2003, the Mayor consolidated the Department of Employment and the Department of Small Business Services. The result is a single agency that understands and responds to the needs of both businesses and their employees. The Division of Workforce Development is at the center of this relationship: connecting employers with a skilled workforce and providing employment services to the City's adult jobseekers. These policies are put into action at the Workforce1 Career Centers. The Centers provide jobseekers with a full array of employment services including job placement, career advisement, job search counseling, and skills training. Workforce1 Career Centers are co-located with NYC Business Solutions Centers, which provide businesses with access to skilled labor through customized recruitment and training initiatives tailored to a company's specific needs.
Job placements in the Workforce1 Career Centers have risen from 127 per quarter in April 2004 to over 4,000 per quarter presently. Through November 30th, the Workforce1 System has placed 15,198 jobseekers in employment in 2006, already exceeding our 2006 goal of 15,000 placements.