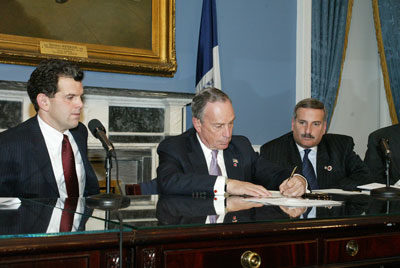 "The bill before me today is Introductory Number 564, sponsored at my request by the Chair of the Committee on Finance, Council Member Weprin and Council Members Comrie and Gennaro.  This bill establishes the Sutphin Boulevard Business Improvement District in the Borough of Queens.
"The Sutphin Boulevard Business Improvement District is yet another example of how New York City can benefit from partnerships between the public and private sectors. My support for the creation of the Sutphin Boulevard Business Improvement District is evidence of our Administration's belief that these partnerships play a vital role in the future growth and development of New York City.
"The establishment of this business improvement district along Sutphin Boulevard from Hillside Avenue to 94th Avenue, will provide residents, merchants, visitors and business owners with marketing and promotions, security, maintenance and sanitation, holiday lighting and other services that will enhance the district's business community.
I would like to thank Deputy Commissioner Mark Newhouse, Assistant Commissioner George Glatter and Leon Fonfa of the Neighborhood Development Division at the Department of Small Business Services, for their assistance in guiding this business improvement district through the approval process.  I would also like to recognize the Sutphin Boulevard Steering Committee and thank the Greater Jamaica Development Corporation for the assistance they provided."