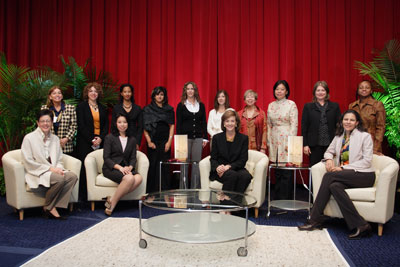 The New York City Commission on Women's Issues (CWI) and NYC Business Solutions, an initiative of the New York City Department of Small Business Services (SBS), today announced the recipients of $160,000 in NYC Small Business Awards grants. NYC Small Business Awards 2006, announced by Mayor Bloomberg late last year, is a privately funded grant program that celebrates the achievements of women and businesses in New York City. Out of over 300 applicants, six first place winners and three runners-up were recognized. Anne Sutherland Fuchs, Chair of CWI, and Kerri Jew, Deputy Commissioner for the Division of Economic and Financial Opportunity at SBS, announced the awards at the Women's Leadership Exchange Conference in New York City at the Sheraton Hotel and Towers.
"Small businesses are the driving force behind the growth of New York City," said CWI Chair Anne Sutherland Fuchs. "These nine recipients and runners-up exemplify the goals of this program, setting a high standard for all other businesses operating in New York City. Through their success, they have become role models for business women in all five boroughs. We commend the hard work of these individuals and look forward to seeing the continued positive impact of their businesses on our great City."
"These grants are simply a terrific way of promoting small businesses in New York City, and they are yet another example of how Mayor Bloomberg is making small businesses a priority in his administration," said SBS Commissioner Robert Walsh. "The awards have been a remarkable success in highlighting the contributions these recipients make to women in business throughout the five boroughs, and I commend the New York City Commission on Women's Issues for spearheading such a great program."
The recipients of the NYC Small Business Awards are required to be based in New York City, to be in business for a minimum of two years, have fewer than 100 employees, and generate annual revenues under $2 million. Entries were judged on business performance, the benefits the enterprise provides to women in New York City, as well as potential for future success and demonstrated entrepreneurial spirit.
Grants are underwritten by a host of private sponsors including Macy's, Jones New York, VF Corporation, Inc., Estée Lauder Companies and Bloomingdale's. In addition, the Women's Venture Fund, NAWBO New York, and Women's Leadership Exchange contributed to this initiative. The NYC Small Business Awards is reliant on private support, administered by the Mayor's Fund to Advance New York City.
The first place awardees are:
MRS. ROSEMARY'S DANCE STUDIOS
Mrs. Rosemary's Dance Studios, founded by Rosemary Cappozalo, is one of the leading dance centers on Staten Island and one of the largest on the East Coast. The faculty assembled is dedicated to sharing the art of dance through teaching, and is one of the finest in New York. The school trains students for careers as professional performers, dance educators, and choreographers.
HISPANIC FOODWAYS
Hispanic Foodways, founded by Lorena Drago, develops culturally innovative, patient-focused, health and diabetes education programs for health care agencies as an effective way to reduce diabetes health costs and improve patient outcome. Hispanic Foodways designed the Latino Diabetes Tool Kit, a training curriculum for the health care professionals treating Hispanics and the H.O.L.A Project (Health Oriented Latinos in Action). The H.O.L.A project was designed to provide persons with diabetes with the opportunity to obtain vital health information and essential self-management skills to take control of their diabetes, and reduce hospitalizations and complications.
THE ARCHITECT'S NEWSPAPER, LLC
The Architect's Newspaper, co-owned by Diana Darling, Cathy Lang Ho, and William Menking, was founded in 2003 to provide in-depth architectural news, project profiles, job listings and cultural reviews. It is published 20 times a year, and distributed to 10,000 architects, designers, academics, students, and other related professionals in the New York region. The paper has filled a void in design media for up-to-date information relating to the architecture profession and has become a must read for all professionals involved in the built environment.
TPC HOME CARE SERVICES, INC.
TPC Home Care Services, Inc. was established in 2003 by Tricia Parris, founder and CEO. TPC is a licensed employment agency for Nurses and Home Health Aides. TPC focuses on increasing the health and well being of both its community and clients through educational programs such as CPR, Infections Control and Child Safety classes. TPC provides career advancement opportunities, such as further education for Health Home Aides, and they provide workshops on various health conditions, financial planning and debt control.
HIGH HOPES OF STATEN ISLAND INC.
High Hopes was established in September of 1996 by Dawn Burnett and Doris Cannizzaro in order to service their community with quality childcare that had a strong educational foundation. The school's primary goal is to offer working mothers and their families quality care in a loving and safe environment. Founded by women, High Hopes seeks opportunities for its predominantly female staff to further themselves by taking advantage of government sponsored grants for higher education, medical benefits as well as no-cost tuition for their children.
DIFFERENT ROADS TO LEARNING, INC.
Founded by Julie Azuma, the mother of a child with autism, Different Roads to Learning specializes in educational materials for children diagnosed with Autism Spectrum Disorders. For 11 years, www.difflearn.com has been providing books, flashcards, puzzles and other hard to find materials to parents and professionals. All products are crucial to behavioral programs designed to help children on the spectrum acquire concrete academic, social and life skills. A new company was formed a year ago to provide materials for adults with memory issues and Alzheimer's disease at www.mindandmemorystore.com.
The runners-up are:
KIVA CAFE
Kiva Cafe, founded by Beebe Okoye in 2002, is a café that also serves as a site for retail and recreation. The food and drinks served are made with organic and herbal ingredients, and the cafe has recently expanded to two locations in Manhattan.
CINE MOSAIC, INC.
Cine Mosaic was founded by independent producer Lydia Dean Pilcher in 2002 to produce feature films for theatrical release and for television with a focus on developing stories that promote women's issues. In 2007, they are releasing "The Namesake," directed by Mira Nair and based on the novel by Jhumpa Lahiri, a Bengali-American Pulitzer prize-winning author.
CHINASPROUT, INC.
ChinaSprout, founded by Xiaoning Wang, was created in 1999 to satisfy the increasing demand among families who have adopted children from China for educational and cultural materials. It provides resources to both teach and learn about Chinese culture. ChinaSprout's products include books, music, Chinese arts & crafts, toys, apparel, and more. For more information, please visit www.chinasprout.com.
The Women's Leadership Exchange (WLE) helps develop more women leaders in business by connecting women with top business experts, corporate leaders, and networking opportunities. This month's conference in New York features former CEO and Chairman of Hewlett Packard, Carly Fiorina, Geraldine Laybourne, Founder and CEO of Oxygen Media, and Dr. Deborah Axelrod, the leading breast cancer surgeon in the United States.
The NYC Commission on Women's Issues serves as an advisory body to the Mayor on matters impacting the lives of women in New York City. NYC Business Solutions provides free, comprehensive and reliable assistance for doing business in all five boroughs of the City. Services include connecting entrepreneurs to capital and incentives; making it easier to navigate government; helping firms compete for contracts; and recruiting and training workers for businesses. To learn more about its services, visit www.nyc.gov/smallbiz or call 311.