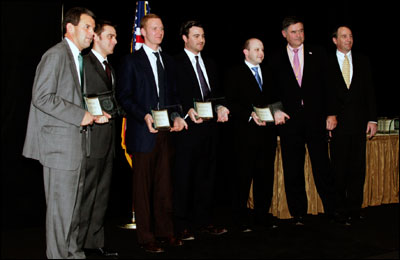 Commissioner Rob Walsh (L), David Margalit, Michael Borden, Neil Smith & Scott Zucker
New York City Department of Small Business Services (SBS) Commissioner Robert W. Walsh accepted tonight the 2006 Excellence in Technology Award for "Best Application Serving an Agency's Business Needs" for Worksource1, a web-based system that is designed to support business operations in the NYC Workforce1 Career Centers. The Excellence in Technology Award Program (ETAP) honors the very best of New York City's IT staff and projects each year, and is hosted in conjunction with the annual New York City Technology Forum sponsored by Government Technology Magazine and the Center for Digital Government. Department of Information Technology and Telecommunications (DoITT) Commissioner Paul J. Cosgrave presented the awards in a ceremony held at the Brooklyn Marriott.
"Under the Mayor's leadership, the workforce program we have created focuses on New Yorkers looking for jobs, and ensures that our services meet the specific hiring and training needs of businesses and their current employees," said Commissioner Walsh. "We have created an integrated system of workforce and business assistance services that has increased accountability, improved communications, and ultimately allowed us to train and place many more New Yorkers in jobs and serve many more businesses. Worksource1 has been key to the success and continued growth of our workforce system."
In an effort to link the City's economic and workforce development initiatives, Mayor Michael R. Bloomberg took an unprecedented step in July 2003, and merged the workforce development programs for the City's adult and dislocated workers into the Department of Small Business Services (SBS). The result is a single agency that understands and responds to the needs of businesses, their employees, and jobseekers. The Division of Workforce Development is at the center of this relationship: connecting employers with a skilled workforce and providing employment services to the City's adult jobseekers. These services are delivered at the eight NYC Workforce1 Career Centers, located in all five boroughs, which provide a full array of employment services including job placement, career advisement, job search counseling, and skills training. The NYC Workforce1 Career Centers work closely with SBS' NYC Business Solutions Hiring and Training, which provides businesses with access to skilled labor through customized recruitment and training initiatives tailored to a company's specific needs.
Since SBS began managing the City's Workforce1 Career Centers, job placements have risen from 127 per quarter to over 4,300 per quarter. Key components of the continued growth in the system have been improved coordination across the system and efficiencies gained by the adoption of new technology—both greatly facilitated by the implementation of Worksource1.
When creating Worksource1, SBS, in close partnership with Cambridge Solutions, an information technology consulting firm, first analyzed the Career Center activities and functions performed, and then designed a system that could improve efficiency, increase accountability, and better coordinate services across the eight NYC Workforce1 Career Centers. Worksource1 allows for the sharing of customer information across all eight locations, and allows Center staff to better understand customer needs and, therefore, provide better service. The application includes case management and assessment tools, along with management reporting capabilities.
Importantly, the system has streamlined workflow in the Centers; reducing the time it takes to perform data entry and allowing the Centers to serve more customers, and includes modules to capture case notes, services consumed, job placements and retention activities. The management reports provide a window into system performance, which inform programmatic decision making. Additionally, Worksource1 is currently being enhanced to improve the ability to search the database of jobseekers based on specific skills and experiences that match with job criteria as well as the ability to track referrals of those jobseekers to job orders -- allowing SBS to automatically record outcomes, calculate efficiency ratios, and "refer to hire" ratios.
Additionally, Worksource1 facilitates coordination and information sharing between the Workforce1 Career Centers and NYC Business Solutions Hiring and Training. NYC Business Solutions Hiring and Training has been a key component of the City's effort to ensure that the workforce development system effectively meets the needs of businesses by understanding their needs and ensuring they are incorporated in improved recruitment and employment preparation strategies. NYC Business Solutions Hiring has served 35 different companies during the first three quarters of 2006 by placing 1,182 people with these companies; this is already an 87% increase over all of last year.
In total, through September 30, 2006, the Workforce1 System has placed a total of 23,293 jobseekers in employment, including 11,901 placements during the first three quarters of 2006.
SBS makes it easier for companies in New York City to form, do business, and grow by providing direct assistance to businesses, fostering neighborhood development in commercial districts, promoting financial and economic opportunity among minority- and women-owned businesses, preparing New Yorkers for jobs, and linking employers with a skilled and qualified workforce.