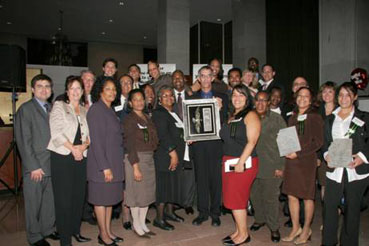 New York City Department of Small Business Services (SBS) Commissioner Robert W. Walsh presented last night the 2006 Celebrating Successful Minority- and Women-owned Business Enterprise (M/WBE) Awards to five recipients at the HSBC Executive lobby. The awards recognize outstanding businesses, organizations, and City agencies that have contributed to the minority- and women- owned business communities of New York City. Councilman David I. Weprin, Mayra DiRico, Regional President of HSBC, and members of the M/WBE Advisory Board were also in attendance to present the awards.
"Mayor Bloomberg has made a strong commitment to increasing opportunities for minority- and women-owned business, and he has truly reenergized the City's M/WBE program," said Commissioner Walsh. "The Mayor has done this not only by signing two pieces of legislation, but by giving this agency the necessary resources that allow us to reach out to the community, to build capacity among small businesses, and to strengthen our ties with outside agencies and organizations. Tonight we celebrate this program with the businesses, organizations and City agencies that have all been vital to its success."
The awards were presented at the Celebrating Successful M/WBEs Awards Reception, an annual recognition and networking event hosted by NYC Business Solutions Certification and Access and the Department of Small Business Services' M/WBE Advisory Board. City-certified M/WBEs and M/WBE advocates are recognized at this event for their commitment to increasing participation of minority- and woman-owned business enterprises in City contracting.
The following are last night's awardees:
Chamber Challenge Champion Award – This award honors an organization that successfully implements innovative recruitment strategies to strengthen and bolster the pool of New York City certified vendors.
The Manhattan Hispanic Chamber of Commerce was launched in 2003 to foster economic development for Hispanics, the fastest growing segment of the population today. The Chamber provides seminars, workshops, and technical assistance for small business owners, government employees, and business school students. The Chamber is a valued partner of NYC Business Solutions Certification and Access when it comes to M/WBE recruitment. The Chamber has successfully implemented innovative recruitment strategies to get more companies certified, and continues to support the growth and development of minority- and women-owned businesses.
Rising Star Award – This award honors a newly certified business that is achieving success, and actively pursuing contracts and business development services, and taking advantage of the services of NYC Business Solutions Certification and Access.
Synergy Design & Construction, Inc. is a newly certified Minority Business Enterprise located in the Bronx, NY. Since certifying with the City in April 2006 the owners of Synergy Design & Construction have actively pursued contracts and business development services with the help of NYC Business Solutions Certification and Access. The company also successfully secured a line of credit and bonding, which will enable them to take on larger commercial and residential remodeling jobs.
M/WBE of the Year Award – This award honors a City certified company that has significantly contributed to the economic development of the City by creating employment opportunities or through providing unique or integral products or services.
Ebony Office Products, Inc. is a certified Minority Business Enterprise that has been selling office equipment, computers and janitorial supplies since 1982. The company has been successful at obtaining blanket order contracts with agencies that allow City buyers to establish an account for a fixed amount and purchase items directly from the Long Island City-based vendor. Ebony Office Products won approximately $211,000 in City contracts in 2005 and more than $312,000 in 2006.
M/WBE Advocate of the Year Award – This award honors an individual or an organization whose leadership, involvement and support of minority and women business owners helps to strengthen and create opportunities for New York City's small business community.
The New York City Department of Environmental Protection (DEP) continues to stand out as one of the most dedicated city agencies when it comes to ensuring equal access to M/WBEs in their contracting and subcontracting opportunities. The DEP Office of Marketing and Outreach consistently encourages eligible minority- and women-owned vendors to certify with the city. DEP's procurement team meets with many certified M/WBEs to educate them about the types of items DEP procures, and works with them to ensure that they understand how to successfully bid and win small and micro purchases with the agency. These efforts have proven to be effective. The agency's utilization of M/WBEs for small and micro purchases more than doubled in July 2006, compared to the same period last year.
The New York City Department of Health & Mental Hygiene (DOHMH) Office of Procurement is a leader when it comes to supporting certified M/WBEs. This office encourages eligible vendors that want to do business with the City to get certified, and has made diligent efforts to solicit M/WBEs in all purchases under $5,000 and purchases that don't require a bid. By creating contracting opportunities for M/WBEs, DOHMH is strengthening New York City's small business community and leveling the playing field for minority-and women-owned businesses.
The Department of Small Business Services manages NYC Business Solutions, the City's primary point-of-contact for small business owners and entrepreneurs looking for a wide array of assistance. NYC Business Solutions Certification and Access supports local and historically underserved businesses and works to ensure their access to New York City contracting opportunities by certifying M/WBEs and Locally-Based Enterprises (LBEs).
Nearly one-third of New York City firms are owned by minority entrepreneurs, and more than 25 percent are owned by women. These businesses represent a crucial component of the City's overall economic growth and also provide tremendous potential for spurring development in emerging commercial corridors.
In June 2003, Mayor Bloomberg signed Executive Order 36 reaffirming the City's commitment to increase awareness of certification among M/WBEs, to hold City agencies accountable for M/WBE utilization, and to work to remedy challenges faced by M/WBEs in the City procurement process. In September 2005, the foundation for the current local law was laid with Executive Order 71, which granted SBS, in collaboration with the Mayor's Office of Contract Services (MOCS), authority to promulgate rules for a new M/WBE program. Then in December 2005, Mayor Bloomberg signed Local Law 129, creating a new M/WBE program that will work to reduce disparity and to ensure fair participation and equal opportunity in city procurement. The law includes citywide M/WBE utilization goals, subcontractor goals, accountability and enforcement mechanisms, continual program review and other initiatives.