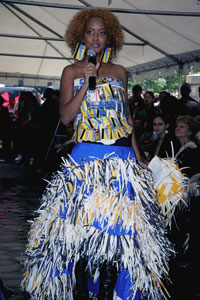 New York City Department of Small Business Services (SBS) Commissioner Robert W. Walsh announced today the launch of Next Stop: NYC with "A Journey in Style" in Greeley Square. Next Stop: NYC will serve as a travel guide to 15 neighborhoods and the unique small businesses (shopping, restaurants, entertainment venues, etc.) therein. All 15 neighborhoods are located along the F train line, and the campaign will encourage visitors to get to these neighborhoods using NYC Transit. "A Journey in Style," an F-train fashion show, highlighted up-and-coming designers and clothing from communities along the F-train, and marked the official start to the campaign. Commissioner Walsh was joined by the BK Style Foundation, participating Next Stop: NYC businesses, and representatives of multiple community groups and Business Improvement Districts who represent neighborhoods along the F line.
"With Next Stop: NYC we hope to inspire New Yorkers and visitors to explore areas of the City that they have never visited before and to discover the distinctive businesses and cultural assets located in each of those neighborhoods," said Commissioner Walsh. "I encourage all New Yorkers to be a tourist in your own town and support the small businesses that truly are the heart of New York City."
Next Stop: NYC will run through February 28, 2007. Beyond the kickoff event, elements of the campaign include: advertising in the subway system and on the sides of City bus shelters; a comprehensive website, http://www.nyc.gov/nextstop, providing information on all 15 neighborhoods (including events occurring in those areas); and the creation and distribution of a guide authored by Time Out New York magazine that will highlight 4 of the Next Stop: NYC neighborhoods. Over the course of the campaign, nearly 200 small businesses will offer dining, shopping and service discounts to Next Stop: NYC campaign participants who show their Metrocard and ask for the Next Stop: NYC discount.
"Hundreds, maybe thousands, of boutiques exist in New York City. It's expensive and difficult for a small business owner to get the message out to shoppers about what makes our store unique. Next Stop: NYC is helping Loopy Mango reach a much larger market and is also helping to educate people about DUMBO and all the other unique F line neighborhoods; not to mention just how easy it is to get to them using New York City Transit," remarked Anna Pulvermakher and Waejong Kim, owners of Loopy Mango, a DUMBO boutique featuring designer clothing and unique home decorations.
The fifteen highlighted neighborhoods are: Jamaica, Forest Hills, and Jackson Heights in Queens; Roosevelt Island, East Midtown, the Diamond District, Koreatown, the Lower East Side, and Chinatown in Manhattan; and DUMBO, Downtown Brooklyn, Brooklyn Heights, Carroll Gardens, Boerum Hill and Cobble Hill, Red Hook, and Brighton Beach in Brooklyn.
SBS makes it easier for companies in New York City to form, do business, and grow by providing direct assistance to businesses, fostering neighborhood development in commercial districts, promoting financial and economic opportunity among minority- and women-owned businesses, preparing New Yorkers for jobs, and linking employers with a skilled and qualified workforce.