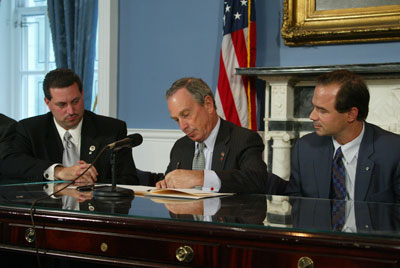 "The last bill before me today is Introductory Number 509, sponsored at my request by Council Members Weprin, Comrie and Liu.  The bill establishes the Downtown Flushing Business Improvement District, or BID, in the borough of Queens.
"BIDs are a proven example of how public/private partnerships can promote economic development.  This bill will further the fundamental role that BIDs have played in the renaissance of New York City.
"Established by local law, BIDs are self-funded through assessments on property owners located within the BID, and are overseen by the City's Department of Small Business Services.  The services to be provided by the Flushing BID include maintenance and sanitation, holiday lighting and decoration, administration, and other activities that promote and enhance the district's business environment.  Signing this bill demonstrates our Administration's support for the key role BIDs will play in the City's future growth.
"I would like to thank Commissioner Walsh, Mark Newhouse, George Glatter and Eddy End of DSBS for their role in shepherding the City's 45th BID through the approval process.  I also want to acknowledge the important contribution of the members of the Downtown Flushing BID Steering Committee, led by Council Member Liu, who worked tirelessly to see this to fruition."