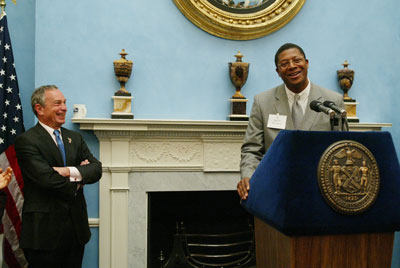 Mayor Michael R. Bloomberg today signed an Executive Order to all City Commissioners detailing his Administration's plan for reinvigorating and strengthening the City's Minority and Women-Owned Business Enterprise (M/WBE) program, run by the Department of Small Business Services (SBS).  Plans for the revamped program include the use of state-of-the-art technology, targeted technical assistance and the elimination of bureaucratic hurdles.  The goal is to help minority and women-owned businesses access contracting opportunities, better prepare them to compete for City contracts, and to help them navigate the procurement process.  Deputy Mayor for Economic Development and Rebuilding Daniel Doctoroff, SBS Commissioner Robert Walsh, Jamaica Business Resource Center President Timothy Marshall, and National Association of Women Business Owners Public Policy Chair Beth Rasin joined the Mayor for the announcement at a breakfast at Gracie Mansion.
"In a city as diverse - demographically and economically - as New York, our long-term prospect hinges on achieving a broad-based prosperity that reaches into every borough and every community.  Too often, talented minority and women business owners have encountered technical, informational and financial obstacles in attempting to do business with the City," said Mayor Bloomberg.  "That's why my Administration is instituting a set of reforms designed to support minority and women-owned businesses by enhancing their ability to win contracts and subcontracts with City agencies.  The City of New York is the largest contractor in the Big Apple.  Every year we spend $7 billion procuring a broad range of goods and services.  We have to think of this purchasing power as an economic development tool - one that can be used help small businesses throughout the City to grow.
"The measures we are taking are designed to remove obstacles," added Mayor Bloomberg.  "They will make it easier for M/WBE firms to do business with New York City and, just as importantly, make it easier for our City agencies to do business with M/WBE firms.  I expect all City agencies to work in partnership with the Department of Small Business Services and begin using this improved system. We must take these steps to make these opportunities available to all New Yorkers, which is not just a matter of social justice but also in our City's economic self-interest."
The improvements made to the M/WBE program reflect the Bloomberg Administration's goal of ensuring that the base of contract firms more closely reflects the diverse population of New York City.  First, SBS will simplify certification - the process by which M/WBEs connect with the City. SBS will work to make the process shorter, simpler and more uniform.  SBS will cut much of the red tape that often times discouraged potential firms from enrolling in the M/WBE program.  For example, firms will soon be able to access applications for City certification on-line.  The City is also accepting certifications by the Port Authority (PA) of New York and New Jersey, making it easier for bona fide M/WBE vendors to participate in the City's program.
Secondly, SBS will use a variety of means to help certified businesses learn about procurement opportunities, obtain technical assistance, and market their goods and services to City, State and Federal purchasing agents and ultimately obtain available contracts.  To that end, SBS will soon launch a new comprehensive, searchable on-line directory that will help both City contract officers and private entities locate qualified firms to compete for contracts.  The directory provides detailed information about M/WBEs, including their profiles, work history, websites and email addresses, and detailed information about what the companies sell.  SBS recently purchased a nationally-recognized, bid-matching software known as "Softshare," which sends electronic notifications on bidding opportunities that best fit each company's profile.  This technology goes beyond the City's borders by highlighting contracting opportunities nationwide.
Lastly, SBS will collect regular progress reports from all City agencies to track their success in bringing more M/WBEs into the fold by increasing M/WBEs awareness of opportunities to do business with the City and working with them to improve their ability to bid successfully on City contracts.  The Department will also work to continue to add more M/WBE companies to the City's list through cooperative working relationships with additional City/State agencies including the School Construction Authority and the Metropolitan Transportation Authority.  SBS will provide additional guidance to those City agencies that need additional assistance in improving their record in this area.
In addition, SBS is providing monthly classes to train and inform small businesses about how the City procurement process works, how to identify potential opportunities and what they need to do to successfully compete for these contracts.  SBS will also sponsor and host events to bring M/WBE firms together with City contracting officers, allowing them to promote their goods and services directly to buyers.  In addition, SBS will help M/WBE companies obtain the insurance and financial backing from lending institutions they need to be a viable and stable business in New York.
"SBS is committed to fostering an environment in which our minority and women-owned businesses have every chance to succeed," said Commissioner Walsh. "Strengthening the local economy is linked to the growth and success of these businesses, which in turn provide job opportunities and economic activity in the neighborhoods where they operate. I look forward to working with all City agencies to help guide them through this process to improve our track record in this area.  With these advances, we can bring 21st century technology and assistance and make it easier for M/WBE firms to do business with the City."
The City's M/WBE program dates back to 1991, when the Department of Small Business Services was first created.  The enhanced M/WBE program reflects research and input from City purchasing officers, as well as directors of M/WBE programs from other municipalities such as Los Angeles, Chicago, Baltimore and Philadelphia, along with several non-profit organizations.
SBS's mission is to serve the City's more than 200,000 small businesses, which represent 98% of all businesses in NYC and account for nearly 50% of its private-sector workforce.  Many of the initiatives underway at the agency are designed to better serve this constituency on a more direct, local level.  In addition to today's M/WBE announcement, SBS has made a number of substantial changes to the agency including:
SBS has successfully launched the NYC Business Solutions Centers in Manhattan and most recently in the Bronx in order to provide small business owners with comprehensive business services in their borough. The Solution Centers offer easy access to information and services in areas of business counseling, incentives, procurement, M/WBE certification, real estate, financing, and navigating city services. To meet these objectives, SBS is partnering with a strong community development organization and building alliances throughout each borough. A center in Brooklyn is scheduled to open on this summer, with centers in Queens and Staten Island slated to open in early 2004.
SBS is taking the lead to empower the City's 44 Business Improvement Districts and to streamline the process for future BIDs to form. The Mayor signed into law assessment increases for many of the BIDs, including Metrotech and the Hub-Third Avenue in the Bronx, and continues to do so as they request increases. This allows BIDs to deliver better and diverse services to their neighborhoods. SBS has also cut the red tape groups need to go through to form a BID, and as a result several new BIDs are on track to form by the end of the year including Flushing and Sutphin Boulevard both in Queens.
SBS has encouraged the growth of the City's 10 Empire Zones by expanding the boundaries of the Zones through legislation that allows more companies to move in and take advantage of the numerous State utility and employee tax credits available. SBS is also working diligently with the Empire State Development Corporation to bring Empire Zone benefits to Chinatown, where the manufacturing and tourism has suffered tremendously since 9/11.