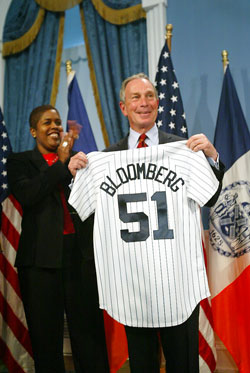 Mayor Bloomberg, joined by Department of Small Business Services (SBS) Commissioner Robert Walsh and Council Members Foster and Weprin, today signed Introductory number 547 to establish the 161st Street Business Improvement District (BID) in the Bronx. The creation of the organization—comprised of property owners and commercial tenants to promote business development and improve quality of life—marks the seventh new BID in the Bloomberg Administration and the 51st BID in New York City.
"The 161st Street BID will provide maintenance and sanitation services, holiday lighting and decoration, marketing and promotion of its shopping strip, beautification of its community, administration and other promotion and enhancement of the district," said Mayor Bloomberg. "The services provided to the communities by BIDs are essential to ensuring small businesses, and the neighborhoods in which they operate, are given every opportunity to succeed. BIDs are a proven example of how public/private partnerships can promote economic development. This bill will further the fundamental role that BIDs have played in the economic development of our neighborhoods and in the renaissance of New York City."
"The Mayor's been a champion of Business Improvement Districts since day one of his Administration, and the results are clear—seven new BIDs in the past three years," said Commissioner Walsh. "The 161st Street BID will make the district cleaner, safer and a more attractive place to do business. I thank the efforts of the BID Steering Committee and the local merchants who have been so instrumental in making this a reality."
As part of the bill signing ceremony, Commissioner Walsh presented the Mayor with a New York Yankee baseball jersey sporting the number "51" and "Bloomberg" written across the back to commemorate the BID's proximity to Yankee Stadium and it being the 51st BID created in the City. The 161st Street BID covers a five-block area from River Avenue to Morris Avenue on 161st Street, comprised of 152 businesses and with a first-year budget of $190,000.
New York City's 51 BIDs—the largest network of its kind in the country—annually contribute nearly $80 million worth of services to neighborhoods in all five boroughs. The vast majority of the BIDs, like 161st Street, represent small, main-street districts where supplemental services such as sanitation, security, marketing and capital improvements can have a lasting impact on improving the business environment. Since Mayor Bloomberg outlined a series of initiatives in 2002 to make BIDs easier to form and grow, seven new BIDs have been created and 28 have increased their budgets.

About the Business Improvement District (BID) Program
A Business Improvement District (BID) delivers supplemental services such as sanitation and maintenance, public safety and visitor services, marketing and promotional programs, capital improvements and beautification in a designated area. BIDs are funded by a special assessment paid by property owners within the district. SBS works with commercial property owners and businesses to assist them in forming BIDs and managing BID services on an ongoing basis.
Any commercial, retail or industrial area in New York City may apply for BID status through a local sponsor. BIDs must be approved by the local Community Board, the City Planning Commission, the City Council and the Mayor.
About NYC Department of Small Business Services
NYC Department of Small Business Services makes it easier for companies in New York City to form, do business and grow by providing direct assistance to business owners, fostering neighborhood development in commercial districts, promoting financial and economic opportunity among minority- and women-owned businesses, preparing New Yorkers for jobs and linking employers with a skilled and qualified workforce.