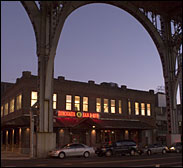 Department of Small Business Services (SBS) Commissioner Robert W. Walsh today announced the success of a new recruitment and training program that placed 16 Upper Manhattan residents at Dinosaur Bar-B-Que, a new restaurant at the corner of 12th Avenue and 131st Street in Harlem.  This program is the result of a partnership between the Department of Small Business Services and the Upper Manhattan Empowerment Zone (UMEZ), through the Workforce1 Career Center at 125th Street and Frederick Douglass Boulevard. Seedco, a national nonprofit under contract with SBS, provides job search assistance and training at the Center and designed and administered the program.
"This is exactly what Mayor Bloomberg had in mind when he joined the Department of Employment with the Department of Small Business Services over a year ago," said Commissioner Walsh.  "By working with the local business community, we tailored our training programs to meet the needs of those looking to hire and gave candidates the skills they needed to get the job.  The arrival of Dinosaur Bar-B-Que is yet another sign that Harlem's economic resurgence is strong, and we look forward to doing more of the same with other new restaurants that come to this neighborhood and others throughout the City."  
"Having applicants pre-screened and ready-to-go makes your life easier," said John Stage, the restaurant's owner.  "Working with the Workforce1 Career Center was a no-brainer, and they delivered with some great candidates." The new restaurant marks the first New York City location for Dinosaur Bar-B-Que, which serves traditional barbeque fare and has upstate locations in Syracuse and Rochester.
Staff at the Workforce1 Career Center met with Mr. Stage well in advance of the restaurant's opening to identify his criteria for employees and invite job seekers to participate in the interactive training, taught by Stephen Lin, a longtime Harlem restaurant owner.  The three workshops provided jobseekers with insider tips on the restaurant industry, and hands-on practice of necessary skills like serving, clearing tables, and taking orders. 
Following the interview process, which Mr. Stage conducted at the Center, 16 graduates of the training accepted positions with Dinosaur.  These hires, including line cooks, wait staff, hosts/hostesses and other positions, accounted for more than 25 percent of the restaurant's total staff when it opened.
"The training was a blast," said Diann Woodward, who was hired as a hostess.  "The trainer was incredibly knowledgeable but made the experience fun at the same time.  For someone that never worked in the restaurant industry before, I learned how to be at ease in a fast-paced environment."  Ms. Woodward had previously been laid off from her job as a bookkeeper.
Darrel Teagle, who now works in the restaurant's kitchen, used the training program to advance his career in the restaurant industry.  "This is the best job I've ever had," said Mr. Teagle, who prior to Dinosaur Bar-B-Que worked for a variety of fast-food establishments.
"Being able to link a new restaurant with a pool of high quality job candidates like those provided through Workforce1 really is an economic development asset," said Ken Knuckles, President of the Upper Manhattan Empowerment Zone. "I'm excited about the opportunity to build this relationship so that workforce development services become an integral part of our business attraction efforts." 
"This project is a terrific model for similar training efforts in the tourism and hospitality sector throughout New York City," says Bill Grinker, CEO of Seedco. "We hope to expand this experience into a larger menu of customized industry trainings, which will have enormous benefits for jobseekers and the employers looking to hire them."
The success with Dinosaur Bar-B-Que, the first restaurant-specific training program of its kind, builds on the accomplishments of a similar recruitment effort that filled over 170 positions at Downtown Brooklyn's new Atlantic Terminal shopping center.  Last summer, the Brooklyn Workforce1 Career Center, in coordination with the National Retail Federation and over 40 Community Based Organizations, prescreened and referred more than 500 jobseekers for open positions in stores including Target, DSW, and Bath and Body Works.  These employers conducted orientations and interviews at the Career Center, and offered positions to 192 of those candidates; 173 accepted the positions. Ultimately, employers hired one out of every three candidates referred to them, providing the businesses with the benefit of an efficient and cost effective means of recruiting. Of the 173 employees hired, 76% were Brooklyn residents. 
The New York City Workforce1 Career Centers are operated by SBS, the New York State Department of Labor and the City University of New York, and provide recruitment and training services for jobseekers and employers. In addition to Upper Manhattan, Workforce1 Career Centers are located in Jamaica, Queens, Downtown Brooklyn, The Hub in the Bronx, and a Center will soon open in the St. George section of Staten Island.  These Centers began their operations in April 2004 following the 2003 merger between SBS and the former Department of Employment.  Since then, the City's workforce development efforts have shifted their emphasis to meeting the needs of businesses through customized screening, recruiting and training programs that lead to quality hires.