The NYC Department of Small Business Services helps ensure the success of commercial districts throughout New York City by working with organizations to invest in streetscape improvements, property development, and business attraction. Our goal is to ensure the vitality of the city's commercial districts by creating opportunities for small businesses and the communities they serve. We do this through working with Business Improvement Districts, facilitating the Avenue NYC Program, preparing community leaders through the Neighborhood Leadership Program, as well as workshops and technical assistance.


The Neighborhood 360° program was created by the Department of Small Business Services to identify, develop, and launch commercial revitalization projects in partnership with local stakeholders. Through proactive planning and targeted investments, Neighborhood 360° supports projects that strengthen and revitalize the streets, small businesses, and community-based organizations that anchor New York City neighborhoods. To learn more about the program, including our completed Commercial District Needs Assessments and Neighborhood 360° grants, CLICK HERE.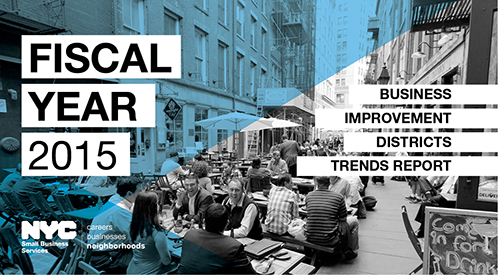 Each year, the Department of Small Business Services compiles a report on the revenues, expenses and impacts of NYC's Business Improvement Districts. This information is collected to monitor and communicate the impacts of BIDs across the City, as well as share the information with the BID community to better inform their decision making. The data summarized in the report linked below is drawn from the Fiscal Year 2015 Annual Report, provided by each BID to SBS.
Download the executive summary: FY15 Annual Trends Report Executive Summary
Download the full report: FY15 Annual Trends Report