Application documents have been updated as of January 22nd to reflect adjustments in project eligibility criteria. Please review all documents, and be sure to use the most recent versions when submitting your application.
The Avenue NYC Grant Program funds non-profit economic development corporations in low- to moderate-income communities across the five boroughs to implement commercial revitalization activities that benefit businesses and local residents. In fiscal year 2015, Avenue NYC will fund initiatives in five project categories, which form key steps in the Neighborhood Development Division's strategic commercial revitalization process.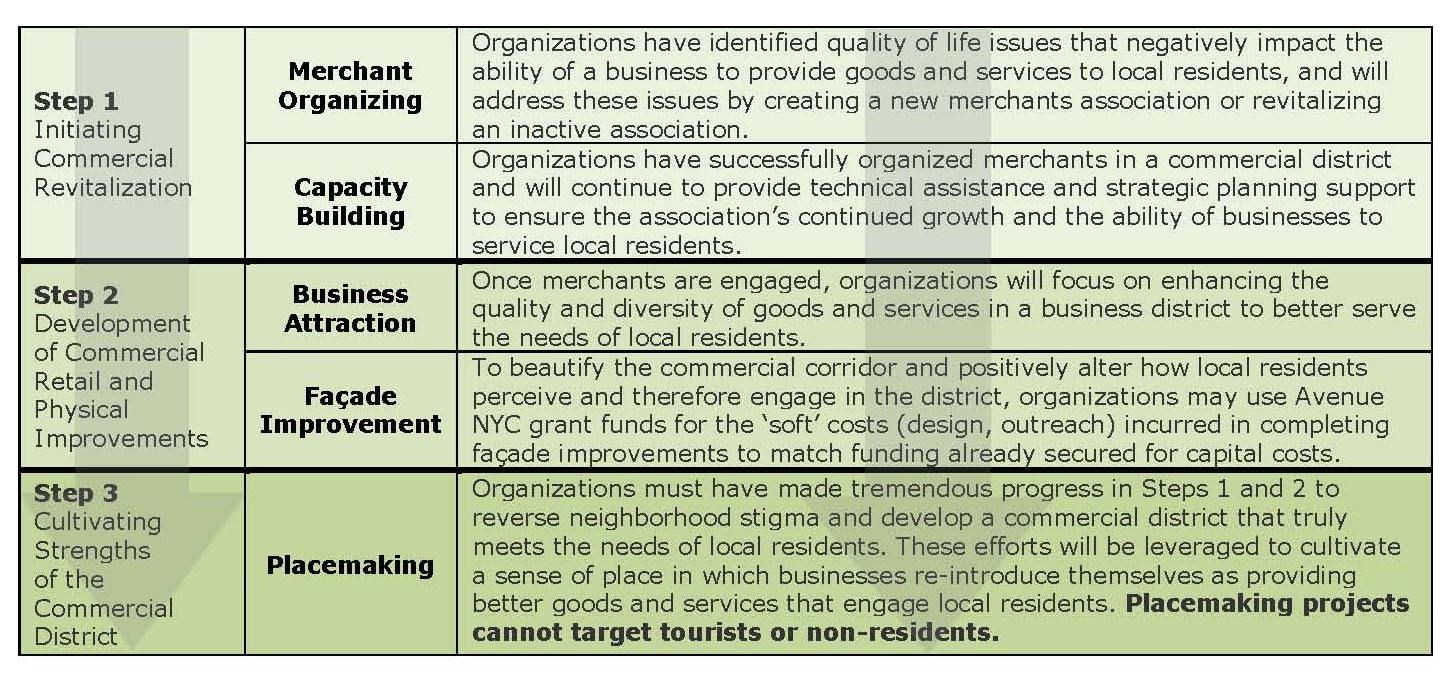 The Avenue NYC project categories are tools that the Neighborhood Development Division uses to help grant recipients execute comprehensive strategies for their commercial districts whose benefits extend beyond one fiscal year. Successful applicants will have (1) identified the needs of the commercial district, (2) developed a realistic and achievable vision for the commercial corridor, (3) submitted a FY 2015 proposal that addresses district needs and incorporates the greater vision for the district, and (4) identified specific benefits to businesses and local residents.
We look forward to receiving your application!
As mandated by the U.S. Department of Housing and Urban Development, Avenue NYC-funded activities across all project categories must benefit businesses in a targeted commercial corridor and the local residents served by that district. Promotional activities designed to attract tourists and non-residents to an area served by the targeted commercial district are NOT eligible to receive Avenue NYC grant funds.
Review the Avenue NYC program guidelines before you complete the application.

Information Session

Attend one information session* to learn more about programmatic expectations for each project category.

Friday, January 10, 11 a.m.
Friday, January 17, 11 a.m.

Both sessions will be held at the offices of the NYC Department of Small Business Services, 110 William Street, 7th floor, New York, NY 10038.

*Mandatory for first-time applicants.

Download and Complete Application

In order to be considered for an Avenue NYC Grant, all 5 components of the application must be completed. Groups may apply for more than one project category.

Project Category Application(s) and relevant attachments
List of Board Members and their affiliations
List of all Staff and Volunteers

* Project Category Applications were updated on January 22nd. Please be sure to submit the most recent version.

Submit Application and Attachments

All applications must be submitted electronically to avenuenyc@sbs.nyc.gov with the subject line 'FY 2015 Avenue NYC Application - Organization Name'
General inquiries about the Avenue NYC Program, application, or information sessions should be e-mailed to avenuenyc@sbs.nyc.gov.