Avenue NYC Program Description
The Avenue NYC Grant Program funds Community Based Development Organizations (CBDOs) in low- to moderate-income communities across the five boroughs to implement commercial revitalization activities that benefit businesses and local residents. In fiscal year 2015, Avenue NYC will fund initiatives in five project categories, which form key steps in the Neighborhood Development Division's strategic commercial revitalization process.
To view the FY15 Avenue NYC Award Summary click here.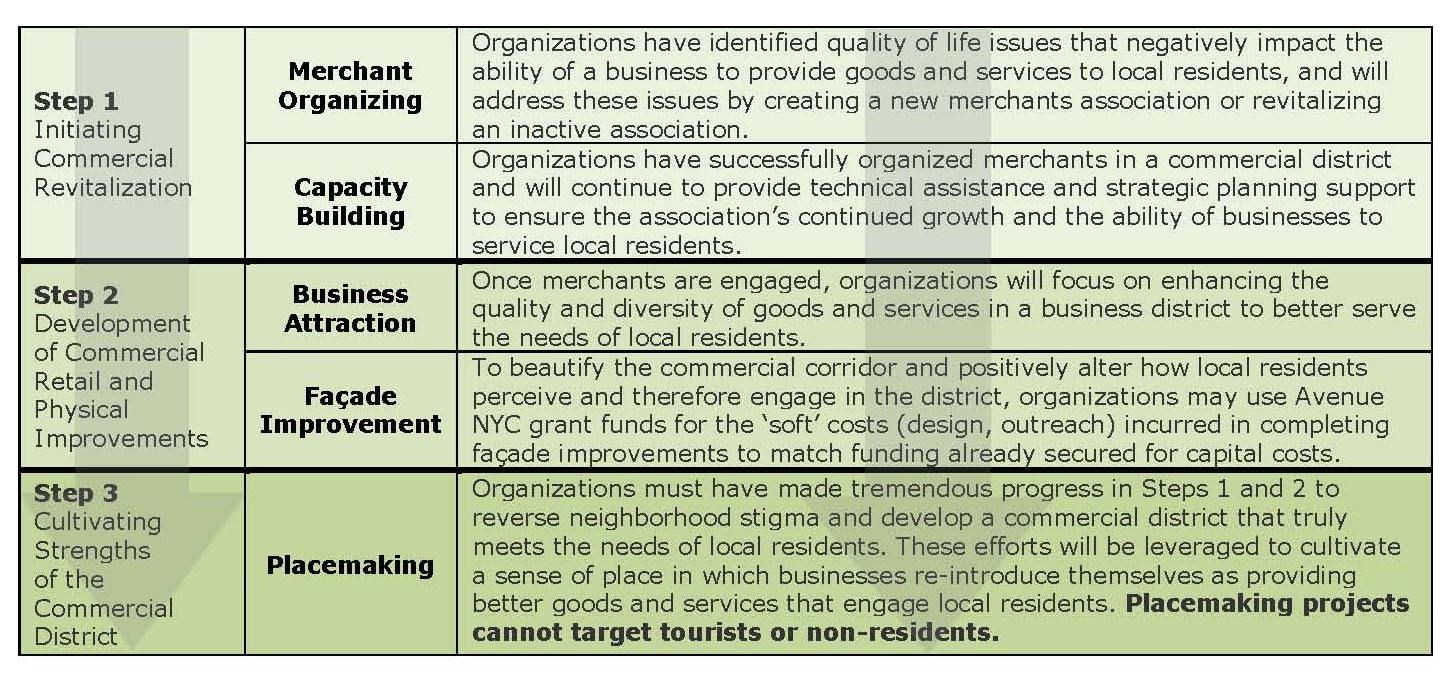 Community Development Block Grant (CDBG) Eligibility
The Avenue NYC Grant Program is funded by the US Department of Housing and Urban Development's Community Development Block Grant Program. Organizations receiving Avenue NYC funding must execute projects in compliance with specific eligibility requirements:
Grant recipients must execute projects in neighborhoods designated as low or moderate-income according to the 2000 Census data. At least 51% of the residents located within the census tracts that encompass the target commercial area must be low to moderate-income persons living in households with incomes below 80% of the median household.
Grant recipients must provide services in neighborhoods where at least 51% of the population is residents according to the 2000 Census data. CDBG-funded projects within the context of the Avenue NYC Grant Program must therefore ensure that local residents, as opposed to non-residents or tourists, can access the goods and services they need from their local commercial district.
For more information on CDBG Eligibility and Requirements, please visit the U.S. Department of Housing & Urban Development's webpage.
Information for FY15 Avenue NYC Grant Recipients ONLY
If your organization has been granted an Avenue NYC award for FY 2015, it must enter into a contract with the City of New York in order to receive funding. Below is a list of all required documents and deadlines for submission. For a more comprehensive explanation of these documents, please review the FY 15 Avenue NYC Orientation Presentation, presented on June 6th 2014. For a list of deadlines in the FY 15 contract year, please review the Avenue NYC Calendar.
FY 15 Avenue NYC Success Stories
SBS wants to make it easier for you to share your organization's success stories with us, other non-profits and New York City! What approaches have you used to overcome challenges in implementing your work? What projects have you successfully executed? What were the outcomes? SBS would like to post these stories on Neighborhood Development's social media platforms, including our blog, twitter account, and upcoming newsletter. If you have a success story to share, please visit our Neighborhood Development Success Stories Survey.