Starting Business Improvement District (BID) Operations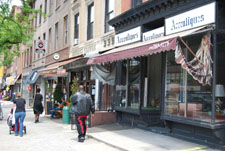 Once a BID has been signed into law, the work of getting the organization up and running begins.
To assist those groups who have successfully completed the BID formation process, this section of the Services for Neighborhood Organizations website provides valuable information on the steps new BIDs must take in order to start providing services in their districts.
In this section, you can access information and templates that will help you:
Apply for non-profit corporation status

Elect an interim Board of Directors

Develop by-laws and management procedures for your organization

Issue Requests for Proposals (RFPs) for services

Hire staff to run your organization

Establish a committee structure that supports your organization's work
All newly-formed BIDs should immediately begin taking steps to formalize their organization by establishing an interim board of directors, forming executive committees and a by-laws committee, and completing VENDEX questionnaires. However, the order in which the rest of these steps are completed will depend on the preference of the BID's steering committee and sponsoring organization that helped form the BID.
Since many of the start-up activites can run concurrently, they are not listed as steps but in order of Governance, Administration, and Program activities.
To help new BIDs navigate this process, SBS has developed the "Starting BID Operations" checklist.