I strongly encourage you to apply for an internship at the Department of Small Business Services (SBS). As someone who got his start as a summer intern, I know how valuable the experience can be, not only in opening doors but also in exposing you to different career options and all the privileges of public service.
At SBS, we highly value the energy, enthusiasm and commitment our interns bring to the office. In return, we're determined to give you opportunities to pursue your interests and gain the skills that will energize and advance your career. I look forward to working with you.
Sincerely,



Robert W. Walsh,
Commissioner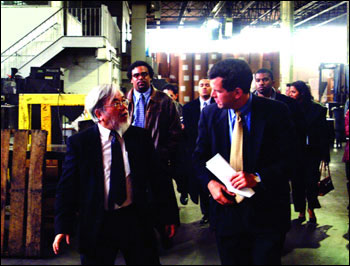 Commissioner Walsh (r.) visiting a small business in Williamsburg, Brooklyn with a group of summer interns. New York City has over 200,000 small businesses accounting for almost 50% of the private sector workforce and $4.5 billion in tax revenues.