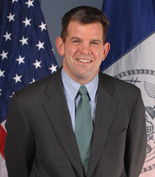 From Day One, Mayor Bloomberg made it clear that small businesses are the chief engine of growth in New York City. The Department of Small Business Services (SBS) is a vibrant, client-centered agency whose focus is the opportunities and challenges facing New York City's small businesses, job seekers, and commercial districts. It is SBS's business to be responsive to your business's needs.
Over the past five years, we've done just that, making it easier for New York City's small businesses to thrive and grow. Through NYC Business Solutions, we provide small businesses with the answers they need on everything from help getting started, finding and training workers, navigating government services, and bidding on public and private contracts. And we've made it easy for you to find these answers: you can access NYC Business Solutions online or by visiting one of our NYC Business Solution Centers, located in each of the five boroughs. I encourage you to contact us and see how NYC Business Solutions can help your company succeed.
In July 2003, the Mayor took a bold step toward better serving small businesses, as well as the City's workers, by merging the City's workforce development programs with SBS. A year and a half later, we had already reoriented and re-energized the City's workforce development services - designing recruitment, screening and training programs that respond directly to business needs. Too often, people forget that economic development initiatives both large and small depend on access to a skilled and qualified workforce. We don't. Our Workforce Initiatives, the first of their kind, directly connect New Yorkers looking for work with businesses that are hiring and expanding throughout the City. And we are making substantial progress; so far we've helped over 1,000 different businesses hire new workers. If you are looking for work, I encourage you to visit one of our Workforce1 Career Centers, located in each of the five boroughs. These centers are where we connect New Yorkers with good jobs and provide workers with training opportunities to advance in their careers, free of cost.
We also make sure that New York City's neighborhoods are open for business. SBS sponsors 68 Business Improvement Districts (BIDs) in all five boroughs to help promote and maintain clean, safe, and business-friendly neighborhoods. We work with over 100 Local Development Corporations (LDCs) to promote grassroots economic development, resulting in improvements to storefronts and streetscapes and the attraction of new businesses to important commercial corridors. In addition to BIDs and LDCs, we work with other community groups to identify places where direct public or private investment can positively impact the business climate by improving lighting, signage, street furniture, and other amenities.
The Department of Small Business Services wants New York City's small businesses to succeed. Please contact us at any time for information about how we can help you.

Robert W. Walsh
Commissioner

Send e-mail to the Commissioner


Read Commissioner Walsh's Biography