TAX PHOTOGRAPHS
Between 1939 and 1941, and again in the mid-1980s, the city photographed every house and building in the five boroughs. Photographic prints of these unique images are now available for purchase.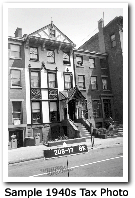 HISTORY OF THIS COLLECTION:

During the 1930s, local governments began to use photography as a tool for appraising real property for taxation purposes. New York City was the largest municipality to adopt this technology. The result was 720,000 35mm black-and-white pictures of every building in the five boroughs. By the time the Municipal Archives accessioned the collection, the original nitrate negatives had begun to deteriorate and exhibit signs of "redox" blemishes (which look like giant snowflakes). With grant funds from federal, state, and private sources, the Archives duplicated the original negatives so that new prints can be produced and copied them to microfilm so that patrons can easily and safely view the entire collection.

By the early 1980s, the City's Department of Finance, the agency responsible for appraising property for real estate tax purposes, determined that the 1940s photographs needed to be updated. From 1983 to 1988, again using 35mm cameras, their staff fanned out in the five Boroughs photographing every property, including vacant lots and tax-exempt buildings. They used color film stock resulting in over 800,000 photographs in both print and negative formats.
VISIT MUNICIPAL ARCHIVES TO VIEW THE PHOTOS: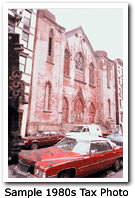 Researchers can view photographs from all of the boroughs from the 1940s collection on microfilm in the Municipal Archives reference room. Low-resolution copies of the 1980s tax photographs have been digitized for viewing online or on computer monitors at the Archives.

In order to view the 1940s tax photograph of a particular house or building it is necessary to determine the official block and lot number of the property. If the block and lot numbers are not known, researchers can use the Archives' historical map collection to look them up. Once the block and lot numbers have been determined, researchers must consult an index to find the film roll number; with this number the appropriate microfilm roll can be selected and placed on the microfilm reader machine to view the picture. Photographic prints may be ordered in person or through the online forms below. It is possible to make paper print-outs of the photographs from the microfilm (at $.50 per copy), although the quality is often very poor.

To research the 1980s tax photographs using the Online Gallery, first select the desired borough (preceded by DOF for the Department of Finance, i.e. "DOF: Brooklyn 1980s Tax Photos") then enter an address into the search field, or in advanced search, select "find this exact wording" and select "block" from the drop-down menu and enter a block number. Using the plus sign to the right an additional search parameter can be added for "lot" using the method above. Searches can also be conducted under other parameters, including street name, tax class, and owner.

HOW TO ORDER A COPY FROM THE COLLECTION:

It is not necessary to visit the Municipal Archives to order a copy of the tax photographs of your a or building. You can order a copy online or by mail, using the forms below. If the official block and lot number of the property is not known, the Municipal Archives will research it for an additional $5.00 fee. If the Municipal Archives does not find a tax photograph of the property, or for some other reason cannot produce a print, your payment will be returned.

Order Online
Order by Mail (in PDF)

GENERAL INFORMATION:
Allow 3 to 5 weeks for completion of order.
Current block and lot numbers may not be accurate, especially if the building is no longer extant. Do not supply block and lot numbers unless accuracy is certain.
The building block and lot number will appear in the photograph.
In the 1940s collection, vacant lots (as well as some public, non-taxable buildings) were not photographed.
There is only one photo per building. Buildings with multiple street facings or addresses do not generally have multiple photographs.
The quality of the "Tax" photographs varies considerably; every effort will be made to provide an acceptable print.
Photographic prints are provided for personal use only and may not be transferred to another individual or institution without permission (home decoration and prints as gifts are permissible). If you wish to publish or re-duplicate a photograph in any way, or use it for any commercial purpose, you must obtain permission and pay the appropriate license fee.
PRINT PRICES:
1940s: $35 - 8"x10" black & white print
1940s: $50 - 11"x14" black & white print
1980s: $45 - 8"x10" color print
1980s: $60 - 11"x14" color print
ADD $5 PER ADDRESS IF BLOCK & LOT NUMBER IS NOT INCLUDED.
If photograph is not found, payment will be refunded.

SHIPPING & HANDLING

(mail shipments only – no charge for orders picked-up by customer)

Effective December 15, 2009:

Domestic:
| | |
| --- | --- |
| Item Total | S&H |
| Up to $14.99 | $2.50 |
| $15.00 - $29.99 | $3.50 |
| $30.00 - $44.99 | $4.50 |
| $45.00 - $59.99 | $5.50 |
| $60.00 - $79.99 | $6.50 |
| $80.00 - $109.99 | $8.50 |
| $110.00 - $119.99 | $11.00 |
| $120.00 and up | $15.00 |
International: Double above S&H charges.