SPOTLIGHT ON: URBAN RENEWAL
By Christine Bruzzese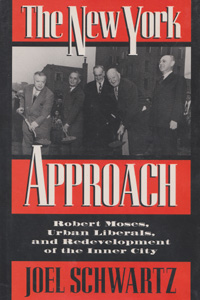 Urban renewal and redesign are ongoing issues in any major city. Much discussion and implementation of urban renewal programs has taken place in New York City, especially since the late nineteenth century. This article presents a few publications of the many on urban renewal that can be found in the City Hall Library collection.
The Mayor's Commission on Slum Clearance issued several reports in the early and mid-1950s entitled Slum Clearance Plan under Title I of the Housing Act. These reports generally provide a summary of the redevelopment plan, discussion of cost estimates and tenant relocation, analysis of the effect of redevelopment on the area, data on population and housing, maps and photos. Another historical publication is Urban Renewal Designation Reports prepared by the City Planning Commission in the 1960s. Housing Preservation and Development has also been involved in urban renewal and redevelopment and has published some reports.
The Unanticipated City: Loft Conversions in Lower Manhattan by James R. Hudson chronicles the transformation of SoHo from an industrial area to upscale neighborhood and home to an artistic community. The changing social environment in SoHo is considered along with the economic, political and other issues involved.
The New York Approach: Robert Moses, Urban Liberals, and Redevelopment of the Inner City by Joel Schwartz examines urban renewal under Title I of the Housing Act of 1949, legislation that was supposed to enable cities to redevelop slums into middle-class neighborhoods. Areas covered include history of urban renewal in New York City, the building of Stuyvesant Town, redevelopment administration under the leadership of Robert Moses, dislocation of blue-collar industries and workers and the ramifications for modern New York City. The Battle for Gotham: New York in the Shadow of Robert Moses and Jane Jacobs by Roberta Brandes Gratz discusses the contrasting theories and practices of Moses and author/activist Jane Jacobs regarding urban renewal and revitalization.
Check the library catalog and vertical files for additional resources.
---
For more info on the City Hall Library, please visit our website.
To unsubscribe please go to this link:
https://www.nyc.gov/portal/signin.jsp
Comment on this news service:
http://www.nyc.gov/html/misc/html/news_feedback.html
PLEASE DO NOT REPLY TO THIS MESSAGE!