SPOTLIGHT ON: THE UNITED NATIONS
By Christine Bruzzese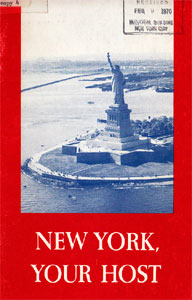 Located in the Manhattan neighborhood of Turtle Bay, the United Nations is an international entity that works to promote economic development, peace, education and security worldwide. In honor of United Nations Day, October 24, this article highlights some publications in the City Hall Library collection dealing with the United Nations and diplomacy.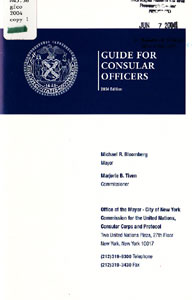 New York: Host to the World was prepared by the New York City Commission for the United Nations, Consular Corps and Protocol in 2001. The publication offers information to foreign diplomatic and consular employees regarding living and working in New York City.
Other publications from the Commission for the United Nations, Consular Corps, and Protocol are: Register of Foreign Consulates and Associated Government Offices in New York, Guide for Consular Officers and National Protocol Directory. These guides are useful for the diplomat, the businessperson or interested researchers. For example, the National Protocol Directory lists embassies, missions and consulates, and provides some advice on forms of address and other American protocol.
The Economic Impact of the Diplomatic Community on the City of New York is a study prepared by the New York City Commission for the United Nations and Consular Corps. Three editions were published in 1977, 1981 and 1989. Each report examines the organizational structure of the United Nations, its program and budget expenditures in New York City and the costs to the city. Statistical tables enhance the text.
Vertical files include a descriptive booklet of the United Nations when it was located at Flushing Meadow and Lake Success in 1949 and an article from Architectural Forum, dated November 1950, describing the new offices in Manhattan.

---
For more info on the City Hall Library, please visit our website.
To unsubscribe please go to this link:
https://www.nyc.gov/portal/signin.jsp
Comment on this news service:
http://www.nyc.gov/html/misc/html/news_feedback.html
PLEASE DO NOT REPLY TO THIS MESSAGE!