SPOTLIGHT ON: NEW YORK CITY MAYORS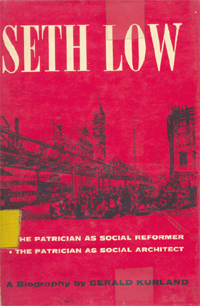 In November 2005, New York City voters elected the next Mayor. To mark the occasion, this article will present a sample of resources on some of the lesser-known Mayors of this city.
Fernando Wood was Mayor from 1855 to 1858 and again from 1860 to 1862, Fernando Wood of New York by Samuel A. Pleasants recounts the story of Wood's beginnings as a Tammany Hall politician, originally serving in the United States Congress. As Mayor, he attempted to reorganize the Police Department and came into conflict with the state legislature in Albany over this and other issues. Re-elected in 1860 and notorious as a supporter of slavery in the early days of the Civil War, Wood finished his career with a return to Congress.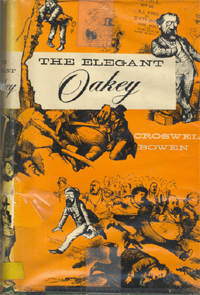 Oakey Hall served as Mayor from 1869 to 1872. The Elegant Oakey by Croswell Bowen describes Hall's career in politics and his association with Boss Tweed. After serving as New York County District Attorney, Hall was elected Mayor and became known for his excellent fashion sense. Accused of being a member of the infamous Tweed Ring, Hall stood trial three times for neglect of duty as Mayor and was eventually acquitted.
Seth Low: The Reformer in an Urban and Industrial Age by Gerald Kurland profiles the man who was Mayor from 1902 to 1903. Mayor of Brooklyn when it was a separate city; Low became known as a reformer, overhauling the tax structure, school system and awarding of franchises there. After serving as President of Columbia University, Low took office as Mayor of New York in 1902. He continued his work as a reformer, reorganizing the Police Department, improving services to city residents and supporting the working class. After his mayoral term ended, Low worked as a labor mediator and served as president of the New York State Chamber of Commerce among other accomplishments.
The Gentleman and the Tiger: the Autobiography of George B. McClellan, Jr. edited by Harold C. Syrett is the story of the Mayor of New York City from 1904 to 1909. Son of a famous Civil War general, McClellan writes about the influence of his father on his life, his work as a newspaper reporter and his appointment to the Board of Trustees of the Brooklyn Bridge in 1889. This job started McClellan's political career. Serving two terms as Mayor, he eventually feuded with the Tammany Hall political boss who assisted in his rise to political power. McClellan was interested in the design of public buildings and strongly supported the Municipal Arts Commission. In 1911, McClellan became a professor at Princeton University and after retirement in 1931, relocated to Washington, D.C., remaining there until his death.
William J. Gaynor, Mayor from 1910 to 1913, is profiled in William Jay Gaynor: Mayor of New York by Mortimer Smith. Prior to election, Gaynor served as a New York State Supreme Court judge. Gaynor became famous for his irascible personality and extensive knowledge of philosophy and religion. He successfully appointed city officials on the basis of their ability rather than Tammany Hall connections and enacted governmental reforms. In 1910, Gaynor was shot in the throat by a would-be assassin. He never quite recovered and died while on an ocean voyage to England.
John Purroy Mitchel: the Boy Mayor of New York by Edwin R. Lewinson recounts the life of the man who was Mayor from 1913 to 1917. At thirty-four, Mitchel was the youngest person ever to be elected Mayor; thus the moniker of "Boy Mayor." Mitchel reformed the municipal government system, including the coroner's office, the Police Department, Comptroller's office among others. He also tried to help the unemployed and the labor unions. Unhappily, Mitchel's programs and ideas were not completely successful and he alienated many voters. After defeat in the 1917 election, Mitchel enlisted in the Air Corps to train as a pilot and serve in World War I. He died in an airplane accident.
Biographical and vertical files include articles and other clippings on various Mayors. Find out about the famous and infamous, well-known and obscure holders of the highest office in New York City by exploring these diverse and rich resources.

ACQUISITIONS LIST, OCTOBER 2005
The following publications were received by the City Hall Library in the month of October. Additional government publications can be found online in our Government Publications section.
Brooklyn Navy Yard Development Corporation and Subsidiary.
Report on the consolidated financial statements for the years ended June 30, 2005 and 2004. September 28, 2005.
Citizens Budget Commission.
New York's endangered future: debt beyond our means. September 2005.
Community-Based Planning Task Force.
Livable neighborhoods for a livable city: policy recommendations to strengthen community-based planning in New York City. Prepared by the Municipal Art Society Planning Center on behalf of the Task Force. 2005.
Freelancers Union/Working Today.
The rise of the freelance class: a new constituency of workers building a social safety net, 2005 report.
Historical Perspectives, Inc.
Phase 1B archaeological field testing of BMP-SG-1 Pond Street, Staten Island, NY: South Shore Golf Course drainage area. Prepared for Difazio Industries and N.Y. City Department of Environmental Protection, July 2005.
Housing Here and Now.
Your tax dollars at work: how NYC subsidizes slumlords. October 2005.
Institute for Urban Family Health/Bronx Health REACH.
Separate and unequal: medical apartheid in New York City. October 2005.
John Milner Associates, Inc.
Phase 1B archaeological investigation: Block 457, Lot 28 (former Methodist Episcopal Cemetery, New York, N.Y.) Prepared for Avalon Bay Communities, Inc. and N.Y. City Landmarks Preservation Commission. August 2005.
Loorya, Alyssa and Christopher Ricciardi.
Martin's Field, Queens, New York: phase 1B cultural resource monitoring report project number Q017-104M. Prepared for N.Y. City Department of Parks and Recreation and N.Y. City Landmarks Preservation Commission. October 2005.
McMahon, E. J.
Legislators still aim to sweeten public pensions. Albany: Empire Center for New York State Policy. Fiscal Watch Memo revised July 15, 2005.
N.Y. City. Comptroller.
Analysis of the financial and operating practices of union-administered benefit funds with fiscal years ending in calendar year 2003. September 27, 2005.
N.Y. City. Comptroller.
Audit report on the Section 8, Housing Choice Voucher Program of the Department of Housing Preservation and Development, January 1—December 31, 2002. October 17, 2005.
N.Y. City. Comptroller.
Audit report on the fees due from the USTA National Tennis Center, Inc. and the Center's compliance with its lease agreement. October 19, 2005.
N.Y. City. Council. Commission on the Campaign for Fiscal Equity.
Part II: reengineering reform: adopting a new approach to an old problem. October 2005.
N.Y. City. Independent Budget Office.
State saves as city bears added jail costs for felony cases. (IBO Fiscal Brief) September 2005.
N.Y. State. Comptroller.
New York City Health and Hospitals Corporation: inventory controls over controlled substances. Report 2004-N-4. [2005]
9/11 Public Discourse Project.
Report on the status of 9/11 Commission recommendations. Part I: homeland security, emergency preparedness and response. September 14, 2005.
9/11 Public Discourse Project.
Report on the status of 9/11 Commission recommendations. Part II: reforming the institutions of government. October 20, 2005.
Passel, Jeffrey S. and Roberto Suro.
Rise, peak, and decline: trends in U. S. immigration 1992-2004. Washington: Pew Hispanic Center, September 27, 2005.
Renz, Loren and Josefina Atienza.
Foundation funding for arts education: an overview of recent trends. New York: Foundation Center in cooperation with Grantmakers in the Arts. October 2005.
Roder, Anne and Scott Scrivner.
Seeking a sustainable journey to work: findings from the National Bridges to Work Demonstration. Philadelphia, PA: Public/Private Ventures, July 2005.
Stone, Linda.
Report on archaeological monitoring during fence post excavations on the east side of Prospect Cemetery along 159th Street, in Jamaica, Queens, New York. Prepared for Padilla Construction Services, Inc. and N.Y. City Landmarks Preservation Commission. September 20, 2005.
Trust for America's Health.
F is for fat: how obesity policies are failing in America. Issue report 2005. Washington: Trust for America's Health, August 2005.
U. S. Geological Survey.
Hydrogeology and extent of saltwater intrusion in the northern part of the town of Oyster Bay, Nassau County, New York: 1995-98. Coram, N.Y.: 2004.

---
For more info on the City Hall Library, please visit our website.
To unsubscribe please go to this link:
https://www.nyc.gov/portal/signin.jsp
Comment on this news service:
http://www.nyc.gov/html/misc/html/news_feedback.html
PLEASE DO NOT REPLY TO THIS MESSAGE!