SPOTLIGHT ON: ASIAN PACIFIC AMERICAN HERITAGE
By Christine Bruzzese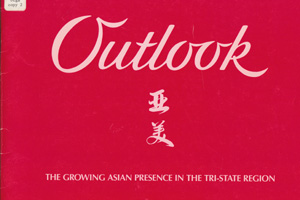 Since 1990, May has been designated as Asian Pacific American Heritage Month by the President of the United States. This article features resources in the City Hall Library collection that focus on Asian Pacific American life and culture in New York City. These materials may be of use to the researcher seeking out historical information about Asian Americans in New York City.
The New York City Department of City Planning published the report Asians in New York City; a Demographic Summary in November 1988. Prepared for the Mayor's Task Force on Asian American Issues, this publication utilizes data from the 1980 federal census. History on Asian immigration and the presence of various Asian groups in New York City is presented. Statistics on income, occupations, health, language and education are also provided along with brief analysis
The Regional Plan Association, in collaboration with Chinese-American Planning Council and United Way of Tri-State, prepared the report The Growing Asian Presence in the Tri-State Region. Published in 1987, this study examines the growth of the Asian community in the New York metropolitan region. Such issues as family life, education and economics and housing are discussed.
New Urban Immigrants: the Korean Community in New York by Illsoo Kim was published in 1981. This book examines factors that affect South Korean immigration to the United States, economic bases for establishment of a Korean community in New York City, expansion of such communities, politics, culture and more.
Vertical and biographical files offer newspaper clippings, press releases and other materials on Asian Americans in New York City.
---
For more info on the City Hall Library, please visit our website.
To unsubscribe please go to this link:
https://www.nyc.gov/portal/signin.jsp
Comment on this news service:
http://www.nyc.gov/html/misc/html/news_feedback.html
PLEASE DO NOT REPLY TO THIS MESSAGE!