SPOTLIGHT ON: HISTORY OF NYC HOTELS
By Christine Bruzzese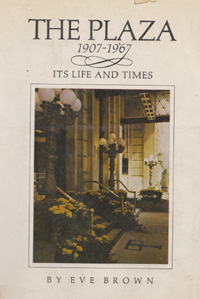 From the Biltmore to the Waldorf Astoria, New York City has been the home to hotels both luxurious and budget. Many of these buildings have been declared landmarks. This article features some resources in the City Hall Library collection on the subject of hotels.
Peacock Alley: the Romance of the Waldorf-Astoria by James Remington McCarthy in collaboration with John Rutherford was published in 1931. It is a historical and social chronicle of the old Waldorf-Astoria Hotel at Fifth Avenue and Thirty-Fourth Street (now the location of the Empire State Building). The book describes the building of the hotel. Also included are anecdotes about famous guests and particular events, closing of the Waldorf at the old location and rebuilding on Park Avenue (where the Waldorf remains today).
The Plaza: Its Life and Times, 1907-1967 was written by Eve Brown. Beginning with the story of three men with a vision for a luxury hotel, the book goes on to describe the early days of the Plaza. Changing economic and social conditions during the Great Depression and World War II played their roles. Also presented are stories of famous and infamous guests, how the legend of Eloise at the Plaza began, daily operations of the hotel and more.
Budget Hotels in Greater Time Square: Times Square Hotels Study was published in 1981 by the City Planning Commission and Department of City Planning. This report discusses the deterioration of hotels in the Times Square area and what could be done to improve them and attract tourists. Reasons for the decline are given along with analysis of the situation at the time and recommendations for improvement.
Reductions in the City's Hotel Occupancy Tax Rate: the Impact on Revenues was prepared by the Independent Budget Office (IBO). Published in 1997, this report focuses on changes in the hotel occupancy tax made in the 1980's and 1990's and their economic impact. Examined are the issues of tax revenues, direct and indirect fiscal impacts and resulting advantages.
Many hotel buildings have been declared landmarks by the New York City Landmarks Preservation Commission. Among these are the Algonquin, the Ritz Tower and the Hotel Chelsea. Explore the vertical files for further materials on hotels.

---
For more info on the City Hall Library, please visit our website.
To unsubscribe please go to this link:
https://www.nyc.gov/portal/signin.jsp
Comment on this news service:
http://www.nyc.gov/html/misc/html/news_feedback.html
PLEASE DO NOT REPLY TO THIS MESSAGE!