SPOTLIGHT ON: Women's History Month
By Christine Bruzzese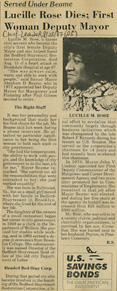 Since 1978, the U.S. Congress has designated March as Women's History Month. This article focuses on publications of the New York City Commission on Women's Issues and on the first woman to serve as a Deputy Mayor.
The Commission was established by Mayoral Executive Order in 1975 as the New York City Commission on the Status of Women. In 2002 the present name was adopted. The current goals of the Commission include advising the Mayor on issues of particular concern to women, helping women and their families make the best use of city services and supporting women's initiatives through public/private sector partnerships.
The Mayor's Commission on the Status of Women published Women Making History: Conversations with Fifteen New Yorkers in 1985. The book features interviews with fifteen diverse New York women including Geraldine Ferraro, Beverly Sills and Charlayne Hunter-Gault.

Annual Reports of the Commission were published from 1975 to 1989. These reports detail accomplishments in such areas as legislative issues, public education and working with other women's organizations. Status Report was a newsletter published from 1978 to 1991. Readers were kept updated on activities and publications.
Two years after the Mayor's Commission on Women's Issues was established, Lucille Mason Rose was appointed as Deputy Mayor for Manpower and Planning by Mayor Abraham Beame. Deputy Mayor Rose was the first woman to hold such a position. Born in Virginia, Rose moved to New York as child and began her public service career as a fiscal clerk in the Department of Social Services in 1949. She also worked for the Department of Labor and was named Commissioner of the Department of Employment by Mayor Lindsay in 1972. Rose worked in helping empower the economically disadvantaged through educational and employment incentives. She also was active in promoting urban renewal in Bedford Stuyvesant in Brooklyn and involved in many charitable organizations and endeavors. Rose passed away in 1987.
---
For more info on the City Hall Library, please visit our website.
To unsubscribe please go to this link:
https://www.nyc.gov/portal/signin.jsp
Comment on this news service:
http://www.nyc.gov/html/misc/html/news_feedback.html
PLEASE DO NOT REPLY TO THIS MESSAGE!