SPOTLIGHT ON: Women's History Month
By Christine Bruzzese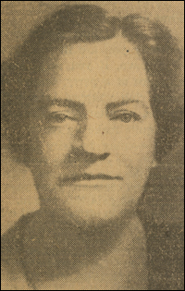 Genevieve B. Earle
Since 1978, the U.S. Congress has designated March as Women's History Month. This article focuses on two prominent women who contributed to city government. A diverse collection of resources on women who have played significant roles in New York City politics, history and culture can be explored at the City Hall Library.
Katharine Bement Davis was appointed New York City Correction Commissioner on January 1, 1914. This gave her the distinction of being the first woman to head a New York City agency. Davis had previously served as superintendent of the Bedford Hills state reformatory for women and came from a family active in the women's suffrage movement. She ran for delegate-at-large to the New York State Constitutional Convention on the Progressive party ticket in 1914. Although she lost, Davis went on to become active in establishing the Women's City Club to help promote women's suffrage, improve social conditions and reform the New York City Women's Court. After women received the right to vote in 1920, Davis was involved in establishing the League of Women Voters. Davis was born in 1860 and passed away in 1935.
Genevieve B. Earle was elected the first woman elected to the New York City Council. She served from 1938 to 1949 for a total of five terms and was Republican Minority Leader. Prior to that, in 1935-1936, she was the first to serve on a New York City Charter Revision Commission. Earle was active in promoting consumer legislation, better child care programs and affordable housing. She served on a number of board and commissions including the City War Commission in 1941. Earle passed away in 1956.
---
For more info on the City Hall Library, please visit our website.
To unsubscribe please go to this link:
https://www.nyc.gov/portal/signin.jsp
Comment on this news service:
http://www.nyc.gov/html/misc/html/news_feedback.html
PLEASE DO NOT REPLY TO THIS MESSAGE!