SPOTLIGHT ON: WOMEN'S HISTORY MONTH
By Christine Bruzzese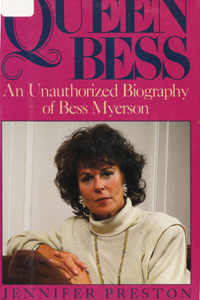 Since 1978, the U.S. Congress has designated March as Women's History Month. The City Hall Library contains a diverse collection of resources on women who have played significant roles in New York City politics, history and culture.
Bella Abzug: How one Tough Broad from the Bronx Fought Jim Crow and Joe McCarthy: An Oral History by Suzanne Braun Levine and Mary Thom, chronicles the life and career of the legendary Congresswoman who represented Manhattan's West Side from 1971 to 1977. Based on interviews with Abzug's daughters, colleagues, friends, and rivals, the authors present the story of Abzug's early years in the Bronx, her work as a civil rights lawyer, and her term in Congress. They narrate her activism in such areas as the women's movement and environmental awareness. Born in 1920, Bella Abzug died in 1998.
Bess Myerson served as New York City's first Commissioner of Consumer Affairs under Mayor Lindsay. During the Koch administration, she acted as Commissioner of Cultural Affairs. Queen Bess by Jennifer Preston is a biography published in 1990. The book traces Myerson's early years in the Bronx, her reign as the first Jewish Miss America in 1945, and her work in civil rights, politics, and broadcasting.
Publications of the New York City Commission on the Status of Women may also be of interest to the researcher. This agency is now known as the New York City Commission on Women's Issues.


---
For more info on the City Hall Library, please visit our website.
To unsubscribe please go to this link:
https://www.nyc.gov/portal/signin.jsp
Comment on this news service:
http://www.nyc.gov/html/misc/html/news_feedback.html
PLEASE DO NOT REPLY TO THIS MESSAGE!