SPOTLIGHT ON: WOMEN AND IRISH-AMERICANS
By Christine Bruzzese
Since 1978, the U.S. Congress has designated March as Women's History Month. The month of March also brings St. Patrick's Day, a celebration of all things Irish. In honor of both events, this article features some resources in the City Hall Library on the contributions and achievements of women and Irish-Americans to New York City life.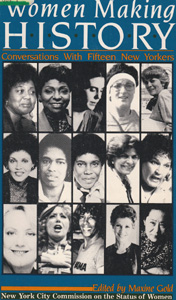 The First Hurrah: a Biography of Alfred E. Smith by Richard O'Connor chronicles the life of the Irish-American politician and the first Roman Catholic Presidential candidate. Smith grew up on the Lower East Side of New York City and became part of the Tammany Hall organization that governed New York City politics. Smith served four terms as governor of New York State and worked for reforms to improve conditions for the average citizen. After a bitter defeat in the 1928 Presidential race, he served as president of the Empire State Building Company and worked at various charitable activities. Smith died in 1944.
The Gentleman from New York is a biography of Daniel Patrick Moynihan by Godfrey Hodgson. The book chronicles Moynihan's life from youth in New York City and Long Island to his political career. This career included two ambassadorships and election to the U.S. Senate representing New York State. Moynihan's politics, philosophy and professional associations are examined in detail. Daniel Patrick Moynihan passed away in 2003.
The Mayor's Commission on the Status of Women published Women Making History: Conversations with Fifteen New Yorkers in 1985. The book features interviews with fifteen diverse New York women including Geraldine Ferraro, Beverly Sills and Charlayne Hunter-Gault. The Library also has copies of Mayoral Executive Orders 28 of 1975 and 86 of 1987, concerning the establishment and functions of the Commission. This agency is now known as the Mayor's Commission on Women's Issues.
Consult the biographical and vertical files for articles and other materials on prominent women and Irish-Americans who have contributed to New York City history and life. For example, learn more about Elinor Guggenheimer, who served as the first female member of the City Planning Commission in 1961. From 1974 to 1978, Guggenheimer worked as Commissioner of Consumer Affairs and remained active after that, founding several organizations to assist women. She died in 2008.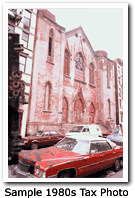 TAX PHOTOS FROM 1980S NOW AVAILABLE FOR PURCHASE ONLINE

The Municipal Archives has a photograph of almost every building in New York City. As part of a program to modernize property tax appraisals, New York City photographed every house and building in the five boroughs between 1939 and 1941, and again in the mid-1980s. Now available exclusively from the Municipal Archives, these photographs make a unique gift for friends and family.
http://nyc.gov/html/records/html/taxphotos/home.shtml




---
For more info on the City Hall Library, please visit our website.
To unsubscribe please go to this link:
https://www.nyc.gov/portal/signin.jsp
Comment on this news service:
http://www.nyc.gov/html/misc/html/news_feedback.html
PLEASE DO NOT REPLY TO THIS MESSAGE!