SPOTLIGHT ON: City Hall
By Christine Bruzzese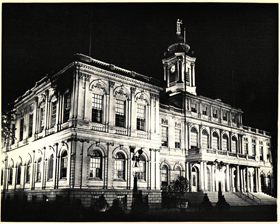 City Hall at night
City Hall, the central building for New York City mayoral and legislative offices, is famous for both its exterior and interior. The latter was renovated and restored from 1907 to 1918. Here are some publications in the City Hall Library that focus on the design and artwork of the City Hall building.
On City Hall, in City Hall: an Historical Survey of City Hall's Art, Architecture and Landscape Architecture was prepared by the Art Commission of the City of New York. The booklet serves as a guide to an exhibit presented by the Art Commission in City Hall in 1984.
The Governor's Room City Hall, New York by Mary Beth Betts for the New York City Art Commission provides a history and description of this three-room suite on the second floor of City Hall. Illustrations include a rendering of the Governor's Room in 1830, a photo of President Lincoln receiving visitors in 1861 and views of the Governor's Room before restoration in 1983.
The Renascence of City Hall published by the New York City Department of Public Works in 1956, showcases the interior and exterior artwork and furnishings of the building before and after a 1954 renovation. Included are views of the City Council Chamber, Board of Estimate room and various sculptures and paintings. A chapter on City Hall Park, written by Robert Moses, details reconstruction and landscaping plans for the park.
Vertical files may provide additional background information for the researcher interested in the history of this integral New York City building.
---
For more info on the City Hall Library, please visit our website.
To unsubscribe please go to this link:
https://www.nyc.gov/portal/signin.jsp
Comment on this news service:
http://www.nyc.gov/html/misc/html/news_feedback.html
PLEASE DO NOT REPLY TO THIS MESSAGE!