SPOTLIGHT ON: HISTORY OF SKYSCRAPERS
By Christine Bruzzese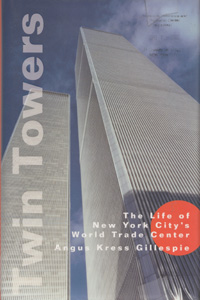 Skyscrapers, the multi-story office buildings, dominate the New York City skyline view. Since the late nineteenth century, these buildings have become an integral part of the commercial and daily life of the city. This article features some resources in the City Hall Library collection on skyscraper buildings.
Empire: a Tale of Obsession, Betrayal and the Battle for an American Icon by Mitchell Pacelle describes the battle for ownership of the Empire State Building in the 1990s. Various real estate companies and tycoons competed to take control of the historic building. The story of this struggle, as well as early history of the building, is discussed, in this book.
Rise of the New York Skyscraper: 1865-1913 by Sarah B. Landau and Carl W. Condit provides a detailed history of the development of the skyscraper. Beginning with a description of the office building in the urban context from 1850 to 1870, the authors then go on to discuss various issues. These include early skyscrapers, advances in engineering and architecture, analysis of selected buildings, public reaction to these buildings and more. Photographs, drawings and diagrams enhance the text.
Twin Towers: the Life of New York City's World Trade Center by Angus Kress Gillespie recounts the story of the building of the World Trade Center, since destroyed in the September 11 terrorist attacks. Issues covered include the political maneuverings to get the towers built, engineering problems and concerns, architectural designs, tenants and a typical day at the World Trade Center. This book was published in 1999.
The Building of Manhattan by Donald A. Mackay was published in 1987. It is a collection of illustrations created by the author and others with accompanying text. This is a survey of construction in Manhattan, beginning with the days of the Dutch settlement. Many developments in the building of skyscrapers are featured as well as other kinds of building construction. Building methods and machinery are also depicted.
Vertical files on buildings and related topics may also be consulted for newspaper clippings and other information.
---
For more info on the City Hall Library, please visit our website.
To unsubscribe please go to this link:
https://www.nyc.gov/portal/signin.jsp
Comment on this news service:
http://www.nyc.gov/html/misc/html/news_feedback.html
PLEASE DO NOT REPLY TO THIS MESSAGE!