SPOTLIGHT ON: CENTRAL PARK
By Christine Bruzzese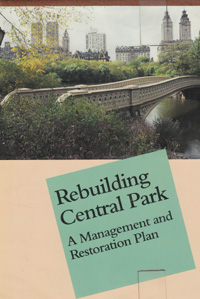 Central Park has been a part of the New York City landscape since it opened in 1859. Extending over 843 acres, the Park is a refuge from hectic urban life for both New York residents and visitors. This article features some resources on Central Park that can be found in the City Hall Library collection.
Report on Survey of Central Park with Recommendations was prepared in 1927 by Hermann W. Merkel for the Department of Parks. This report examines various issues of concern such as the conditions of lawns, lack of adequate police presence and administration of parks operations. Recommendations for improvement are presented.
Rebuilding Central Park: a Management and Restoration Plan with Elizabeth Barlow Rogers as principal author was published in 1987. The Department of Parks and Recreation collaborated with the Central Park Conservancy on this plan to rehabilitate and restore the park. An analysis of conditions in the park is presented along with consideration of individual areas for renovation and what steps might be taken to improve them. Maps and photographs enhance the printed text.
The Central Park Conservancy was established in 1980 as a joint venture between city government and the private sector. Annual Reports of this organization document activities and accomplishments. Financial statements and lists of major contributors are also given. Holdings are from 1981 to 2002.
The Park and the People: a History of Central Park by Roy Rosenzweig and Elizabeth Blackmar chronicles the history of the park from its beginnings to the late twentieth century. Included are the story of the creation and building of Central Park along with political, economic and other issues involved. The movement to make Central Park accessible to all people not just the wealthy is discussed as well as the changes that took place in the twentieth century and new challenges.
Vertical files feature articles and other clippings. Biographical articles on parks officials are also available.

---
For more info on the City Hall Library, please visit our website.
To unsubscribe please go to this link:
https://www.nyc.gov/portal/signin.jsp
Comment on this news service:
http://www.nyc.gov/html/misc/html/news_feedback.html
PLEASE DO NOT REPLY TO THIS MESSAGE!