SPOTLIGHT ON: THE BRONX
By Christine Bruzzese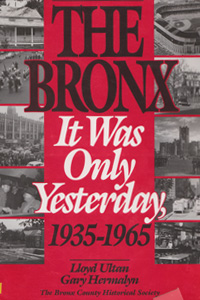 The Bronx is the northernmost borough of New York City and the only one located on the mainland. First settled in 1639 by Jonas Bronck, the Bronx today is home to a diverse population, culture and history. This article highlights some resources in the City Hall Library collection about the Bronx.
History in Asphalt: the Origin of Bronx Street and Place Names by John McNamara was published in three editions, the last one in 1991. This book presents brief histories of individual streets and place with details on origins of the name, date of naming, location and prior names, if any.
South Bronx Rising: the Rise, Fall and Resurrection of an American City by Jill Jonnes chronicles the story of the South Bronx neighborhood, its development, deterioration and resurgence. The author describes the history and development of the South Bronx, discusses economic issues and the impact of immigration, moves on to the decline of the area in the 1960s and 1970s then concludes with a study of the rebuilding efforts. This is an updated edition of an earlier book that Jonnes wrote about the South Bronx.
Memories of Fordham by Rocky D'Erasmo is a collection of reminiscences about the Fordham neighborhood in the Bronx. The author, family and friends contribute anecdotes, letters and photos about growing up and living in the Bronx from the 1930s to the 1970s.
The Bronx: It was Only Yesterday, 1935-1965 by Lloyd J. Ultan and Gary Hermalyn, is written in collaboration with the Bronx County Historical Society. This book is one of five, co-written by Professor Ultan, the Bronx Borough Historian, on Bronx history. In this volume, the authors discuss the impacts of the Depression, World War II, new technology, construction and other factors on the borough and its people. Many photographs from the Historical Society collections enhance the text and provide detail for the researcher.
Also available in the collection are vertical files with clippings on Bronx neighborhoods, biographical files and designation reports for landmarks in the borough. These are a small part of the fascinating resources in the collection.
---
For more info on the City Hall Library, please visit our website.
To unsubscribe please go to this link:
https://www.nyc.gov/portal/signin.jsp
Comment on this news service:
http://www.nyc.gov/html/misc/html/news_feedback.html
PLEASE DO NOT REPLY TO THIS MESSAGE!