SPOTLIGHT ON: ISLANDS
By Christine Bruzzese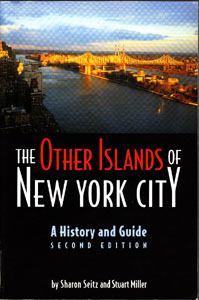 New York is a city of islands. With the exception of the Bronx, the boroughs of New York City are located on islands. This article focuses on resources in the City Hall Library collection about the lesser-known islands of the city.
The Other Islands of New York City: a History and Guide by Sharon Seitz and Stuart Miller offers a wealth of information on both well-known and more obscure islands. Learn more about the "forgotten islands" such as Hoffman and Swinburne, which served as quarantine facilities for immigrants in the nineteenth century. Explore the natural beauty of the Jamaica Bay islands. This book also discusses several other islands.
The Plan for Welfare Island: Technical Report was published in 1969, prepared by Philip Johnson and John Burgee for New York State Urban Development Corp. This report details the plan for transforming this island in the East River into the community known today as Roosevelt Island. Included are analyses of land use, development of the town center and outskirts, transportation, recreation and other issues. Maps, architectural drawings and statistical tables enhance the text.
City Island is an island connected to the eastern shore of the Bronx. In 1998, the Department of City Planning conducted the City Island Maritime Heritage Preservation Study. This was a segment of the New York City Waterfront Revitalization Program. Four studies prepared by City Planning describe and assess the maritime history and what needs to be done to preserve the heritage of the island. Current industry is discussed as well as future plans for growth and development. These publications are: City Island: Maritime Heritage Preservation Study, Summary Report, City Island: a Maritime History, City Island's Growth and Development and City Island Maritime Industries Assessment. All were published in 2001.
Explore the vertical files for clippings such as newspaper articles on the islands of New York City.
---
For more info on the City Hall Library, please visit our website.
To unsubscribe please go to this link:
https://www.nyc.gov/portal/signin.jsp
Comment on this news service:
http://www.nyc.gov/html/misc/html/news_feedback.html
PLEASE DO NOT REPLY TO THIS MESSAGE!