SPOTLIGHT ON: AFRICAN-AMERICAN HISTORY AND CULTURE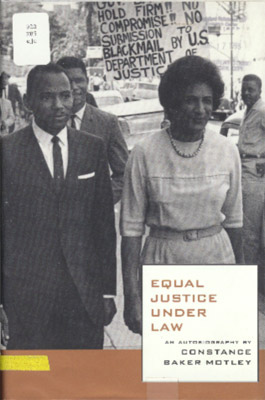 February has been designated Black History Month in celebration of African-American culture and achievements This article will present a small sample of materials that are available to the user in the City Hall Library collection.
Biographical books on prominent African-Americans include King of the Cats: the Life and Times of Adam Clayton Powell, Jr. by Wil Haygood. This biography covers the life and times of the powerful Congressman from Harlem with emphasis on his work for social equality for black people. Equal Justice under Law by Constance Baker Motley is the autobiography of the first black woman appointed to a federal judgeship. Judge Motley, who also served as Manhattan Borough President, tells her own life story within the framework of her pioneering work in the civil rights movement of the 1950s and 1960s.
Several books deal with the African-American population and various issues they face as citizens of New York. Caribbean New York: Black Immigrants and the Politics of Race by Philip Kasinitz, examines the role and identity of the West Indian community in New York. Root & Branch: African-Americans in New York and East Jersey: 1613-1863 by Graham Hodges, offers a history of blacks during this time period in both New York City and nearby environs, tracing the rise of slavery, gradual emancipation and stressing the importance of religion and culture to the community.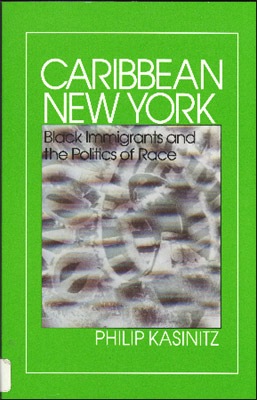 In the Black: A History of African Americans on Wall Street by Gregory S. Bell, tells the story of African-Americans, who set out to establish themselves in the securities and investment banking fields despite prejudice, lack of funds and many other barriers in the time period of 1920 to today.
The Mayor's Commission on Black New Yorkers was established by Mayor Koch in January 1986 and completed their study in November 1988. The Commission found that black New Yorkers tended to be less educated, poorer and more economically disadvantaged than whites. This report offers possible solutions and also contains useful statistical information on education, economic development, poverty and employment.
Another important aspect of African-American history in New York City is the Harlem Renaissance. When Harlem Was in Vogue by David Levering Lewis chronicles the years from 1919 to 1935, when Harlem flourished as a center of art, literature and music. Writers such as Zora Neale Hurston, Countee Cullen and Langston Hughes achieved fame during this period. Harlem 1900-1929: Spiritual Home of Black America is a collection of photographs exhibited at the Schomburg Center of the New York Public Library in 1974. Photos include depictions of daily life as well as famous people and places with explanatory text.
Vertical files and biographical files can also be great sources for additional research. There is a comprehensive, fascinating collection of materials on African Americans in the City Hall Library that can be appreciated during Black History Month or any time of year.

ACQUISITIONS LIST, DECEMBER 2004
The following publications were received by the City Hall Library in the month of December. Additional government publications can be found online in our Government Publications section.
Coppola, Philip Ashforth
Silver connections: a fresh perspective on the New York area subway systems. Maplewood, NJ: Four Oceans Press, Vols. 2-4. 1990-94.
Hazen and Sawyer/CDM
Catskill/Delaware Ultraviolet Light Disinfection Facility: final environmental impact statement. November 2004. Prepared for N.Y. City Department of Environmental Protection.
Lower Manhattan Development Corporation
Partial action plan no. 8 for the World Trade Center Memorial and Cultural Program, related initiatives, and lower Manhattan tourism. Approved by HUD as of 11/23/04.
NYC2012, Inc.
Candidature file for the games of the XXX Olympiad, November 14, 2004. 3 vols.
N.Y. City. Comptroller.
Audit report on the compliance of the New York Yankees with their lease agreement January 1, 2001-December 31, 2002. December 1, 2004.
N.Y. City. Comptroller.
Audit report on the financial and operating practices of the Brooklyn Borough President's office. December 7, 2004. (Report no. 7609)
N.Y. City. Comptroller.
Audit report on the Highbridge Advisory Council's compliance with certain financial provisions of its contract with the administration for Children's Services. December 16, 2004.
N.Y. City. Comptroller.
Audit report on the New York Yankees rental credits for the fourth quarter of 2003 (October 1-December 31, 2003). December 15, 2004.
N.Y. City. Comptroller.
Audit report on the New York Yankees rental credits for the first quarter of 2004 (January 1-March 31, 2004). December 15, 2004).
N.Y. City. Landmarks Preservation Commission.
Douglaston Hill Historic District designation report. December 14, 2004.
N.Y. City. Sanitation, Department of.
Comprehensive solid waste management plan: draft. October 2004.
New York State Advisory Panel on Transportation Policy for 2025.
Findings and recommendations. November, 2004.
New York State Commission on Education Reform.
Ensuring children an opportunity for a sound basic education: final report. March 29, 2004.
N.Y. State Comptroller.
Review of the financial plan of the City of New York. December 2004. (Report 8-2005).
N.Y. State. Financial Control Board.
October modification fiscal years 2005-2008: staff report. December 15, 2004.
N.Y. State. Law, Department of. Charities Bureau.
Pennies for charity: where your money goes. Telemarketing by professional fund raisers. December 2004.
Rudin Center for Transportation Policy and Management, New York University.
At capacity: the need for more rail access to the Manhattan CBD (Rosemary Scanlon and Edward S. Seeley, Jr.). November 2004.
---
For more info on the City Hall Library, please visit our website.
To unsubscribe please go to this link:
https://www.nyc.gov/portal/signin.jsp
PLEASE DO NOT REPLY TO THIS MESSAGE!