SPOTLIGHT ON: Black History Month
By Christine Bruzzese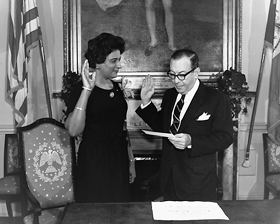 February has been designated Black History Month in honor of Black culture and achievements. This article focuses on two prominent New Yorkers and highlights some resources in the City Hall Library collection related to Black history.
Constance Baker Motley was an African-American lawyer who worked on such pioneering civil rights cases as Brown v. Board of Education, which ended school segregation by race in 1954. Judge Motley served as a New York State Senator from 1964 to 1965. In 1965, she became the first woman to be elected Manhattan Borough President. Judge Motley achieved another milestone in 1966, when she became the first Black woman to be appointed to a federal judgeship. Her autobiography Equal Justice under Law recounts her personal life story and career. Judge Motley passed away in September 2005.
Basil Paterson was born in 1926 in Harlem, New York. He graduated from St. John's University Law School and became active in Democratic politics along with David Dinkins, Percy Sutton and Charles Rangel. Paterson's many achievements include serving in the New York State Senate; becoming the first African-American to be elected Vice Chairman of the Democratic National Committee; serving under Mayor Koch as Deputy Mayor of Labor Relations and Personnel; being appointed the first African-American to serve as Secretary of State in New York under Governor Hugh Carey. His son David Paterson served as Governor of New York State from March 2008 to December 2010.
Be sure to consult the Library catalog for publications related to Black history. Vertical and biographical files contain clippings and other materials of interest to the researcher.

---
For more info on the City Hall Library, please visit our website.
To unsubscribe please go to this link:
https://www.nyc.gov/portal/signin.jsp
Comment on this news service:
http://www.nyc.gov/html/misc/html/news_feedback.html
PLEASE DO NOT REPLY TO THIS MESSAGE!