SPOTLIGHT ON: PRIVATE SCHOOLS IN NYC
By Christine Bruzzese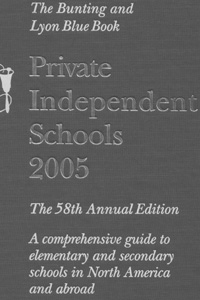 Collegiate School, the oldest independent school in the United States, opened in New York City in 1628. Since then, many private schools, some independent and some with religious affiliations, have been established in the city. This article features some resources in the City Hall Library on private schools.
Private Independent Schools is a directory of private schools by state. Many New York City schools such as Collegiate, Dalton, Nightingale-Bamford and Mary Louis Academy are included. Information is given on the mission of each school, courses of study, tuition etc.
Private Schools for the Handicapped was prepared by the City Planning Commission in 1973. This publication discusses a program for placing developmentally and emotionally disabled children in private schools when no appropriate courses of instruction were available in public schools.
Three out of Ten: the Nonpublic Schools of New York City was published by the Department of City Planning in 1972. The report surveys 841 private schools, both religious and non-sectarian. Issues reviewed include comparison of student performance in public and Catholic schools, analyses of Catholic and Jewish schools, government assistance to private school pupils and legislation. Various financial and legal options such as tuition reimbursement, state aid to private schools, educational vouchers are considered.
Catholic Schools in the City of New York was written by Raymond Domanico for the New York University Program on Education and Civil Society in 2001. This report compares academic performance of Catholic elementary schools in New York City to public schools. Data is presented and analyzed. Conclusions and implications for future public policy are presented.
Some school buildings have been declared landmarks by the Landmarks Preservation Commission. These Designation Reports can be located in the City Hall Library collection as well as newspaper and other clippings from the vertical files.
---
For more info on the City Hall Library, please visit our website.
To unsubscribe please go to this link:
https://www.nyc.gov/portal/signin.jsp
Comment on this news service:
http://www.nyc.gov/html/misc/html/news_feedback.html
PLEASE DO NOT REPLY TO THIS MESSAGE!