SPOTLIGHT ON: CHURCHES
By Christine Bruzzese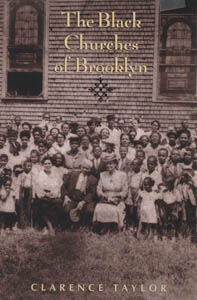 The first Christian congregation in New York City was established by the Dutch Reformed Church in 1628. In 1654, Sephardic Jews from Brazil formed the first Jewish congregation in America. The year 1893 saw the opening of the first Islamic mission in the city. This article highlights some resources in the City Hall Library on churches, synagogues and other places of worship.
Neighborhood Revitalization and Religious Institutions was prepared by the New York City Department of City Planning and the Cheswick Center in 1979. This report summarizes discussions held at a workshop in 1978, attended by clergy, community leaders and city officials. Using the example of Flatbush in Brooklyn, the role of religious institutions in improving the community is considered.
Saint Thomas Church Fifth Avenue by J. Robert Wright chronicles the history of the famous Episcopalian church in midtown Manhattan. Beginning with its founding in 1823, the author tells the history of the church, its buildings and its people. Included are background on the rectors of the church, the exterior and interior designs, the musical traditions of St. Thomas and relocation from downtown to midtown. Numerous historical and current photos and drawings enhance the text.
The Synagogues of New York's Lower East Side features photographs by Jo Renee Fine and text by Gerald R. Wolfe. This is a collection of photos of interiors and exteriors of various synagogues. Explanatory text provides information on each building and historical background on the Jewish community of the Lower East Side.
Many churches and synagogues have been declared landmark buildings. The New York City Landmarks Preservation Commission has published Designation Reports for each of these. Also of interest is the nine-volume Inventory of the Church Archives of New York City, a Works Projects Administration (WPA) survey published in 1939. This is a compilation of the holdings of archives of Protestant, Roman Catholic and Eastern Orthodox churches, seminaries and other institutions.
Vertical files contain newspaper articles and other clippings of interest.

HOLIDAY SPECIAL FROM THE NEW YORK CITY MUNICIPAL ARCHIVES
New York Rises: Photographs by Eugene de Salignac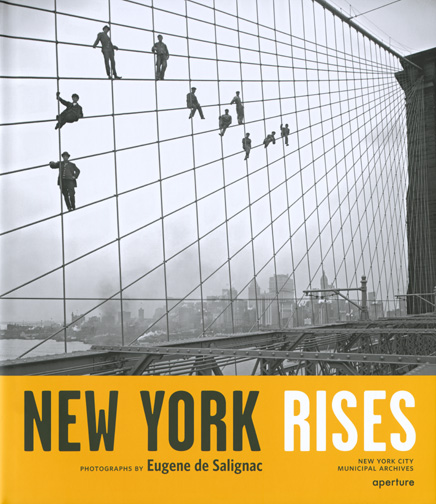 The Municipal Archives' new book, "New York Rises: The Photographs by Eugene de Salignac" is a fascinating history of the City in never-before-seen images taken over the first four decades of the twentieth century.
In recognition of the revised second printing of New York Rises (available in bookstores November 28th), the Municipal Archives is making this special offer: Purchase $80 or more in print sales from the The New York City Municipal Archives' Photo Gallery from now until December 15th and receive a free 8x10 inch archival digital print of Eugene de Salignac's famous photograph "Brooklyn Bridge showing painters on suspenders, October 7, 1914"
From 1906 to 1934, Eugene de Salignac, the official photographer of the Department of Bridges, traveled around the five boroughs documenting all manner of construction projects designed to knit together the newly consolidated Greater City of New York. The result was 20,000 large-format glass-plate negatives that are now preserved in the Municipal Archives. More than just a proficient technician, de Salignac's mastery puts him on par with some of the greatest photographers of his era. The book includes 96 of the best pictures, printed as duotone images in a hardcover edition with an essay by noted historian Kevin Moore, and commentary by Municipal Archives photography curator, Michael Lorenzini.
To order a copy of "New York Rises: Photographs by Eugene de Salignac.", please visit the CityStore website:
http://a856-citystore.nyc.gov/ProductDetails.aspx?ProductName=New+York+Rises&CategoryID=89
To order a photo from the Municipal Archives, visit our gallery below. The Municipal Archives has a huge selection of classic New York images available for purchase on our website. Each photograph is printed by hand from vintage negatives on high-quality photo paper.
http://nyc.gov/html/records/html/gallery/home.shtml
For quickest delivery, you can order using your credit card on our secure website!
The Municipal Archives is also open to the public. For hours and location, please visit: http://www.nyc.gov/html/records/html/about/archives.shtml
Municipal Archives is a division of the New York City Department of Records. To learn more about the Department of Records and other divisions, please visit: http://www.nyc.gov/records
---
For more info on the City Hall Library, please visit our website.
To unsubscribe please go to this link:
https://www.nyc.gov/portal/signin.jsp
Comment on this news service:
http://www.nyc.gov/html/misc/html/news_feedback.html
PLEASE DO NOT REPLY TO THIS MESSAGE!