SPOTLIGHT ON: HISTORY OF FERRIES
By Christine Bruzzese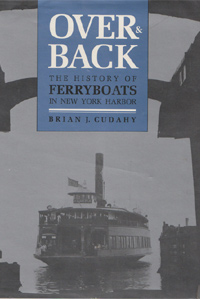 Before bridges and tunnels were constructed, New York City depended heavily on ferry transportation between the boroughs and New Jersey. By the 1920s, commuter ferries were practically nonexistent due to bridge and tunnel access. However, the Staten Island Ferry, established in 1816, is still a mainstay and ferry routes have enjoyed a revival in recent years as an alternative to congested roadways and overcrowded public transportation. This article features some resources on ferries that can be found in the City Hall Library collection.
Over and Back: the History of Ferryboats in New York Harbor by Brian J. Cudahy chronicles the story of ferry transportation in the city from 1812 to the late 1980s. Beginning with the first steamboat ferry between New York and New Jersey, here is a history of the growth and eventual decline of ferry transportation. Included are photographs and illustrations of ferryboats and travel, statistics on general trends and performance, municipal takeover of the ferry routes and ferry transportation today.
Staten Island Ferry System Study was prepared by the New York City Transportation Administration and the Department of Marine and Aviation in 1975. This study reviews the conditions at the three Staten Island ferry terminals in New York City. Recommendations for rebuilding and improving are given.
Williamsburgh and Its Ferries by Charles Lawesson explores the history of ferry service between Williamsburgh in Brooklyn and lower Manhattan. Origins of the ferry service, leasing and ownership and railroad connections are described. The elimination of the ferry service is also discussed. Included are a list of all companies that operated ferries to and from Williamsburgh, descriptions of ferryboats in the fleet and various illustrations.
Improving Landside Access for Ferry Services was published by the Department of City Planning in 1988. The study examines the possibility of upgrading existing ferry sites and adding new ones to help ease congestion in traveling. Key issues include landside access to ferry terminal sites, making efficient use of all transit services and improving private ferry services. Case studies of five sites where ferry service was either offered or could be instituted are presented.
Articles and other clippings in the vertical files may be of interest to the researcher. Also, consider exploring publications from Department of Docks and Ferries, Department of Marine and Aviation and Department of Transportation (DOT).

---
For more info on the City Hall Library, please visit our website.
To unsubscribe please go to this link:
https://www.nyc.gov/portal/signin.jsp
Comment on this news service:
http://www.nyc.gov/html/misc/html/news_feedback.html
PLEASE DO NOT REPLY TO THIS MESSAGE!