SPOTLIGHT ON: ELEVATED AND STREET RAILWAYS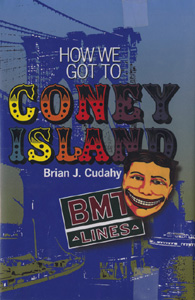 The first elevated railway in New York City was constructed from 1867 to 1870. Many others were built as improvements were made in construction methods and rolling stock. Streetcars began running in 1832 under horsepower and were electrified in 1886. These facts come from the Encyclopedia of New York City. Both of these forms of transportation are obsolete (streetcar) or nearly (elevated railway). However, during the late nineteenth to the mid-twentieth centuries, many New Yorkers relied heavily on both the trolley and the "el" to travel around. This article features some publications on streetcars and elevated railways.
The New York Elevated by Robert C. Reed traces the history of elevated railways in New York City. Starting with the reasons for building the elevated railways in the 1860's, the book presents early ideas for els and the development of the elevated railways during the nineteenth and early twentieth centuries. Changing technology and financial maneuverings to get the railways built are considered. Also discussed is how the elevated railways affected daily life for riders and people who resided along the train routes, station design, operations and safety, electrification and the decline of the elevated railway. Photos and illustrations accompany the text.
How We Got to Coney Island by Brian J. Cudahy chronicles the growth of mass transit in Brooklyn by focusing on how travel to Coney Island changed over the years 1854 to 2000. The author provides a history of street railways, elevated railways and transit companies that developed in Brooklyn. Descriptions of the various equipment and building methods utilized are given along with changes and modernization in technologies. Later chapters concentrate on the expansion of the underground subway, Coney Island during World War II and present-day conditions.
Report to the New York City Transit Authority: Demolition of Third Avenue Elevated Line South of 149th Street was prepared by Colonel S.H. Bingham in May 1954. Bingham was the Executive Director and General Manager of the Transit Authority. Main reasons for demolition are presented along with supporting evidence. These reasons include declining usage, financial losses, easier alternative routes, greater potential for real estate development and others. Of special interest is a map of the Third Avenue El line with alternatives that could be used in its place by passengers once the elevated railway was demolished.
Transit, a monthly magazine published for Transit Authority employees, features an article in its April 1955 issue, entitled "End of an Era." The article summarizes the history of the Third Avenue El and reasons for demolition. Various photos of the elevated line stations, equipment, passengers and views from the trains enhance the text.
Articles and other materials in the vertical files may also be of interest to the researcher. Explore the history and uniqueness of these vanished or nearly-vanished forms of transportation in New York City.

ACQUISITIONS LIST, JULY 2006
The following publications were received by the City Hall Library in the month of July. Additional government publications can be found online in our Government Publications section.
Advocates for Children.
An in-depth look at free tutoring services under the No Child Left Behind Act in New York City: a focus on English language learners. June 2006.
Charity Navigator.
CEO compensation survey. August 8, 2005.
Citizens Budget Commission.
How to balance the MTA's budget. June 27, 2006.
Conserving Land for People.
City park facts: acreage and size; facilities, historical spending; staffing. June, July, 2006.
Manhattan Borough President.
Parents dismissed: an analysis of Manhattan's community education councils and the New York City Department of Education's role in engaging parent leaders. 2005.
N. Y. City. Campaign Finance Board.
Interim report of the New York City Campaign Finance Board on "doing business" contributions. June 19, 2006.
N. Y. City. City Clerk, Office of the.
Lobbyist annual report. 2005.
N. Y. City. City Planning Commission.
Silvercup West: final environmental impact statement. June, 2006.
N. Y. City. Civilian Complaint Review Board.
Status report January-December 2005. June 2006.
N. Y. City. Comptroller.
Audit of the Department for the Aging's oversight of its contracts for the delivery of frozen meals. June 30, 2006. (Report no. 7743).
N. Y. City. Comptroller.
Audit report on the timeliness of the renovation of vacant apartments by the New York City Housing Authority. July 13, 2006. (Report no. 7744).
N. Y. City. Council.
Preliminary budget response fiscal 2007. April, 2006.
N. Y. City. Design and Construction, Office of.
Reconstruction of Virgil Place between Pugsley Avenue and Olmstead Avenue: preliminary design investigation for contract No. HWX969A. June 2004.
N. Y. City. Equal Employment Practices Commission.
Annual Report, calendar year 2003.
N. Y. City. Independent Budget Office.
Alternative to jail programs for juveniles reduce city costs. (IBO Inside the Budget). July 11, 2000.
N. Y. City. Landmarks Preservation Commission.
New York and Long Island Coignet Stone Company Building, Borough of Brooklyn. June 27, 2006. Designation report.
New York City Museum of Complaint.
[Assembled material and correspondence displaying civic discontent sent to Mayor of New York City since 1700, from the Archives of the New York City Department of Records]. July 7, 2006.
N. Y. State. Education Department.
Accountability report card for the 2004-2005 school year. May 1, 2006.
N. Y. City. Standards and Appeals, Board of.
Rules of practice and procedure. [2006?].
N. Y. State. Financial Control Board.
Review of FYs 2006-2010 financial plan: staff report. July 24, 2006.
U. S. Government Accountability Office.
September 11: monitoring of World Trade Center health effects has progressed, but program for federal responders lags behind. Testimony before the Subcommittee on National Security, Emerging Threats, and International Relations, Committee on Government Reform, House of Representatives. Washington, February 28, 2006.

---
For more info on the City Hall Library, please visit our website.
To unsubscribe please go to this link:
https://www.nyc.gov/portal/signin.jsp
Comment on this news service:
http://www.nyc.gov/html/misc/html/news_feedback.html
PLEASE DO NOT REPLY TO THIS MESSAGE!