SPOTLIGHT ON: Subways
By Christine Bruzzese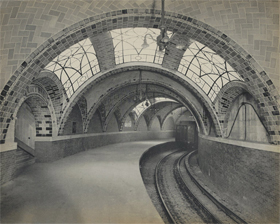 Original City Hall station, IRT Lexington Avenue "Brooklyn Bridge Station" Loop of local train, 1904
.
The first subway service in New York City commenced in 1904. By 1908, the full subway system was in operation. Fare was five cents. Today, the subway system carries 1,579,866,600 riders (source: http://www.mta.info/nyct/facts/ridership/index.htm.) This article features some resources in the City Hall Library on the topic of subways.
Uptown, Downtown: a Trip through Time on New York's Subwayswas written by Stan Fischler and published in 1976. This book provides a history of the subway from its inception to the 1970's. Included are discussions of early forms of transit, the building of the subway, train disasters, rolling stock and more. Photographs and drawings enhance the text.
Underground Woman: My Four Years as a New York City Subway Conductor by Marian Swerdlow chronicles the author's experiences working in the subway system. Swerdlow was employed as a conductor from 1981 to early 1986. She describes the frustrations and rewards of the job, the attitudes of colleagues and passengers as well as various happy and tragic incidents that occurred. Additionally, Swerdlow became active in the Transport Workers Union, trying to improve conditions for member workers.
Under the Sidewalks of New York: the Story of the Greatest Subway System in the World by Brian J. Cudahy was published in 1979. This book traces the history of the subway from construction to the 1970's. Included is history on difficulties of construction, opening of the subway, early days, establishment of the Transit Authority and more. A complete roster of all subway rolling stock, explanations of signals and other materials of interest can be found in the appendices.
Many archival reports from transit agencies are available in the collection. These include Metropolitan Transportation Authority and New York City Transit Authority among others. Vertical files feature clippings and other materials on subways and related topics.
---
For more info on the City Hall Library, please visit our website.
To unsubscribe please go to this link:
https://www.nyc.gov/portal/signin.jsp
Comment on this news service:
http://www.nyc.gov/html/misc/html/news_feedback.html
PLEASE DO NOT REPLY TO THIS MESSAGE!