SPOTLIGHT ON: IMMIGRANT HISTORY
By Christine Bruzzese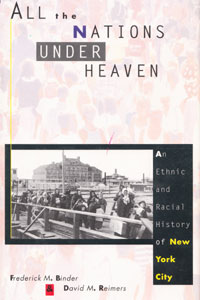 In honor of Immigrant History Week, April 15 to April 21, 2010, this article features resources that can be found in the City Hall Library collection. New York has always been known as a city of immigrants. Whether they settled in New York City or other regions of the United States, immigrants have contributed greatly to American life and culture.
The Newest New Yorkers from the New York City Department of City Planning is usually published after every Federal census. Coverage begins with 1980. This report provides comprehensive and helpful information for anyone researching recent immigration trends.
The Ellis Island Immigrant Cookbook by Tom Bernardin is a compilation of recipes from immigrants and their descendants. Recipes are listed by country of origin. Learn how to make Italian stuffed eggplant, Danish apple cake, Jamaican oxtail stew and other dishes. Also included is background information on Ellis Island, plus advice on compiling and preserving family recipes and tracing genealogy.
All the Nations under Heaven: an Ethnic and Racial History of New York City by Frederick M. Binder and David M. Reimers chronicles the experiences of immigrant groups as they arrived in New York and became part of life here. Beginning with the days of Dutch colonization, the focus is on how immigrants sought to adapt to their new land while maintaining unique social and cultural identities. Also explored are the interactions of various ethnic and racial groups. The authors aim to show how the arrival and settlement of immigrants transformed New York life and continue to do so.
Vertical files and biographical articles may also be of assistance in exploring more facets of this topic. Find out more about our predecessors who helped contribute to the diversity of New York City and the immigrants who continue the tradition.
---
For more info on the City Hall Library, please visit our website.
To unsubscribe please go to this link:
https://www.nyc.gov/portal/signin.jsp
Comment on this news service:
http://www.nyc.gov/html/misc/html/news_feedback.html
PLEASE DO NOT REPLY TO THIS MESSAGE!