SPOTLIGHT ON: Teachers
By Christine Bruzzese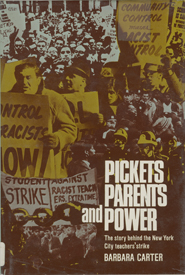 Teachers are a vital part of the public school system. This article features some resources on teachers that can be found in the City Hall Library collection.
Staffing Our Schools: Today and Tomorrow was prepared by the Board of Superintendents and the Board of Examiners of the New York City Board of Education. This 1961 publication studies various issues concerning recruitment and retention of faculty in City schools.
Pickets, Parents, and Power by Barbara Carter chronicles the 1968 New York City teachers' strike and its ramifications. Events leading up to the strike are discussed, relevant issues such as decentralization of schools, salaries, and race relations are considered. The aftermath and effects of the strike are examined.
From Hiring to Retiring: a Report of the Task Force on Professionalism was published in 1988. The Board of Education created the Task Force to explore several issues concerning recruitment and retention of teachers and administrators.
NYC Teachers: Paying for School Supplies out of Their Own Pockets was prepared by the City Council Committee on Oversight and Investigations along with the Council Committee on Education in 2003. Council investigators discovered that teachers and other school personnel often spend their own funds for school supplies despite a reimbursement program.
Vertical files on teachers, schools, and related topics include clippings such as newspaper and magazine articles. Additional publications from city and state agencies may also prove helpful.
---
For more info on the City Hall Library, please visit our website.
To unsubscribe please go to this link:
https://www.nyc.gov/portal/signin.jsp
Comment on this news service:
http://www.nyc.gov/html/misc/html/news_feedback.html
PLEASE DO NOT REPLY TO THIS MESSAGE!