SPOTLIGHT ON: Hudson River
By Christine Bruzzese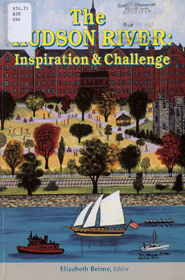 The Hudson River flows between Manhattan and the New Jersey Palisades west of the city. In January 2009, U.S. Airways Flight 1549 made a dramatic emergency landing there, marking another historic moment. The Hudson is known for its busy freight and passenger shipping traffic and the natural beauty of the Hudson Valley. This article highlights some resources in the City Hall Library on the topic of the Hudson River.
The Hudson River: Inspiration and Challenge, edited by Elizabeth Beirne, was published in 1997. This book is a collection of papers presented at a conference at the College of Mount Saint Vincent in collaboration with the History of New York City Project. Academics, managers from New York City agencies and nonprofit experts spoke about the history of water pollution in the Hudson, architecture of buildings along the riverfront, archaeology of the Hudson Valley and other related topics.
Biography of a River: the People & Legends of the Hudson Valley by John Mylod chronicles the history of the land, people and events of this region. Starting with the days of the Native Americans and ending in the late 1960's, the author discusses transportation, settlement of the Hudson Valley, architecture, military battles fought in the area and other topics. Many photographs enhance the text.
Hudson River Esplanade Park: a Design for the West Side Waterfront was prepared by the Parks Council in 1987. This study summarizes plans for a project to create a roadway and park alongside the Hudson River.
A Hudson River Valley Greenway was prepared by the Hudson River Valley Greenway Council in 1991. This report to the New York State Governor and Legislature makes recommendations for preserving the natural environment and scenic beauty of the Hudson Valley.
Consult the vertical files for newspaper clippings and other materials on the Hudson River and related topics.
---
For more info on the City Hall Library, please visit our website.
To unsubscribe please go to this link:
https://www.nyc.gov/portal/signin.jsp
Comment on this news service:
http://www.nyc.gov/html/misc/html/news_feedback.html
PLEASE DO NOT REPLY TO THIS MESSAGE!