SPOTLIGHT ON: Black History Month
By Christine Bruzzese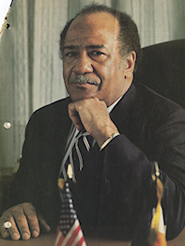 February has been designated Black History Month in honor of Black culture and achievements. This article focuses on two prominent New Yorkers and highlights some resources in the City Hall Library collection related to Black history.
Benjamin Ward was appointed as Police Commissioner by Mayor Ed Koch in 1984. Commissioner Ward became the first black person to serve in this position. Born in 1926 in the Weeksville section of Brooklyn, he became a Police officer in 1951, attending school at the same time, eventually earning a law degree. Ward held various positions in New York City and State government including Traffic Commissioner, New York State Correctional Services Commissioner, chief of New York City Housing Police and New York City Correction Commissioner. As Police Commissioner, Ward's accomplishments included initiating the Tactical Narcotics Team, expanding neighborhood policing efforts, recruiting better-educated officers, diversifying the racial and ethnic composition of the force and increasing police efficiency despite budget problems. Ward resigned in 1989 due to ill health and passed away in 2002.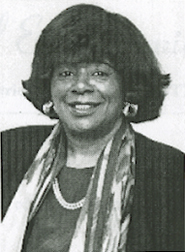 Mary Glover Pinkett was the first black woman elected to the New York City Council in 1973. Born in Brooklyn in 1926, Pinkett worked for the New York City Department of Hospitals and Department of Social Services as well as the Health and Hospitals Corporation. She attended Brooklyn College at night to obtain a Bachelor's degree. Pinkett became active as a union leader, serving as President of Social Services Employees Union, Local 371 and as Vice-President of District Council 37. She was elected to the City Council in 1973, representing Clinton Hill, Fort Greene, parts of Crown Heights, Prospect Heights and Bedford Stuyvesant in Brooklyn. Among her accomplishments were obtaining the right to Medicare Part B for retired New York City employees, working for passage of the "Whistle Blower Law" to protect city employees who reported corruption and abuse, promoting community revitalization and cultural institutions in her Council district. Pinkett left office in 2001 after the term limits law was imposed and passed away in 2003.
Be sure to consult the City Hall Library catalog for city agency reports, books and other material related to Black history. Clippings and biographical files may also be of interest to the researcher.
---
For more info on the City Hall Library, please visit our website.
To unsubscribe please go to this link:
https://www.nyc.gov/portal/signin.jsp
Comment on this news service:
http://www.nyc.gov/html/misc/html/news_feedback.html
PLEASE DO NOT REPLY TO THIS MESSAGE!